Over the past year we have taken important steps in our commitment to the road map of the United Nations 2030 Development Agenda and furthering their Sustainable Development Goals. We explain our progress in this article.
TEXT PABLO FUENTES | PHOTOGRAPHS MAPFRE
"We companies must not only generate exclusively material wealth, but also ethical and, above all, human wealth. MAPFRE is working on this goal in nearly 50 countries, as we are a company committed to generating social profitability," Antonio Huertas declared at the 26th Ibero-American Summit of Heads of State and Cooperation, held last November in Guatemala.
Within the framework of this meeting, MAPFRE's Chairman and CEO highlighted the role of insurance as "a key sector for sustainable growth," and stressed that the company is "fully committed" to the United Nations road map, as well as to fulfilling and furthering the Sustainable Development Goals (SDGs).
MAPFRE's lines of work in relation to the SDGs formed part of the Group's 2016-2018 Sustainability Plan, which, among others, dealt with aspects such as the United Nations 2030 Agenda for Sustainable Development, human rights, or the integration of environmental, social and governance issues.
In the case of MAPFRE, while it contributes to all the goals, as they are all interrelated, its action focuses on those most closely linked to the company's activity: No Poverty; Good Health and Well-Being; Quality Education; Gender Equality; Decent Work and Economic Growth; Industry, Innovation and Infrastructure; Sustainable Cities and Communities; Climate Action; and Partnerships.
Throughout 2018, in MAPFRE we focused on the dissemination of this 2030 Agenda and getting those within the company actively involved in achieving the SDGs, through a range of activities and initiatives promoted by multidisciplinary work teams. There now follows an overview of the major milestones.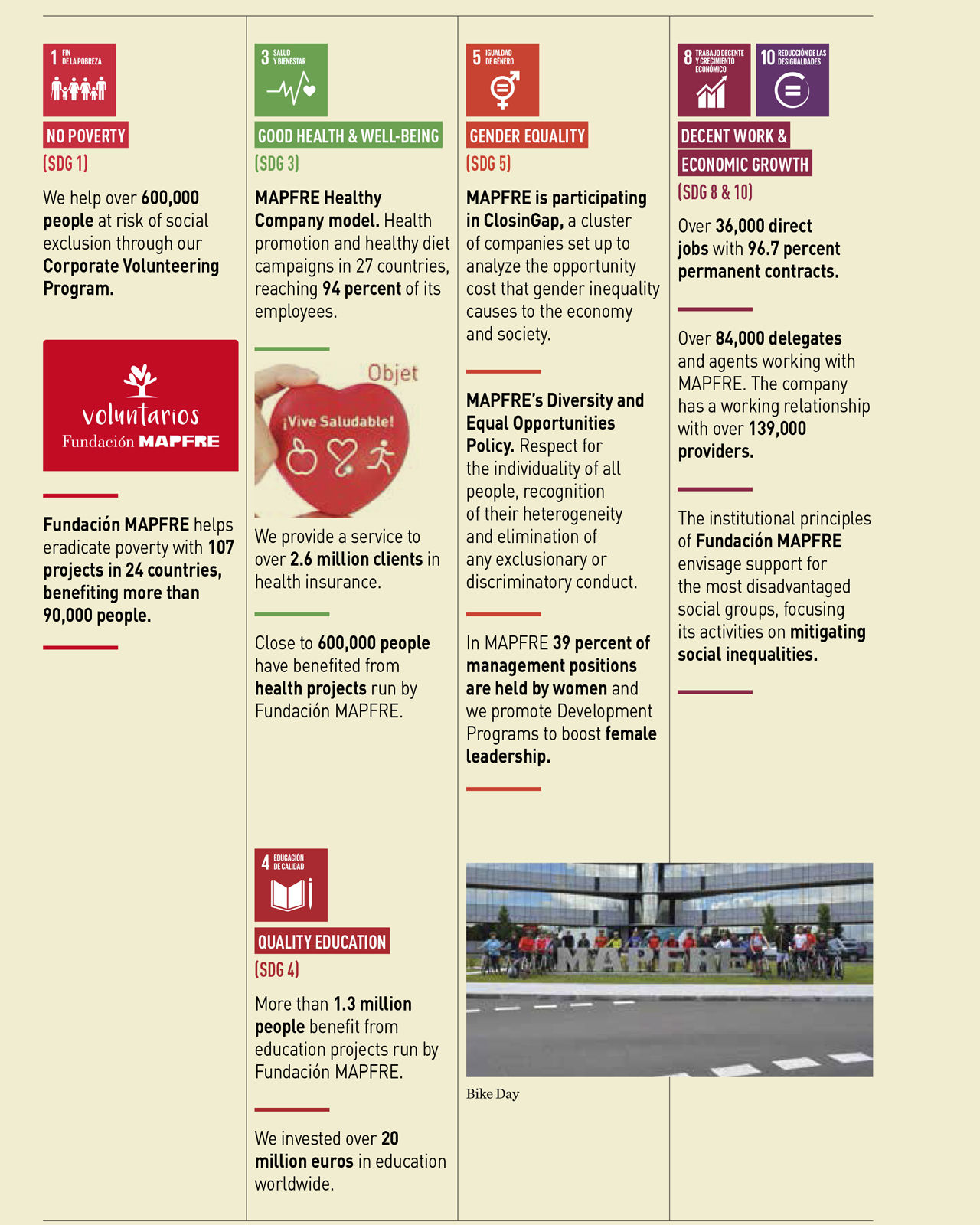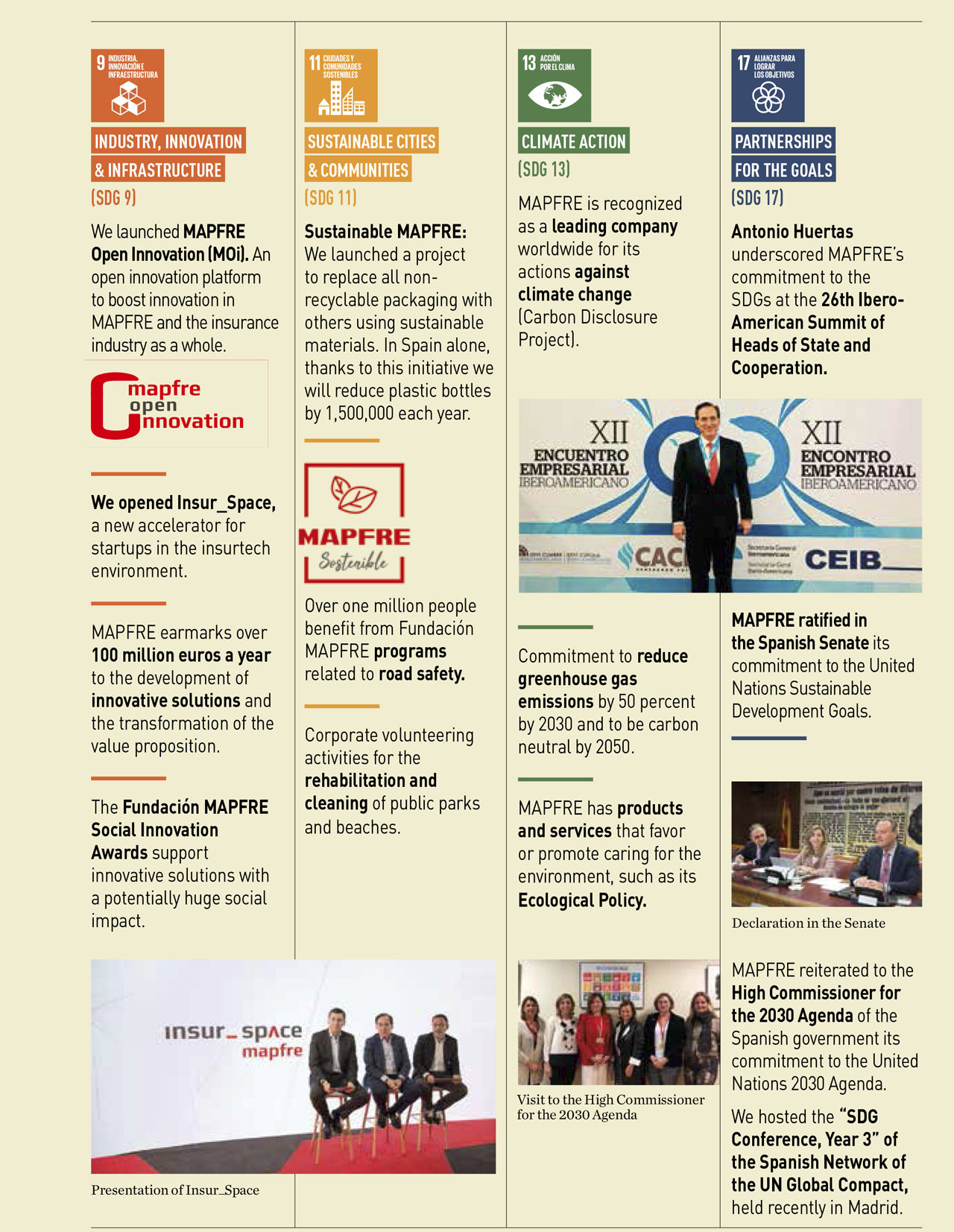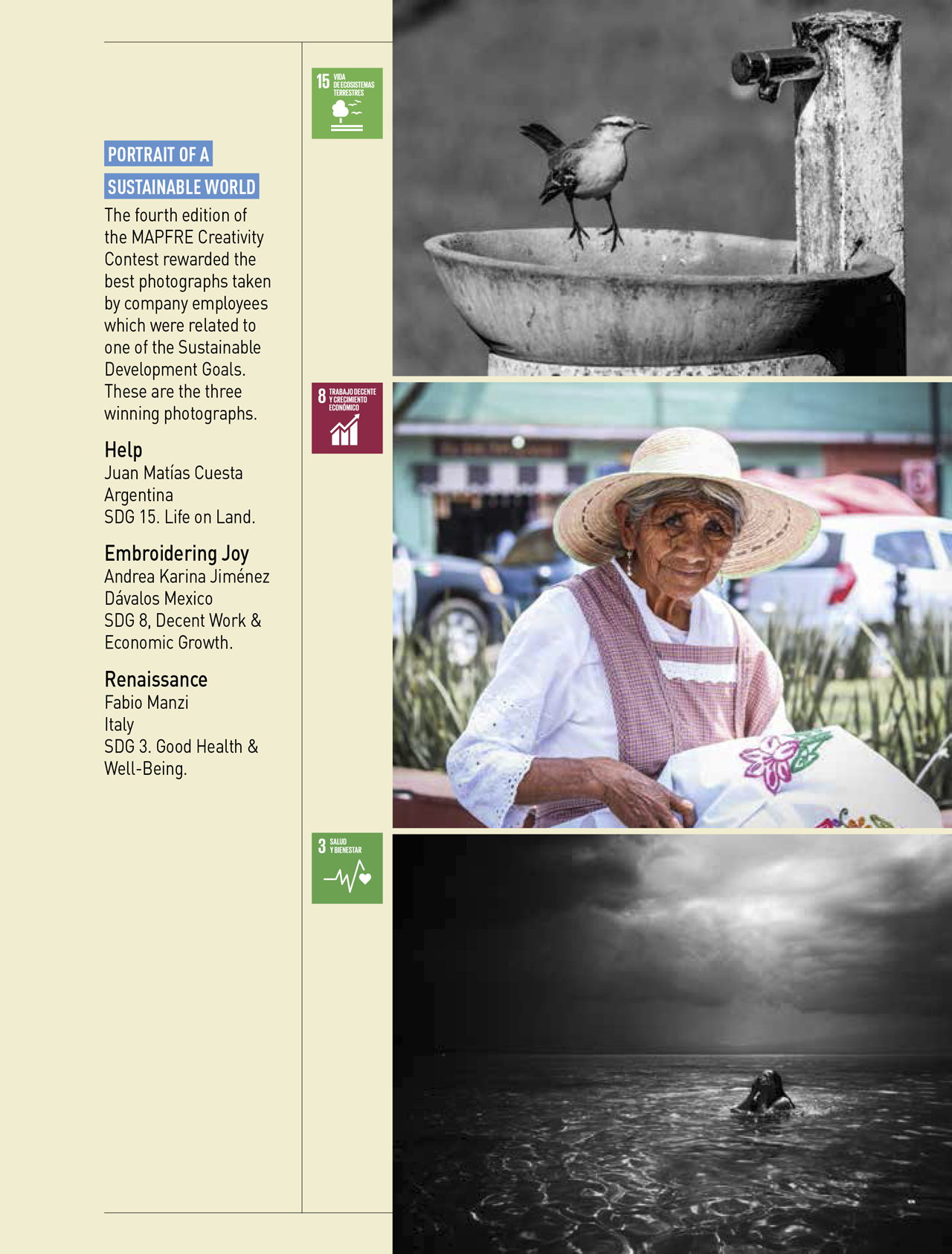 THE IMPACT OF THE MAPFRE SDG COMMUNICATION CAMPAIGN
Each month throughout 2018 a news story dedicated to one particular SDG was published on the Global Intranet, with a video and infographics illustrating MAPFRE's contribution to that goal.
Moreover, there were recommendations on how we can help and employees were invited to contribute ideas and suggestions.
All these contents were also uploaded to the MAPFRE corporate profiles on social media.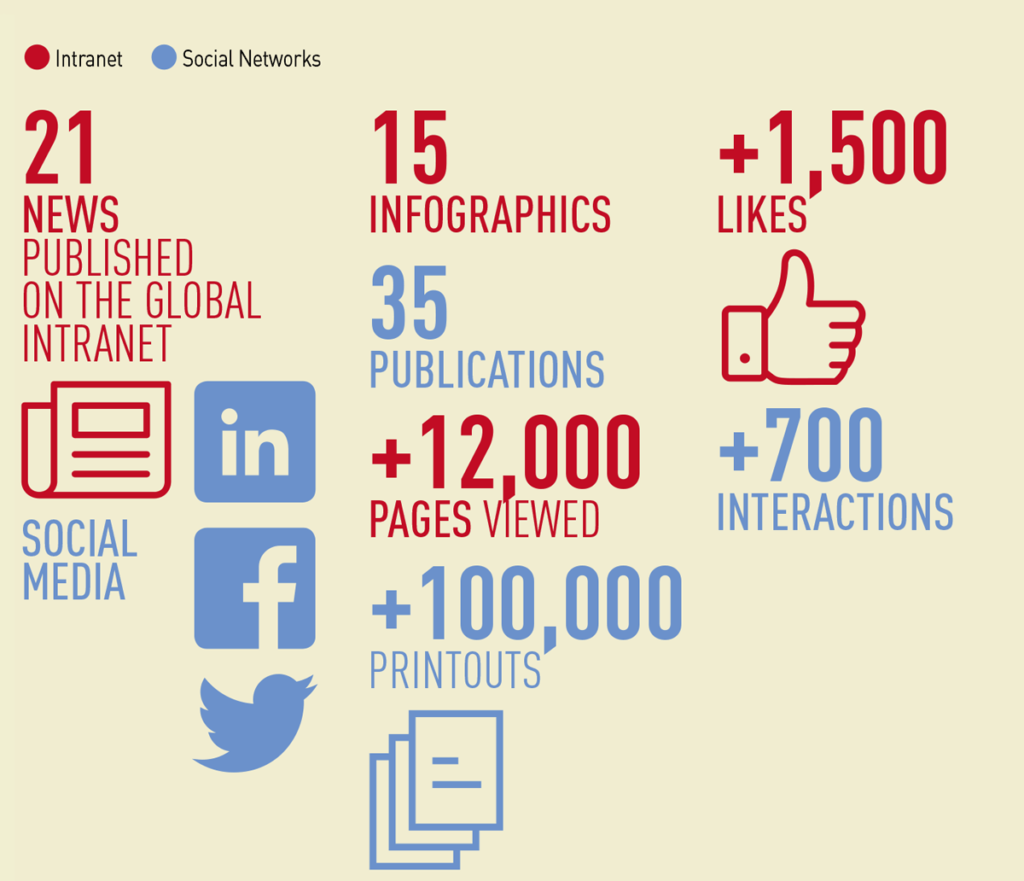 PORTRAIT OF A SUSTAINABLE WORLD
The fourth edition of the MAPFRE Creativity Contest rewarded the best photographs taken by company employees
which were related to one of the Sustainable Development Goals. These are the three winning photographs.
Help
Juan Matías Cuesta
Argentina
SDG 15. Life on Land.
Embroidering Joy
Andrea Karina Jiménez
Dávalos Mexico
SDG 8, Decent Work &
Economic Growth.
Renaissance
Fabio Manzi
Italy
SDG 3. Good Health &
Well-Being.