As we look back over the 100 issues of The World of MAPFRE and its 25-year history, we can see how Human Resources has featured regularly in our magazine, given that fully understanding the history of our company without this area would be inconceivable.
TEXT CORPORATE HUMAN RESOURCES AREA | ILLUSTRATION THINKSTOCK | PHOTOGRAPHS MAPFRE

25 YEARS AGO the first few issues of The World of MAPFRE already explained how people were the main asset our company possesses. Today, the technological revolution, demographic diversity and changes, innovation and globalization are just some of the major challenges facing us when it comes to human resources management. However, just like 25 years ago, every one of us working in this company remains at the center of this management.

FROM HUMAN RESOURCES WE CONGRATULATE THE WORLD OF MAPFRE WITH A REVIEW OF OUR 25 MOST OUTSTANDING MILESTONES

The development of this department, with its rich, wide-ranging series of projects and milestones achieved over this quarter century, mirrors the development of MAPFRE itself. Projects that respond to the objective of ensuring
the company has the personnel it needs, duly aligned with the organizational culture, motivation, commitment and training necessary to achieve their full professional and personal development, and attain the results the company seeks. We wish to summarize these 25 years here with 25 milestones that have marked the evolution of personnel management in our company.
Milestones that would not have been possible without the endeavors of all the teams in MAPFRE.
FIELDS OF ACTION
TALENT MANAGEMENT
MOBILITY
TRAINING
ORGANIZATION
COMPENSATION AND RECOGNITION
DIVERSITY MANAGEMENT
WELL-BEING & HEALTH
DIGITIZATION OF PROCESSES (HR ANALYTICS)
COMMUNICATION FROM HR TO THE EMPLOYEES
DIGITAL CHALLENGE

MILESTONES IN TALENT MANAGEMENT
TALENT MANAGEMENT
Between 2015 and 2017, MAPFRE carried out an initiative designed to identify the profiles required to develop its strategy, identify the internal talent that could indeed fit these profiles, and establish professional development plans for these people. We identified 59 global strategic profiles, created the MAPFRE Global Talent Network with over 4,200 employees, and launched development plans. This intense work entailed the evaluation of more than 6,300 people, over 11,600 tests and more than 5,200 video interviews. Today, Talent Management is yet another process integrated within the Human Resources function.
CAREER PLANS
These are the road maps that lay out the career development an employee may enjoy in a certain job position in order to grow professionally. In 2017 our company initiated the deployment of its global career plans, starting with sales technicians, actuaries and underwriters, key functions for our company.
PERFORMANCE EVALUATION
After a lengthy process of sanctioning performance evaluation systems, MAPFRE can boast today a globally uniform system which enables us to identify employee strengths and areas for improvement, so as to make decisions concerning their development, while allowing them to know how they have helped MAPFRE achieve its results. Nowadays, this global model has been implemented in 26 countries, in all the Business Units and Corporate Areas.
MILESTONES IN MOBILITY
MOBILITY
Internal mobility is one of our principal development tools. All employees have at their disposal a system whereby they can access all the current vacancies in the company. At present, MAPFRE has a functional mobility rate of 10.6 percent and international geographical mobility rate of 0.29 percent. Each year, over 3,000 employees switch function and more than 1,000 move to another country.
TASK FORCE
The Task Force is a form of temporary international mobility enabling employees to participate in the start-up of new businesses or in transversal transformation projects, through the immediate, coordinated action of a specialist team. Such mobility fosters the development of our employees, offering increased employability and the development of global skills thanks to this international experience. Since it was introduced, 57 employees have participated in this type of projects.



TRAINEE PROGRAMS
Over the past 25 years, numerous trainee programs have been carried out at MAPFRE. Through these, recent university graduates with excellent qualifications and great potential are offered a general theoretical and practical training program to be subsequently assigned to a particular job position. In recent years, over 80 employees have passed through these programs.
EMPLOYMENT PORTALS
In our company we have moved from local platforms to one single portal, which will be appearing this year. This will allow us to have one single employment website on which the whole process will be automated and where candidates will be able to enter their curriculum; in addition, it can be integrated with other social networking platforms.
MILESTONES IN TRAINING
THE MAPFRE CORPORATE UNIVERSITY
Set up in the year 2012, this is the prime example of MAPFRE's dedication to training. Our university – with 16 Technical Schools, nine Knowledge Classrooms and an Innolab – deploys the knowledge our employees require, facilitates the globalization process and provides an excellent opportunity to share our culture. It consists of three physical campuses: Monte del Pilar (Madrid, Spain), Mexico City and São Paulo (Brazil), plus a virtual campus – eCampus. In 2017, our company provided training to the whole workforce through 1,543,024 hours of training, which gives an average of 43 hours of training per employee.
SELF-LEARNING
With self-learning, which started up in 2017, our employees have access to over 150 online training resources of a technical nature, related to both their own function and others within the company, as well as to contents on skills, global policies and other know-how. Self-learning is a great opportunity offered to employees so that they can design their own learning path.
MENTORING
Employees can rely on "an in-house guide" to help them carry out an action or development plan, with specific objectives as regards learning, organizational knowledge, culture, digital awareness, use of social platforms and networks, among others. This process includes both traditional mentoring – with more experienced people in the company mentoring younger employees – and reverse mentoring – whereby those skilled in the new technologies and social networks mentor people interested in learning more about these fields.
GLOBAL DEVELOPMENT PROGRAMS
These programs provide participants with a knowledge base regarding the company, its fields of action and strategy, the development of skills and global capabilities, and specific know-how… so as to contribute to their professional growth and the development of MAPFRE. Offered at the Professional Development School of the MAPFRE Corporate University, there are currently four of them: International Management Development Program (IMDP), Avanza con MAPFRE, Executive Development Program (EDP) and MAPFRE Integration Program (MIP).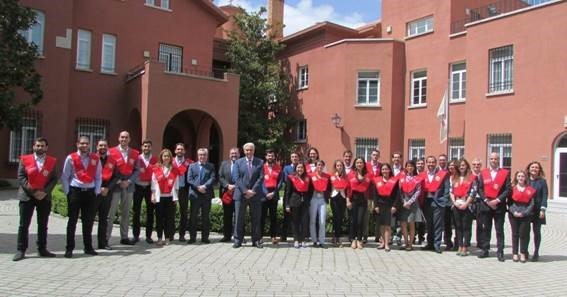 KNOWLEDGE PATHS
This initiative has identified the know-how required in each of the 14 functions that have been identified in the MAPFRE functions map. In total, over 1,700 skills that form the basis for designing the training resources of development plans, career plans, training itineraries and self-learning programs. Always under the premise of responding to the strategic needs of the business.
MILESTONES IN ORGANIZATION
APPROVED ORGANIZATIONAL STRUCTURE AND JOB MAP
We have a global organizational model adapted to suit the strategic needs of the business. This structure sorts and ensures the homogeneity of functionalities in the company. As for the Job Map, it includes 250 approved job positions, with the mission and functions of each one clearly defined. This Map is the starting point for other processes: "Y-shaped" career and job evaluations.
Y-SHAPED" CAREER AND JOB EVALUATIONS
The "Y-shaped" Career identifies two professional itineraries: the technical career and the managerial career. The first is based on specialized knowledge of the employees and their development, and coordination of activities from a technical standpoint. The managerial career includes positions which fulfill their functions under the direct management or supervision of others and recognizes the results achieved, mainly through the management of the team.
With the job evaluation, which takes into account the relative importance of each post for the organization and its contribution to the company's objectives, MAPFRE defines the bases that serve as a framework for the selection, training, internal mobility and professional development processes, and affords objectivity to salary compensation, strengthening internal equity and external competitiveness.
MILESTONES IN COMPENSATION AND RECOGNITION
REMUNERATION POLICY AND MANAGEMENT BY OBJECTIVES MODEL
MAPFRE has a compensation model focused on results and the value that each employee brings to the company. This Policy enables MAPFRE to determine each employee's remuneration in keeping with their job position, and acts as an element of motivation and satisfaction for achieving the goals set and fulfilling the strategy. As for the Management by Objectives Model, all countries and Business Units have already implemented the model of setting objectives linked to variable remuneration. The idea is to align the work of all MAPFRE personnel with the strategic objectives and plans of the company.
RECOGNITION PROGRAMS
Over these 25 years various types of recognition programs have been developed and now form part of the employee's total compensation. They recognize four dimensions: a Job Well Done, Treatment of Clients or another employee, Innovative Ideas, and Specific Behavior in the company.
MILESTONES IN DIVERSITY MANAGEMENT
Diversity management constitutes a firm commitment of our company embodied in the Diversity and Equal Opportunities Policy.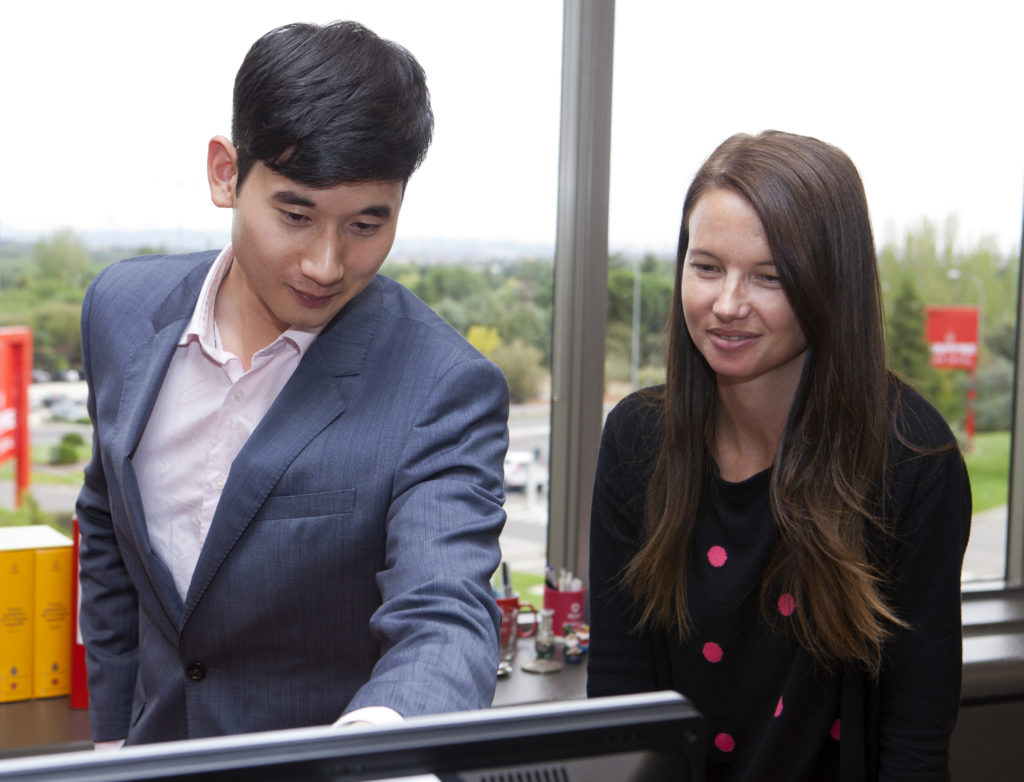 GENDER DIVERSITY
The gender aspect of the Diversity and Equal Opportunities Policy is developed by way of a Global Action Framework and local plans in every country. These include equality measures with regard to access to employment, promotion, training, remuneration and work-life balance. At present, 54.41 percent of the workforce are women, while 38.8 percent of senior and middle management positions are occupied by women.
DISABILITY
2.2 percent of the MAPFRE workforce have some disability. This figure is the result of the work undertaken through its Global Disability Program, which has been introduced in every country and has four lines of action: Raising Awareness, Employment, Quality of Life, and Business and Providers. Our objective: to be a benchmark company in the field of labor integration and attending the needs of people with disabilities in the countries in which we operate.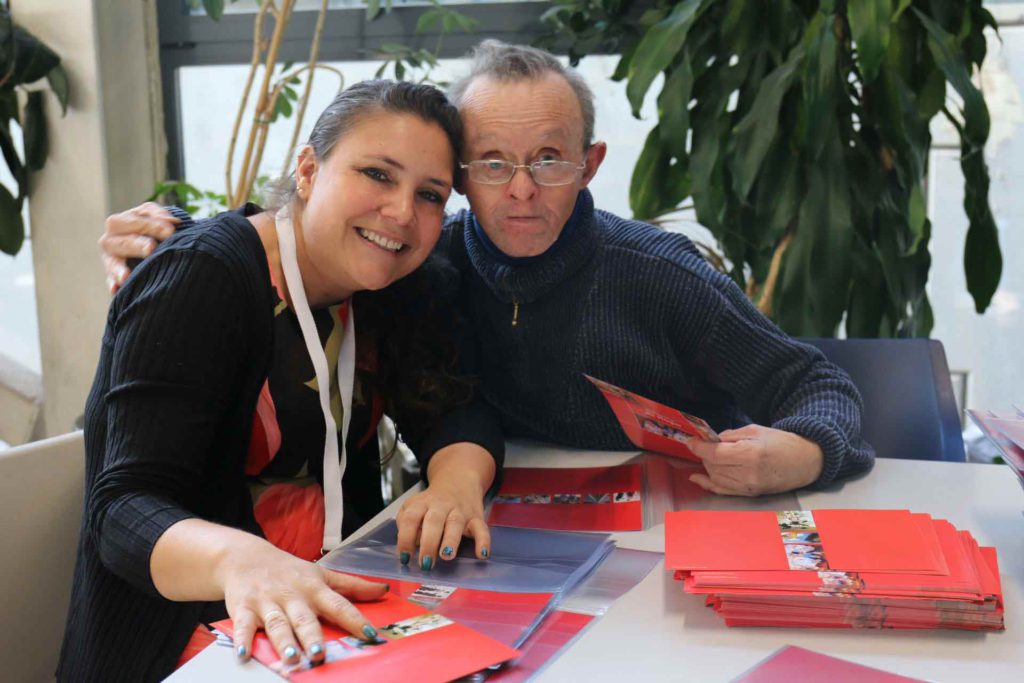 MILESTONES IN WELL-BEING AND HEALTH
HEALTHY COMPANY MODEL
With a policy on Health, Well-being and the Prevention of Occupational Risks that goes beyond mere compliance with the regulations, MAPFRE has its own Healthy Company model, which is centered on the individual and has five fields of action: Mental Well-Being, Work Environment, Physical Activity and Diet, Personal Environment and Health Promotion. Over 600 activities were undertaken worldwide in 2017. For the past four years, MAPFRE Week has been celebrated as an annual global event. In 2018 a total of 31 countries participated.
CORPORATE VOLUNTEERING PROGRAM
More than 6,745 volunteers take part in this global program organized through Fundación MAPFRE, which enabled us to run 1,263 activities and directly benefit 93,672 people in 2017. Active in 26 countries, this results in our company enhancing the well-being of the most underprivileged and, indeed, society in general through five lines of action: Nutrition, Health, Education, Environment and Emergency Aid.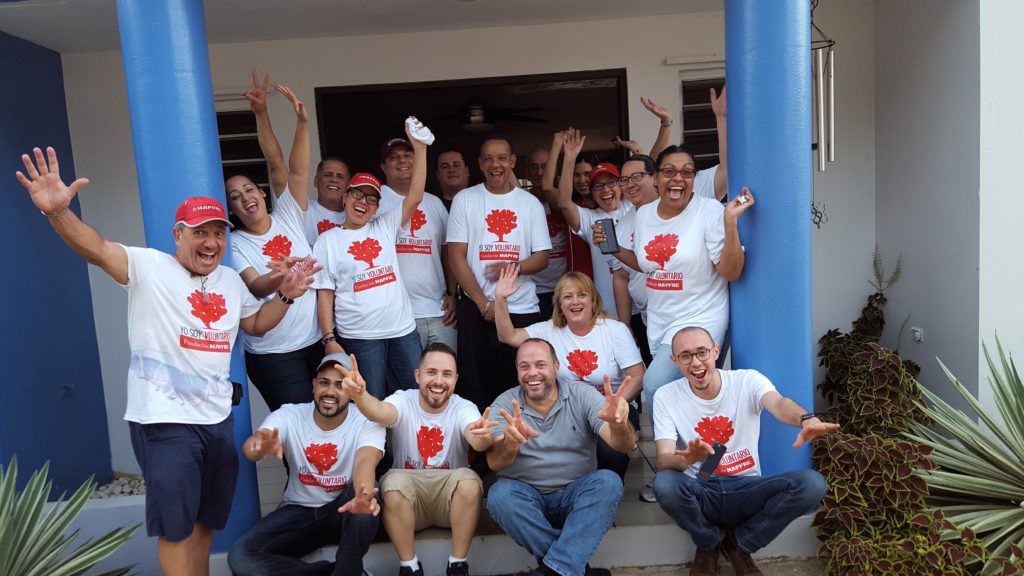 SOCIAL ACTIVITIES
Over 25 years there has been a progressive increase in the sporting, cultural and leisure activities that MAPFRE offers its employees and family members. They are an integrative element enabling us to discover and develop new, enriching personal and professional skills.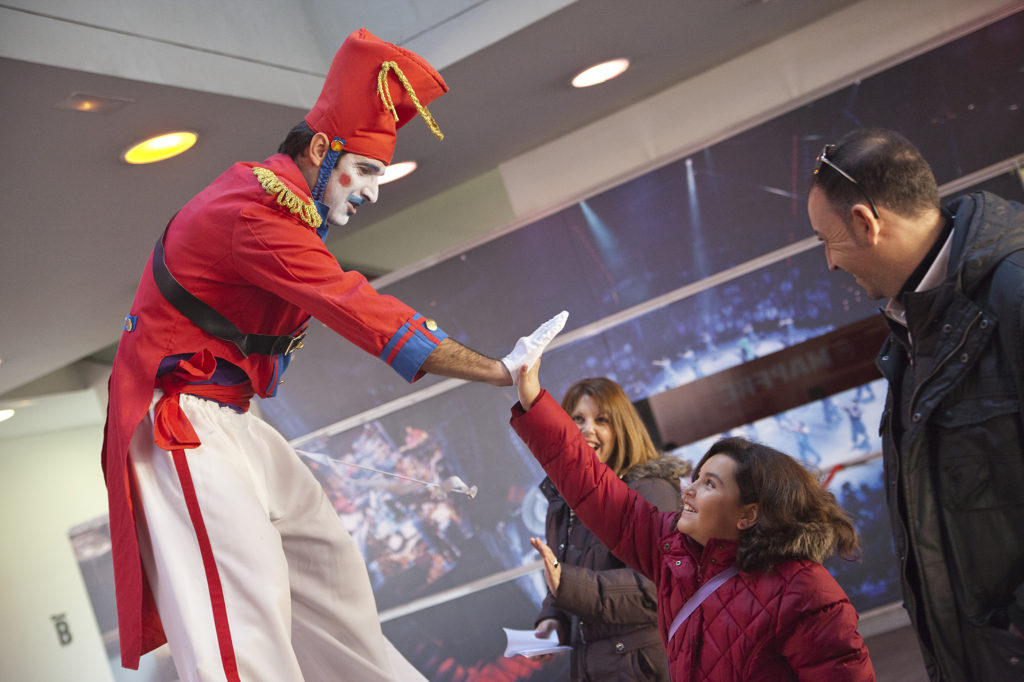 DIGITIZATION OF PROCESSES (HR ANALYTICS)
GLOBAL DATABASE AND PREDICTIVE MODELS
The globalization of our company led to the creation of a global database, which currently offers us access to information on all our employees and the ability to develop company-wide processes. All of this information enabled us to develop the first predictive model on workforce turnover and rotation in 2017.
HR PROCESSES AND GLOBALIZATION
In Human Resources we have documented all our processes and some of them are already globalized. These processes allow us to be more agile in the way we operate.
MILESTONES IN COMMUNICATION FROM HR TO EMPLOYEES
PEOPLE
Over these 25 years the channels through which Human Resources communicates with employees have changed dramatically. A clear example is the intranet, which has evolved from different local versions to People, a global channel through which Human Resources makes information, news and projects available to the workforce.
DIGITAL CHALLENGE
"ALL OF US IN MAPFRE MUST BE COMMITTED TO PROVIDING SOLUTIONS FOR THIS NEW REALITY. THIS TECHNOLOGICAL AND SOCIAL DISRUPTION WE ARE EXPERIENCING SPAWNS OPPORTUNITIES FOR OUR BUSINESS AND OUR COMPANY. THE GREAT INTERNAL CHALLENGE WILL BE TO HAVE A TEAM CAPABLE OF DEALING WITH THIS DIGITAL CHALLENGE," ANTONIO HUERTAS, MAPFRE CHAIRMAN & CEO.
For this reason, MAPFRE launched Digital Challenge in 2017, the most recent ongoing HR strategic initiative. The objective is to manage the change required of the organization to adapt to the new digital requirements, bringing to the work environment flexibility and agility, tools that allow for collaborative work and knowledge sharing, as well as the development of digital profiles and new forms of leadership.