People's attitude when it comes to changing their job, either within or outside their company, is changing in all respects, whether as regards the sources, tools and formats employed in the search for new kinds of job profiles, or the time the processes take, which are becoming ever shorter. And it is up to MAPFRE to adapt to this new reality.
"It is a challenge for us, but we are working hard to expedite and facilitate this process, both for MAPFRE employees and for those wishing to join this company." With these words, Juan Carlos Rondeau, assistant general manager of Talent and Organization, introduces us to the new Recruitment project. Our organization launched it in pilot form in November for the companies in Spain and it is already up and running globally, designed to transform our internal mobility and the selection of external talent. This will mean that we can count on the best talent for the organization and be more sustainable in the medium and long term.
How are we tackling this transformation?
In the first place, by placing people at the center of the strategy, because the needs of those contemplating a change are the priority. As for mobility, we start by changing the very concept, reducing it to one single notion, whether it be local or global.
You are responsible for your own development and, through mobility, MAPFRE is offering one of the leading tools for career advancement. Have you ever considered all the benefits that mobility has to offer?
You grow professionally, as you enrich your job history (by engaging with other businesses, projects, tools, etc.) and experience other realities and dynamics that enhance your knowledge, vision and ability to come up with solutions; you learn how to respond better when faced with new situations and people, and you get a broader vision of the company on leaving your comfort zone.
And you also grow personally, because you increase your communication skills and empathy, expand your relationships, and boost your respect and tolerance in the face of new realities.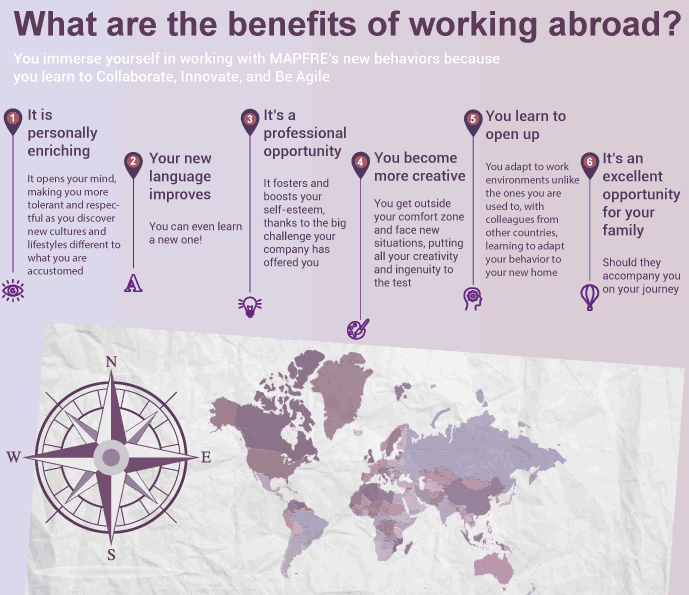 We make things easier for you: with one-stop access to information and vacancies
We want to take care of every detail of your experience with the new mobility. For this reason, this new system makes things easier for you by establishing one single place where you can do everything: access all job offers, apply for vacancies in your country (Local) and certain vacancies in other countries open to candidates from all the countries (Global). Available to you in People, this tool – developed using the SAP SuccessFactors solution – can be reached in two ways:
From the "Your Opportunities" section, which has been redesigned.
By clicking on the SuccessFactors icon on the home page and, shortly, from your smartphone too.
What can this new tool offer you?
Different filters – whether by keyword, the level or function of the job position, company or country – to quickly find the offers that most interest you.
Create alerts based on your preferences.
Consult those processes in which you are participating.
See your history of participation in processes.
Save those offers that interest you so you can register for them later.
When you first register for a vacancy, you must include your professional and personal information. It is important to keep this information updated, because no one better than you to explain what professional experience and training you possess, in which projects you have participated, the languages you speak and your mobility preferences, both geographical and functional. This is the information Human Resources will use to assess your application and filter any potential candidates.
As you can see, you have the chance of growth without frontiers, the possibility of professional development within your company and numerous career advancement opportunities.
The internal candidate: always first
MAPFRE's quest for the best talent starts within the organization. The selection processes always begin with the employees who have applied for a vacancy, followed by a proactive search among those candidates seeking a transfer (having indicated this in their mobility preferences), always on the basis of the principles of equal opportunity and non-discrimination.
To offer you the best experience and ensure you have all the information, we have redesigned the "Your Opportunities" section, the area within People dedicated to mobility, around the new Recruitment concept.
We have also created the "Path to Mobility", a journey on which you will learn about each of its stages and what you may encounter. This is accompanied by testimonies from peers who share their experiences, answer any questions you may have, and explain how enriching it can be to make this move and "try out" internal mobility or other international mobility experiences – International Career and Temporary Mobility – whereby MAPFRE seeks employees among its workforce to cover strategic positions in any part of the world. In addition, it places at your disposal direct access to all company vacancies.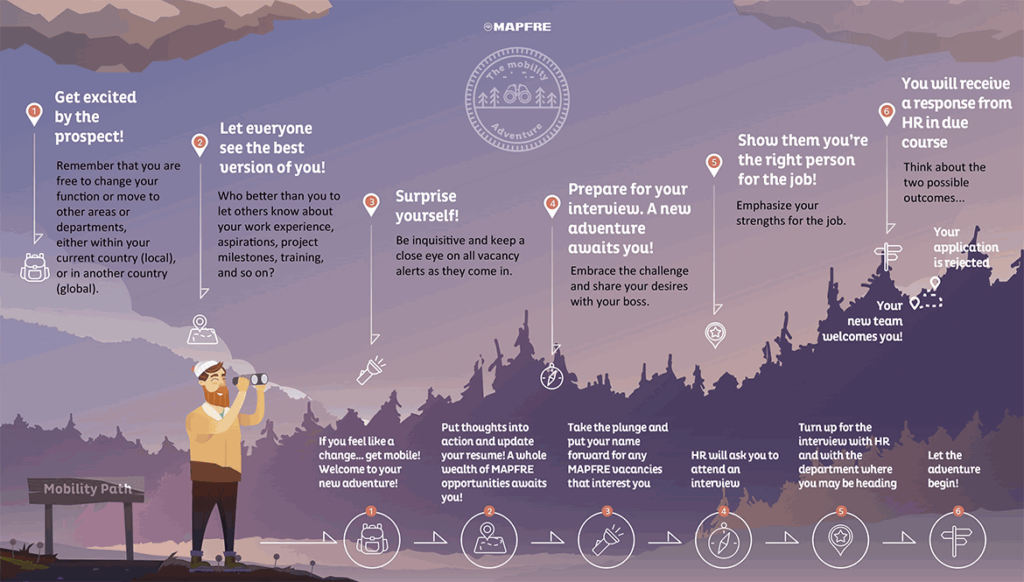 Remember that, from Human Resources, we wish to be constantly at your side, making it as easy as possible for you to undertake this adventure.
And we attract the best external Talent worldwide:
"We want to be ready for anyone who wants to join MAPFRE in any part of the world by offering them something different," Juan Carlos explains when we talk about external selection. To do so, MAPFRE has developed a new global employment webpage that is more modern, visual and disruptive. As it is better adjusted to the profiles we need, it will enable us to build a more powerful employer brand. Accessible from www.mapfre.com, in the section "Your future in MAPFRE", MAPFRE's new employment page reaches out to external candidates:
Our aim: "Something is changing in MAPFRE. Want to join us and find out what?" Everyone has their own reasons for working in one company and not in another, at a certain moment of their life. Whether they are working or not, the candidates are open to new opportunities. But what they want is a decisive "why", a solid reason to choose one company over another.
The information that our potential candidates may need to confirm their interest in our job positions and identify with our company. Structured in two major sections – We Love U and MAPFRE Life – we present them with the opportunities we offer, how, why, what we are seeking… starting with a game, the Talent Show, which we encourage them to try out.
Se trata de un juego call to action en el que la persona selecciona una cualidad de cada uno de nuestros tres ejes de comportamiento con la que se sienta identificada para comprobar qué perfil tiene. Un juego con resultados tan sorprendentes que, si no lo has probado ya, te invitamos a hacerlo. Seguro que el resultado te gusta.
Recruitment Digitization
"When building a solid recruitment strategy, we cannot set aside our digitization efforts, as those companies which invest more in this area end up being the most competitive and advanced," explains the Talent and Organization Assistant General Manager. Digitization brings many benefits such as managerial efficiency, continuous improvement, speed in our selection processes – the more agile they are, the more competitive our company is, and the greater its capacity to adapt to changes – a better experience for employees and candidates alike, as well as building a stronger reputation as an employer brand.
Recruitment plays a leading role in this period of digital transformation we are going through in MAPFRE, and we must strive to attract the very best professionals.
Our employer brand as a competitive advantage for attracting and retaining talent
In MAPFRE we never cease evolving and generating quality employment, in terms of stability, training and development. We are now at a time of important, revolutionary changes that are shaping the near future for our company, and call for the development of our current team and the addition of new profiles.
Our dynamism, the intense transformation toward the digital world and the new mentality we are implementing, the innovative projects that make us more competitive, the option of working on global projects with transversal teams, etc. are all competitive advantages our current team experiences – we can boast the greatest "pride of belonging" in our sector – and which enable us to attract the talent we need for a wide range of positions.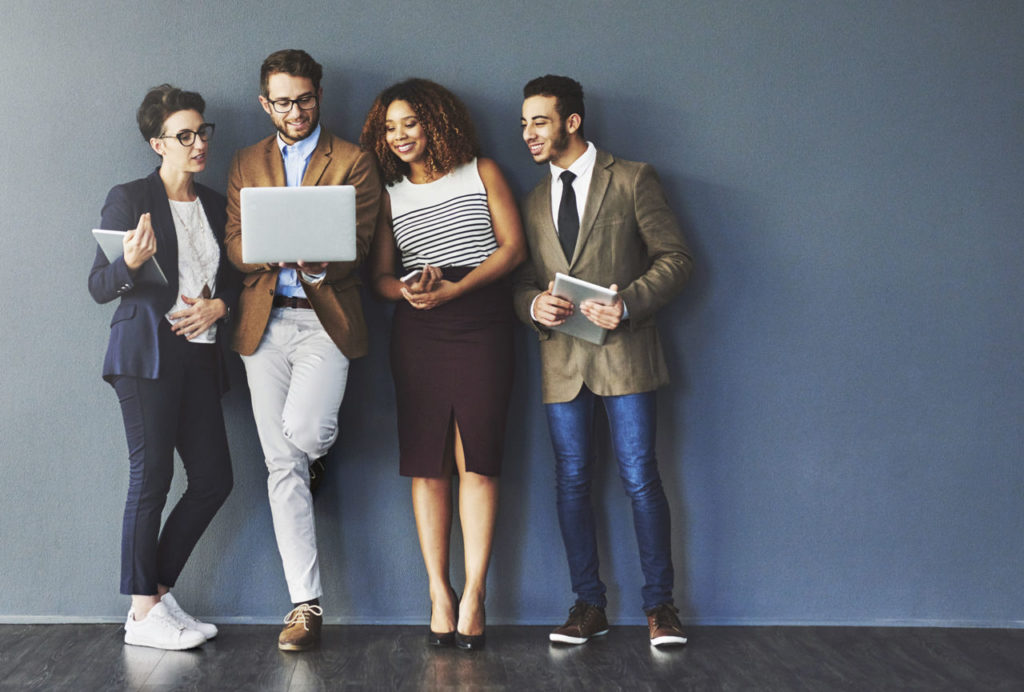 Do you know people who could fit in at MAPFRE?
At some time you must have thought that someone you know would be well suited for working at MAPFRE and, on some occasion, have maybe even handed in to Human Resources an acquaintance's résumé. To date, in most cases this happened in a spontaneous fashion; however, given the great importance of attracting the best talent, we wish to facilitate this process.
It is really very straightforward: you simply include the name and email address of the person in the Internal Mobility/Referral section of SuccessFactors, and the platform sends out an email inviting them to register on our employment page and apply for the job offer that most interests them.
In that way, you will not only be collaborating to further that person's professional development, but will also be demonstrating your commitment to MAPFRE's growth in a very special way, helping to incorporate the best talent into our organization.