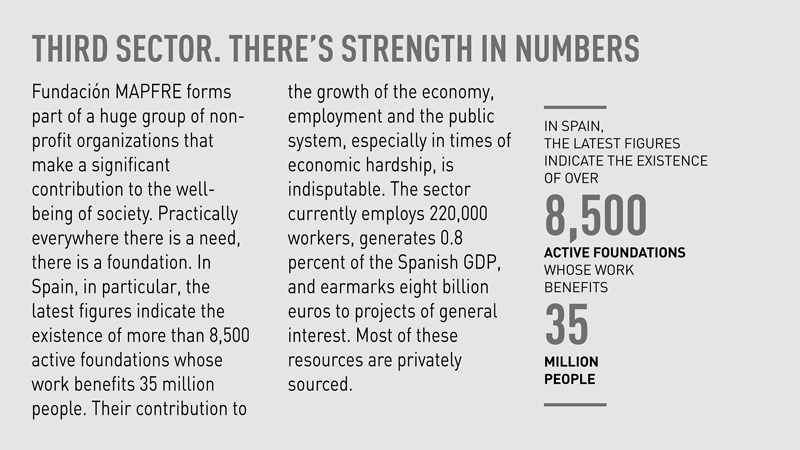 Over the last ten years, Fundación MAPFRE has contributed to improving the life of over 100 million people, thanks to a great many projects that have helped to significantly change the economic, social and cultural conditions of the most disadvantaged sectors of society. Our Foundation is now taking stock of this past decade and analyzing the challenges it faces in order to continue being a benchmark social institution.
TEXT NURIA DEL OLMO (@NURIADELOLMO74) | IMAGES FUNDACIÓN MAPFRE
The experts believe that, in order to achieve a better, more prosperous country, it needs to have a strong, committed, financially viable Third Sector. This is the work of foundations, something that benefits everyone, given that, thanks to their endeavors, they make the world a better place.
This has always been the prime objective of Fundación MAPFRE, an institution with 40 years of history which, over the last ten, has allocated 500 million euros toward improving the quality of life of the most underprivileged in society. This budget, which has grown even during the economic crisis, has enabled it to undertake numerous activities in the fields of education, health and culture, among others. The overriding goal has always been to assist the excluded, those with the least resources and opportunities. Its work has enabled it to offer "a second chance" to beneficiaries in over 30 countries, which has proved key to turning their lives around, with the outlook of a better future.
"Whether employees or collaborators, all of us are proud of the important role our Foundation plays," Antonio Huertas, president of Fundación MAPFRE declares. He believes that "thanks to this institution, we can be protagonists and driving forces, boosting this commitment and effort in a constant drive to help others", especially through the volunteering program jointly promoted by MAPFRE and its Foundation. In this sense, the president stresses that the company has committed itself to having the best volunteering program in the world, "as we want to be the company with the greatest solidarity in the world and Fundación MAPFRE is the best channel for this."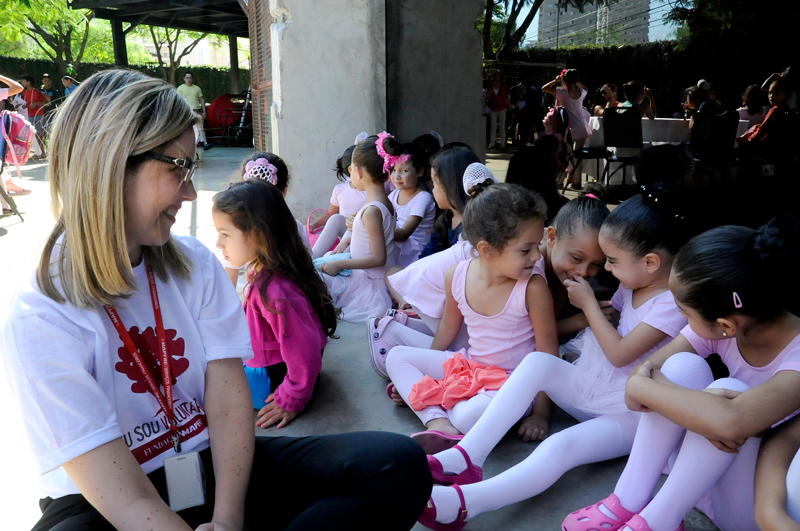 10 YEARS OF PROJECTS
The Foundation takes stock of this past decade. What social footprint has it left, and what impact has it had on those 100 million people who have received its support? We highlight the most significant milestones of this period.
International cooperation
It encompasses 830 projects which, over this time, have managed to improve the lives of almost one million people, mainly children and adolescents. The figures speak for themselves: over 55,000 children from 30 countries have received at least one meal a day, while over 79,000 have learned how to stay healthy and have received basic healthcare assistance.
Education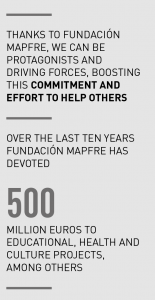 This is decisive for breaking the cycle of poverty. For this reason, the Foundation has endeavored to make it available to five million youngsters through the Educa tu Mundo [Educate Your World] program, whereby, to date, it has trained over 5,000 teachers in accident prevention, promotion of healthy life habits and financial know-how, particularly that related to saving.
Disability
Fundación MAPFRE has facilitated the creation of 2,700 jobs for people with an intellectual disability or mental illness, a chance for these people – who generally suffer from social exclusion and long-term unemployment – to prove to society that they are just as capable as the rest of the population.
Painting and photography
Over the last decade, 12 million people have enjoyed visiting 300 major painting, sculpture and photography exhibitions. Most noteworthy is the success reaped in Brazil, where nearly two million people visited two unique exhibits of Impressionist and Post-Impressionist works.
Stop accidents
Prevention is fundamental for avoiding accidents and, for this reason, over the past ten years, nearly 100 million euros has been invested in offering road safety education to 2,800,000 youngsters. The aim is for pedestrians and cyclists to behave more responsibly and, in the future, be safer drivers.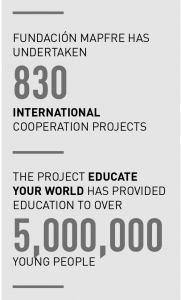 Health
Promoting mental and physical health, investing in research as the motor of scientific progress, and helping society know about certain conditions such as cardiovascular diseases, and be sensitized to what they entail, have been some of the mainstays of its activity in this field. Throughout this period, the institution has invested 79 million euros to boost the development of cell therapies, develop applications to save lives in the sporting arena, and draft protocols on what to do in cases of choking, drowning and cardiac arrest. It has also helped improve the healthy habits of more than two million children in 15 countries.
Insurance for All
Fundación MAPFRE never forgets its roots and is therefore keen to disseminate financial knowledge and, above all, the insurance culture. To this end, it possesses the most significant center of insurance documentation in Spanish in the whole world and has invested 22 million euros to carry out 650 research projects, and help promote the talent and expertise of more than 1,000 professionals in the sector.
Solidarity spirit
Volunteering is an opportunity to experience and enjoy unique moments and demonstrate that, if we all did our bit to help those suffering from the greatest inequalities, the world would be a very different place. This is why, for years now, our Foundation has been encouraging its employees and their relatives to contribute to a collection, lend a hand in a soup kitchen, paint a shelter, clean up polluted beaches, or get some laughs out of children hospitalized with serious illnesses. In the last 10 years, MAPFRE volunteers have helped one million underprivileged people in situations of vulnerability.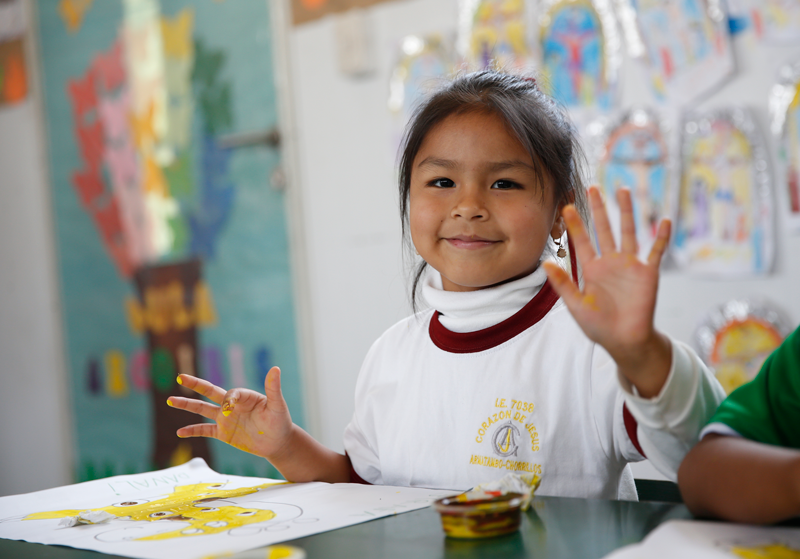 CHALLENGES AND TRIALS
In the coming years, Fundación MAPFRE wishes to continue focusing on those population groups that suffer most from unemployment and social exclusion, so that they can enjoy job opportunities and gain a vote of confidence from society as a whole. Education and culture, key to development, also figure high among its objectives, and it will promote them through scholarships and courses for both students and teachers, as well as major exhibitions of contemporary art, which have led to it becoming an international cultural reference. Likewise, road safety, a decisive factor for reducing accident rates, will continue on the agenda for the coming decade. Under the slogan Target Zero, the Foundation will continue raising awareness among drivers to avoid them making poor decisions at the wheel, such as failing to respect speed limits, drinking alcohol and using cell phones. As in the past few years, it will keep raising public awareness of major social concerns, so as to increase their sense of solidarity and foster their generosity through collaborations, volunteering and donations.