Fundación MAPFRE will be offering one photography and two painting exhibitions in its exhibition halls in Madrid and Barcelona over the coming months. But not only in these Spanish cities is it possible to enjoy the exhibits your Foundation is putting on. This fall we are also heading to Amsterdam and The Hague.
TEXT REDACCIÓN EL MUNDO DE MAPFRE | PHOTOGRAPH FUNDACIÓN MAPFRE
Eamonn Doyle
Through January 26, 2020 the Barbara de Braganza Hall in Madrid will be hosting the exhibition Eamonn Doyle, which, for the first time in Spain, is presenting the work of this Irish photographer. Living in the center of the Irish capital, Doyle photographed his surroundings from unexpected angles, offering an original vision of the city and its inhabitants. His series i, ON, and End., the "Dublin Trilogy", with his strategic use of cropping and framing, transmit moments of stillness and frenetic energy, solitude and community.
The display also includes the K series, his latest work which is presented here for the first time. Large format color photographs depict a number of spectral figures constantly changing shape, which are placed against the dramatic backdrops of the west coast of Ireland and Extremadura, where he was shooting at the request of Fundación MAPFRE.
Eamonn Doyle
Through 1/26/2020
Fundación MAPFRE Bárbara de Braganza Hall
Bárbara de Braganza, 13.
28004 Madrid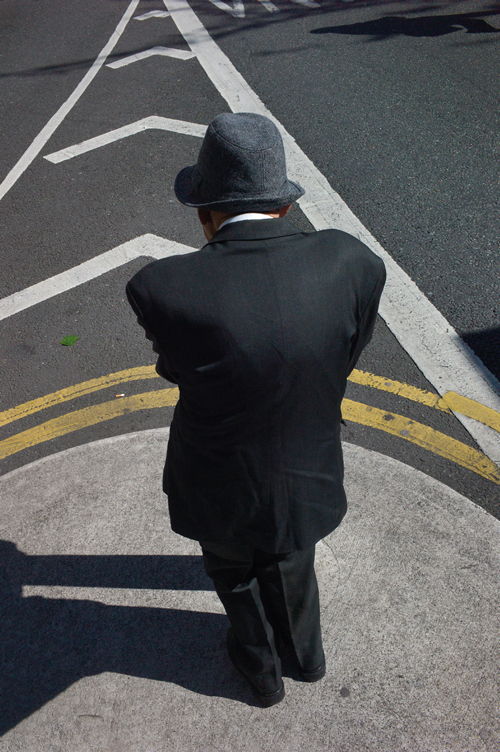 Eamonn Doyle i (series) no. 36, 2013 © Eamonn Doyle, courtesy of Michael Hoppen Gallery, London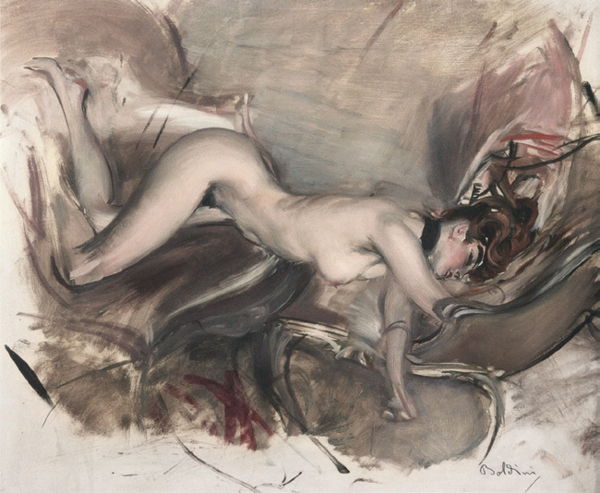 Giovanni Boldini Nudo di giovane signora [Naked Young Woman], 1890-1900 Arkas Collection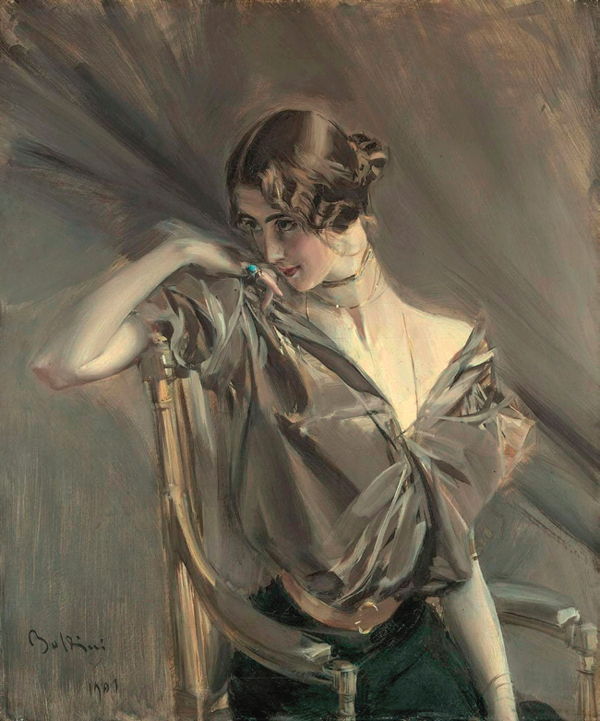 Giovanni Boldini Cléo de Mérode, 1901 Private Collection
Boldini and Spanish Painting in the Late 19th Century. The Spirit of an Era
Also in Madrid, the Recoletos Exhibition Hall in Madrid is presenting this exhibition dedicated to the prestigious Italian painter Giovanni Boldini (Ferrara, 1842 – Paris, 1931), in dialog with other Spanish artists who formed part of the Parisian circles of the Belle Époque. Boldini became one of the most influential portraitists on the international stage at the turn of the century. Resident in Paris since 1871, throughout his life he maintained a style based on the intuition of the moment, capturing movement and a freshness that challenged the artificial poses of the past, all this reflected in rapid brushstrokes and unusual gestures, without ever losing sight of the attention to the figure and the subject's expression.
Boldini and Spanish painting in the late 19th century. The Spirit of an Era
Through 1/12/2020
Fundación MAPFRE Recoletos Hall
Paseo de Recoletos 23
28004 Madrid
Touching Color. The Revival of Pastel
At the Casa Garriga Nogués Hall in Barcelona, a review of international modernity through the pastel technique, from October 4 through January 5. The exhibition explores how this artistic medium reasserted its distinctive quality in the second half of the 19th century, when it played a prominent role in the most daring artistic innovations.
Among the pastel artists brought together here are Eugène Boudin, Mary Cassatt, Odilon Redon, Edgar Degas, Pablo Picasso, Joan Miró and Hans Hartung, among others; their international renown raised the profile of colored chalk, affording a new status to a technique that became so widely popular throughout the 20th century.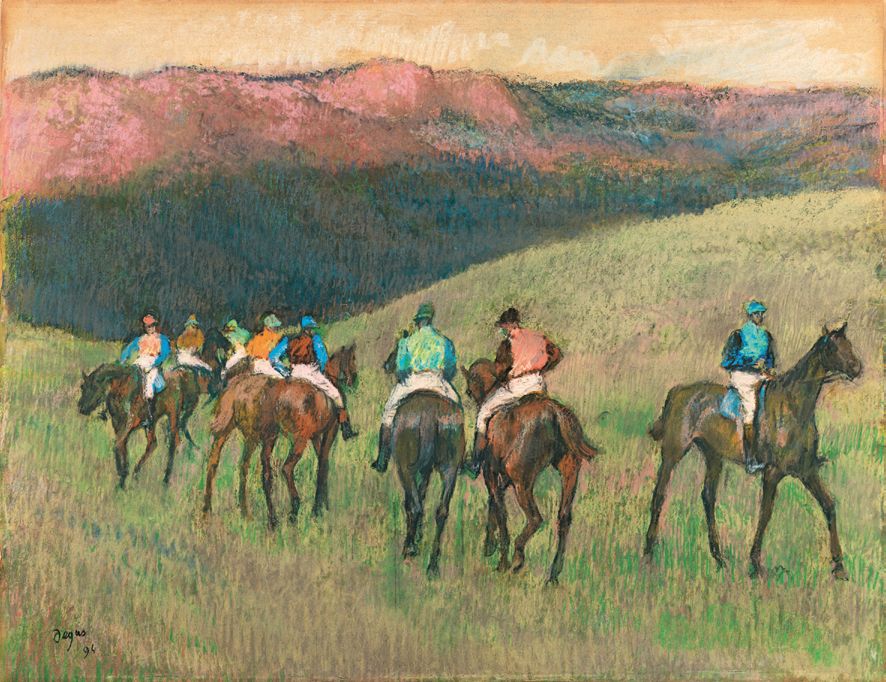 Edgar Degas Chevaux de course dans un paysage [Racehorses in a Landscape], 1894. Carmen Thyssen-Bornemisza Collection, on deposit at the Thyssen-Bornemisza National Museum, Madrid
Touching Color. The Revival of Pastel
10/4/2019—1/5/2020
Fundación MAPFRE, Casa Garriga Nogués Hall
Diputació, 250
08007 Barcelona
Richard Learoyd
At Fotomuseum Den Haag in The Hague, from October 5 through January 5, 2020, an exhibit offering an overview of this British artist's oeuvre from the last ten years. Learoyd is one of the most renowned contemporary photographers nowadays. Richard Learoyd's images possess a unique captivating quality. Whether in color or black and white, his photographs are the result of an artisan process using a camera obscura of his own construction. Learoyd's work is firmly rooted in the past, with multiple references to the history of painting, as regards both his themes and technique.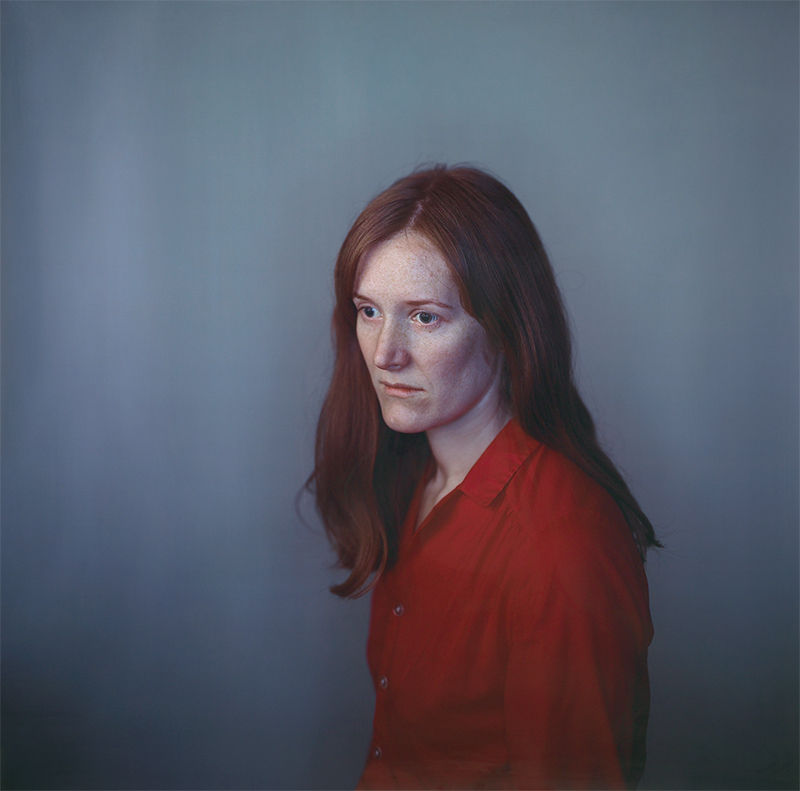 Richard Learoyd Rachel, 2009 Courtesy of the artist and Fraenkel Gallery, San Francisco
Richard Learoyd
10/5/2019—1/5/2020
Fotomuseum Den Haag
The Hague
Berenice Abbott. Portraits of Modernity
Also in Amsterdam, through December 5, the Huis Marseille museum presents Berenice Abbott. Portraits of Modernity, a tour of the universe of this exceptional American photographer (Springfield, Ohio, 1898 – Monson, Maine, 1991). Through her work, Berenice Abbott opens a door onto the early 20th century, offering us a personal portrait of this effervescent period.
Abbott's oeuvre reflects her modern vision of an era. Her bold, pioneering perspective is reflected in her portraits of the most avant-garde artists and intellectuals of the time, her breathtaking views of New York City and her scientific photographs, in which she portrays the results of various phenomena and experiments.
Comprising nearly two hundred photographs by the artist, this exhibition is structured in three thematic sections. It also contains eleven photographs by Eugène Atget printed by Abbott herself in the late 1950s.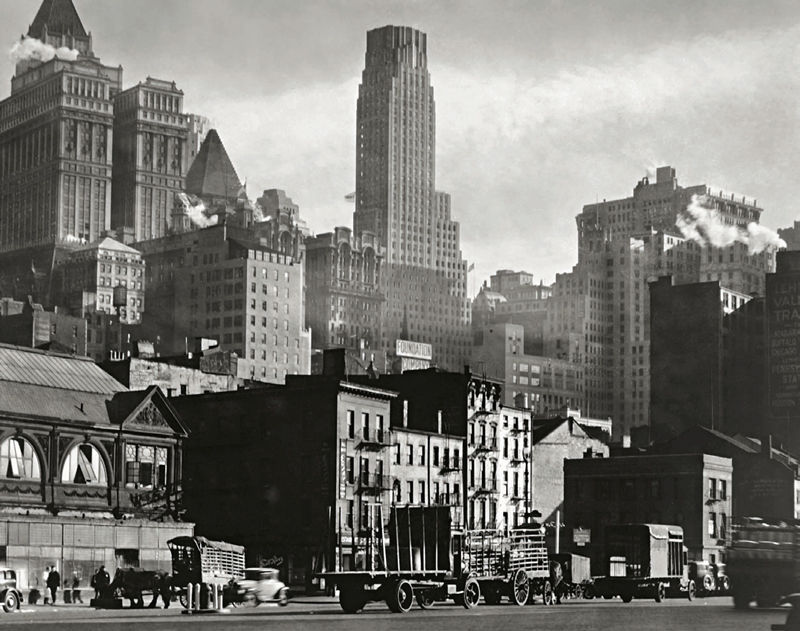 Berenice Abbott West Street, 1932 © Getty Images/ Berenice Abbott
Berenice Abbott Portraits of Modernity
Through 12/5/2019
Museo Huis Marseille
Amsterdam
Brassaï
Continuing in the Netherlands, this time at the Foam Fotografiemuseum in Amsterdam where, until December 4, we have the chance to discover Paris, as reflected by the brilliant Hungarian photographer for whom this city was his main source of inspiration. The way in which he depicted its streets and its inhabitants made him famous, with some of his photos going on to become symbols of an era and the city. The monuments, the most picturesque places and everyday scenes are all present in his oeuvre, but the photographer did not forget the darker underworld. For Brassaï, gangsters, misfits, prostitutes and drug addicts represented that less cosmopolitan, yet more vibrant and authentic side of Paris.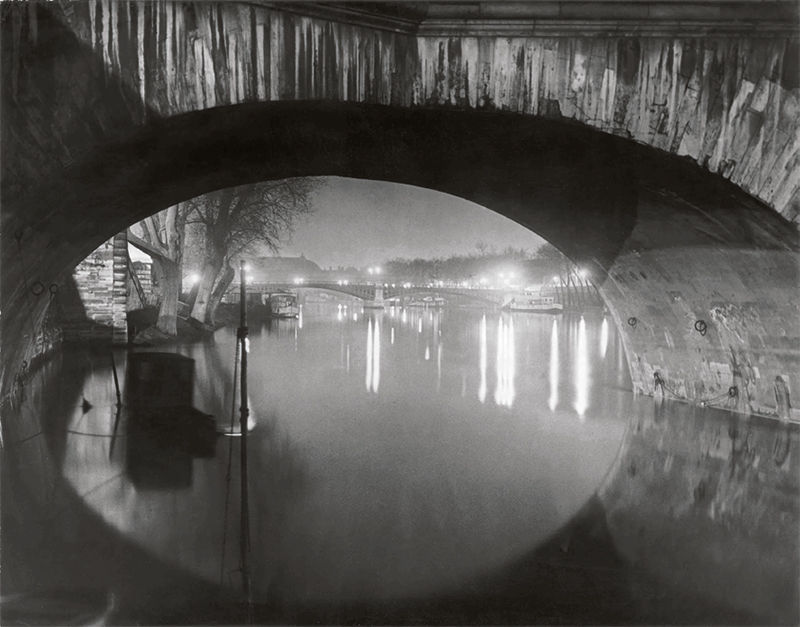 Brassaï View Through the Pont Royal toward the Pont Solferino, c. 1933 © Brassaï Estate, Paris
Brassaï
Through 12/4/2019
Foam Fotografiemuseum
Amsterdam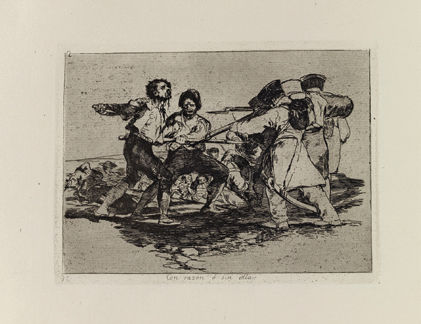 Francisco de Goya y Lucientes The Disasters of War, 1810-1815 Rightly or Wrongly FUNDACIÓN MAPFRE Collections
Francisco de Goya y Lucientes. The Disasters of War
Returning to Spain, this time to the Terrassa Cultural Center in (Barcelona), where you can visit this exhibit from November 21 through February 9. Consisting of 80 duly titled and numbered etchings in which the Aragonese artist focused on the viewpoint of the victims and their suffering, but also on political criticism.
Francisco de Goya y Lucientes. The Disasters of War
11/21/2019 through 2/9/2020
Terrassa Cultural Center
(Barcelona)
Junyer and Sandalinas in the Fundación MAPFRE Collections
From October 11 through December 13, 2019 the avant-garde drawings of the Catalan artists Joan Junyer and Joan Sandalinas, which form part of our collections, are heading to Fundación MAPFRE GUANARTEME, in Las Palmas de Gran Canaria.
This exhibition reveals scenes from everyday life, ordinary people, Barceloneta fishermen, telephone workers and Mallorcan peasants, among other favorite topics of these two painters.
Junyer and Sandalinas in the Fundación MAPFRE Collections
10/11 through 10/13/2019
Fundación MAPFRE Guanarteme
Las Palmas de Gran Canaria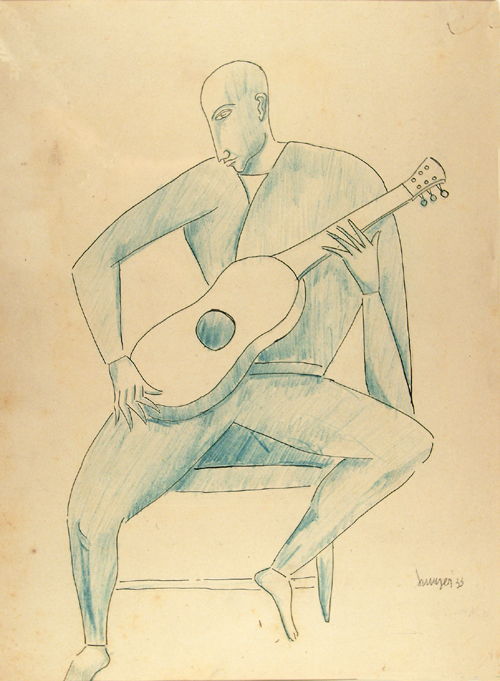 Joan Junyer Guitarist, 1933 Fundación MAPFRE Collections
Portraits
At the Andalusian Center of Photography in Almeria, from September 13 through November 15, you will be able to enjoy some of the works from the Fundación MAPFRE photography collection, this time focusing on the complexity and richness of the portrait.
Robert Adams, Diane Arbus, Harry Callahan, Joan Colom, Dayanita Singh, Walker Evans, Lee Friedlander, Alberto García-Alix, Cristina García Rodero, Emmet Gowin, John Gutmann, Jitka Hanzlová, Graciela Iturbide, Richard Learoyd, Helen Levitt, Anna Malagrida, Fernando Maquieira, Lisette Model, Robert Frank, Fazal Sheikh, Paul Strand and Garry Winogrand are the photographers chosen for this representation of 20th century portrait photography.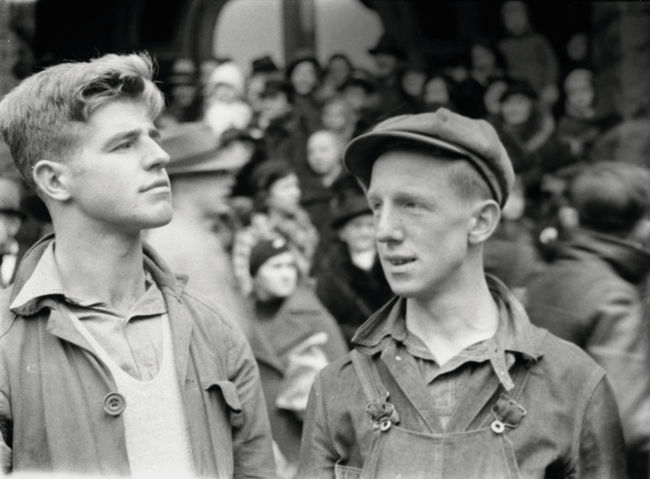 Walker Evans Faces, Pennsylvania Town, 1936 Fundación MAPFRE Collections, © Walker Evans Archive, The Metropolitan Museum of Art, New York
Portraits
9/13 through 11/15/2019
Andalusian Center of Photography
Almeria
Peter Hujar. At the Speed of Life
At the Jeu de Paume Museum in Paris, from October 15 through January 19, 2020, more than 150 works by this somewhat reserved artist define a career which is the reflection of an entire era, from the 1950s right up to his death in 1987. Peter Hujar was born in Trenton, New Jersey in 1934 and he grew up in the countryside until his mother took him to Manhattan to live with her, when he was eleven. From that moment on, his life and work were intimately linked to Downtown New York, where he portrayed artists he knew and respected, such as Andy Warhol or Susan Sontag, as well as other anonymous characters on the New York scene.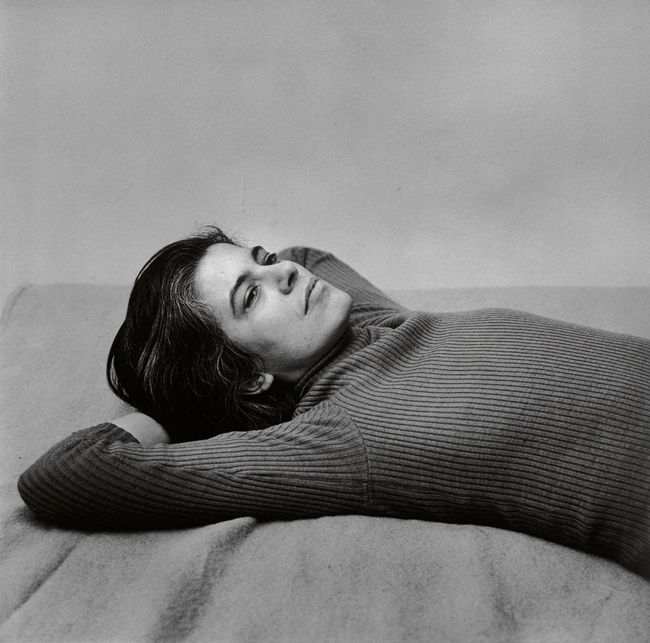 Peter Hujar Susan Sontag. 1975 © Courtesy Pace/MacGill Gallery, New York, and Fraenkel Gallery, San Francisco
Peter Hujar. At the Speed of Life
10/15/2019 through 1/19/2020
Jeu de Paume Museum
Paris