The second edition of the Fundación MAPFRE Social Innovation Awards has come to a close. Among the 230-plus projects which competed this time round, the winners were a Spanish, a Brazilian and a Colombian initiative. We offer you details of the grand final and talk to the protagonists of the event about their projects and how this award can really give them a differential boost.
TEXT THE WORLD OF MAPFRE EDITORIAL DEPT. PHOTOGRAPH FUNDACIÓN MAPFRE
Last October 10, nine finalists competed for the Fundación MAPFRE Social Innovation Awards, organized with academic support from IE (Instituto de Empresa). At the event, held in the Auditorium of the Museo Nacional Centro de Arte Reina Sofia, the nervousness and excitement of the participants was evident. Because getting this far had not been easy. The projects that reached the final had passed through a tough selection process. Of the 230-plus projects submitted to this second edition, 26 went on to the regional semifinals held in São Paulo, Mexico City and Madrid. They competed at these three venues in three categories: e-Health or Improving Health & Digital Technology); Insurance Innovation; and Sustainable Mobility & Road Safety.
The nine projects which reached the final are clearly capable of: improving the quality of life of people who suffer from diseases (Neurobots; Ecglove; Rithmi); furthering the autonomy of the elderly and those with disabilities (Speakare; Navilens); creating safer environments for children in large cities (Carona a pé; Caminito a la escuela); providing access to essential services – health, leisure, education, insurance – to vulnerable people (MiBKClub); and boosting the livelihood of small-scale farmers (Manejebem), essential actors when it comes to feeding the world, by offering them technical assistance and remote support for the risks to which they are exposed.
"You have given us hope for the future through your commitment to the present. This is the 2030 Agenda. It is essential to organize ourselves to ensure that, every day and in every aspect of our lives, we advance toward a fairer society and can live on the planet we want and which we must leave to our children. Innovation is on our side"

Cristina Gallach.  High Commissioner for the 2030 Agenda
During the ceremony, a representative of each of the nine finalist projects came on stage for three minutes to tell the audience about their project, how it is innovative and how it contributes to social improvement. Finally, the envelopes were opened, disclosing the winners Neurobots (e-Health; Brazil), MiBKClub (Insurance Innovation; Colombia) and Navilens (Sustainable Mobility; Spain).
These three initiatives take home with them the international recognition inherent in this award. And, of course, the 30,000 euros cash prize accompanying each of these three awards, enabling them to give their projects a definitive boost and go beyond the prototype stage. Not forgetting the tremendous visibility in the media, reaching both potential investors and clients.
The success of this second edition has reinforced Fundación MAPFRE's commitment to social innovation in general, and to these awards in particular. Proof of this commitment is the announcement of the third edition of the Social Innovation Awards, "because there are so many social impact projects just waiting for an opportunity."
We present the protagonists of the second edition of the Fundación MAPFRE Social Innovation Awards.
HEALTH IMPROVEMENT AND DIGITAL TECHNOLOGY (E-HEALTH)
NEUROBOTS (Brasil)
Julio Dantas, CEO de Neurobots, tells us about their project: "We are a neuroengineering startup working to rehabilitate stroke patients." "We ask patients to think or imagine what they want to do, capture the brain signals that the software identifies and manage to get the exoskeleton to move accordingly." In this way, patients are able to move their hand again. Dantas goes on: "This work actually enables the brain's plasticity to be increased by making new connections and restoring the function that had been lost." This rehabilitation process enables around 30 percent of the motor capacity of the upper limbs to be recovered in as little as two weeks. At the end of the therapy, patients no longer need the neuroconnector as they have relearned the movement. This project arose from the need to tackle the sequelae of a stroke, a serious problem in Brazil, as everywhere else. Each year, some 300,000 people suffer a stroke. 75 percent of patients survive, yet 70 percent of them never walk again. This is the disease that causes the greatest number of mobility disability issues in the world and Neurobots could help many of them recover part of that lost life. A true revolution accomplished by a young biomedical company (its CEO is only 24 years of age) for whom winning this award has meant a lot: "Fundación MAPFRE is a highly respected institution and it has chosen us over numerous great projects from all over the world. It's been so motivating, made us feel really good and shows us that we're on the right track."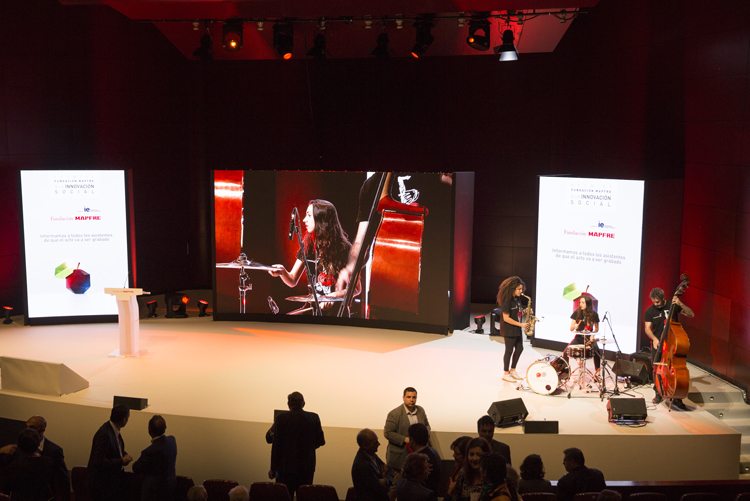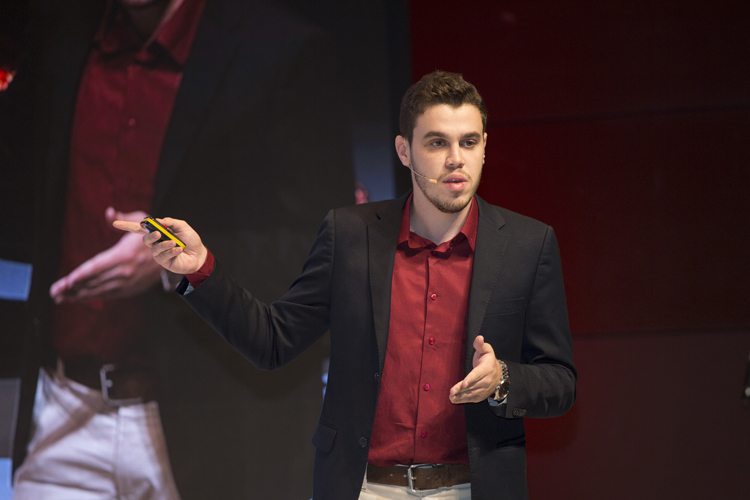 (Top to bottom)
Concert at the award ceremony
Julio Dantas, CEO of Neurobots
"We were already ambitious last year. And we remain so. The underlying factor is the need for companies to make an impact, to act differently in order to achieve change. Fundación MAPFRE is fully committed in all the regions where we operate, because we also want to be leaders of change"
Antonio Huertas
President of Fundación MAPFRE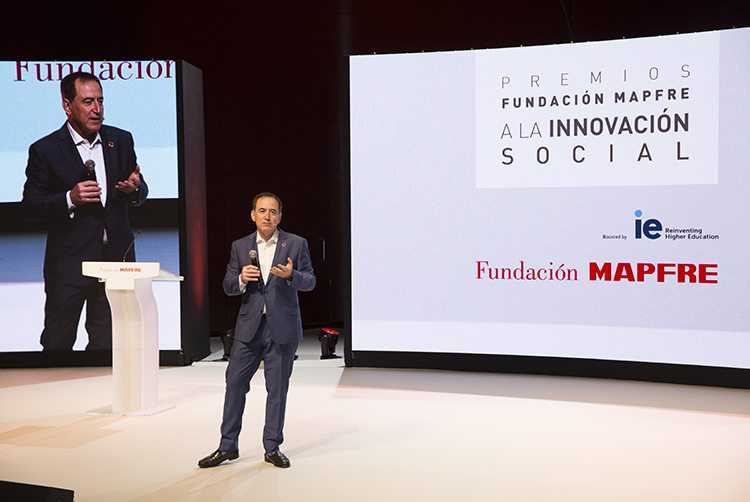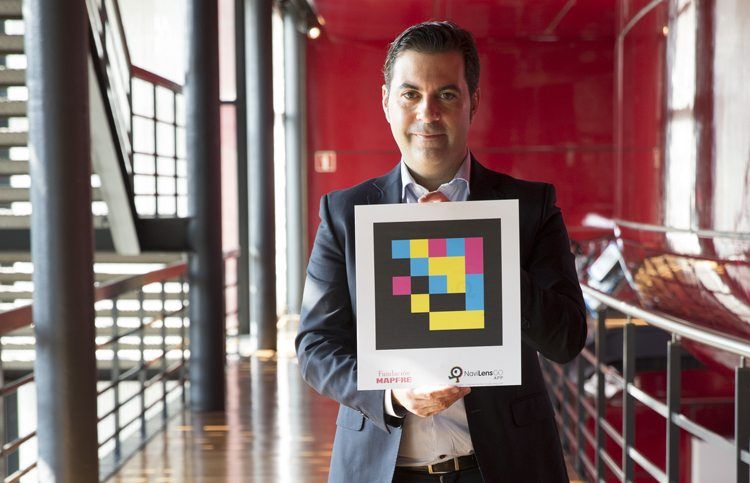 (Top to bottom)
Antonio Huertas during his intervention at the award ceremony
Javier Pita, CEO of Neosistec
"Innovators do not simply want to create an innovation model; they also want to create new capacities for addressing problems and seeking social and technological growth"
Antonio Huertas
President of Fundación MAPFRE
MOBILITY & ROAD SAFETY
NAVILENS (España)
The Spanish company Navilens has developed an app which achieves maximum accessibility for people with visual disabilities using a cell phone. Able to read a QR-type code and based on Artificial Vision, it detects multiple markers at significant distances in milliseconds, even with the device in movement, and without needing to focus on objects. Javier Pita, CEO of Neosistec, the firm that developed this project, tells us how the idea came about: "We were wondering how a cell phone could help people with a visual disability. We thought that the camera could read signage to help them get their bearings, especially in places they have no prior knowledge of. What was available on the market was no use to us. So we met up with the University of Alicante to set them the challenge. It took us five years to develop this code." Their goal is for it to achieve widespread use: "Just as there are signage elements in all public spaces, we believe that there should also be Navilens codes so as to make them more accessible for the blind." Pita is of the opinion that technology "should have a social impact on people's lives." And that is precisely why this award is so exciting for them "given that, in its second edition, it's already one of the most prestigious on the international stage. This is a major step toward being able to extend this system that helps people with visual disabilities move around more independently in their daily lives." And without forgetting that it may be of use to many more than just this population group – "to all passersby. A visitor in Asia can have signs translated in real time to their own language." It has already been tested in such crowded places as the bus and metro services in Barcelona, the trams in Murcia or the Atocha train station in Madrid.
INSURANCE INNOVATION (INSURTECH)
MIBKCLUB (Colombia)
Maribel Torcatt, one of the founders of this project, has dedicated over 20 years to this field from Fundefir (Rural Finance Foundation), a non-profit association responsible for MiBKClub. This is "a lowcost subscription model program that combines insurance with other products and services which we refer to as poverty 'shock absorbers'. They are distributed through community advisors, local women who manage to minimize the reluctance to purchase insurance," Torcatt explains. And she goes on: "It's like an incentive to get people to purchase insurance, which is in our interest as a development organization; but we package it up with other services and benefits such as education, leisure, housing and health. We obtain discounts in travel agencies, dental clinics, etc. And, in the event of some contingency, they are insured. In this way our target population – vulnerable groups and low-income families – can enjoy insurance cover almost without realizing it." In Fundefir they know that "poverty is not only determined by a lack of income, but also the lack of a regular income, with periods where economic revenues drop or simply disappear. It is at these moments that a shock absorber is needed. Without this safety net, a crash is inevitable." Maribel gives the example of a lady who makes cakes at home. "If she catches the flu and misses eight days' work, this is a very serious problem." Winning this award has meant a lot: "In the first place, it's recognition for 20 years of hard work, producing products and services that help vulnerable populations. The cash prize will help us boost their impact and develop the technology that we need. This award will help us bring this product to more populations."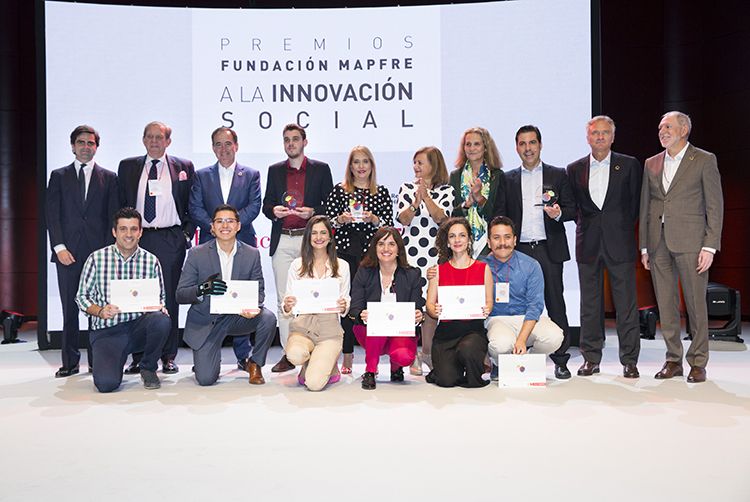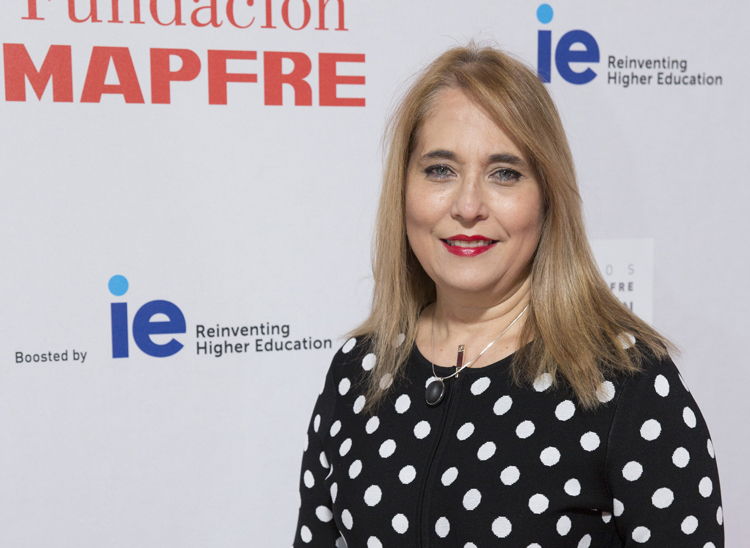 (Top to bottom)
Group photo of the finalists
Maribel Torcatt, founder of the MiBKClub project
"We must make a real call to action and adopt the Sustainable Development Goals as something inherently ours. It's not enough to just spread the message without taking concrete action"
Antonio Huertas
President of Fundación MAPFRE