TEXT ANTONIO HUERTAS MEJÍAS. MAPFRE CHAIRMAN AND CEO  | IMAGES MAPFRE
MAPFRE celebrates its 90th birthday from a leadership position in Latin America and as the biggest Spanish insurance company in the world.
MAPFRE has celebrated its 90th birthday with a major event in Madrid, where the Chairman and CEO, Antonio Huertas, reflected on the history of the company from its rural origins in 1933 in the center and south of the Spanish mainland, up to the present as the most important Spanish insurance company in the world and the absolute leader in insurance in Latin America.
As part of his speech, MAPFRE's Chairman and CEO thanked all the external and internal professionals, directors, business partners and, in general, all the stakeholders that have contributed to this success throughout of the first nine decades of the company's history. He also highlighted the milestones and merits of each of the company's chairpersons since the important re-foundation undertaken by Ignacio Hernando de Larramendi. Read the full speech below.
General Director for Insurance and Pension Funds, Secretary General of Ibero-America, ambassadors, honorary president, vice chairpersons, directors and trustees, members of the management team, friends, a good evening to you all.
In May 1933, a group of agricultural entrepreneurs from the south and center of the Spanish mainland agreed to create the Mutual Insurance Company of the Association of Owners of Rural Estates of Spain, to insure the workers on their farms. Coincidentally, that same year, construction began on what many years later, in the 1970s, would be used as a visual icon for our company, San Francisco's Golden Gate, the famous bridge that, thanks to a fortunate idea at MAPFRE Vida, we started to use as a concept for the "bridge to your retirement."
However, in its first 20 years of existence up until the mid-50s, the road our company traveled was uncertain and stormy. It barely survived the civil war, the internal struggles and the personal and political egos and major management errors that almost led this small mutual insurance company to bankruptcy. It was from 1955 onwards, with the recruitment of a then young insurance inspector, Ignacio Hernando de Larramendi, when the company embarked upon a second stage in its history. Even with limited support and resources, the company was gradually professionalized and important decisions were made that cemented the development and modernization of what several decades later, in the mid-eighties, would become the first Spanish insurance group.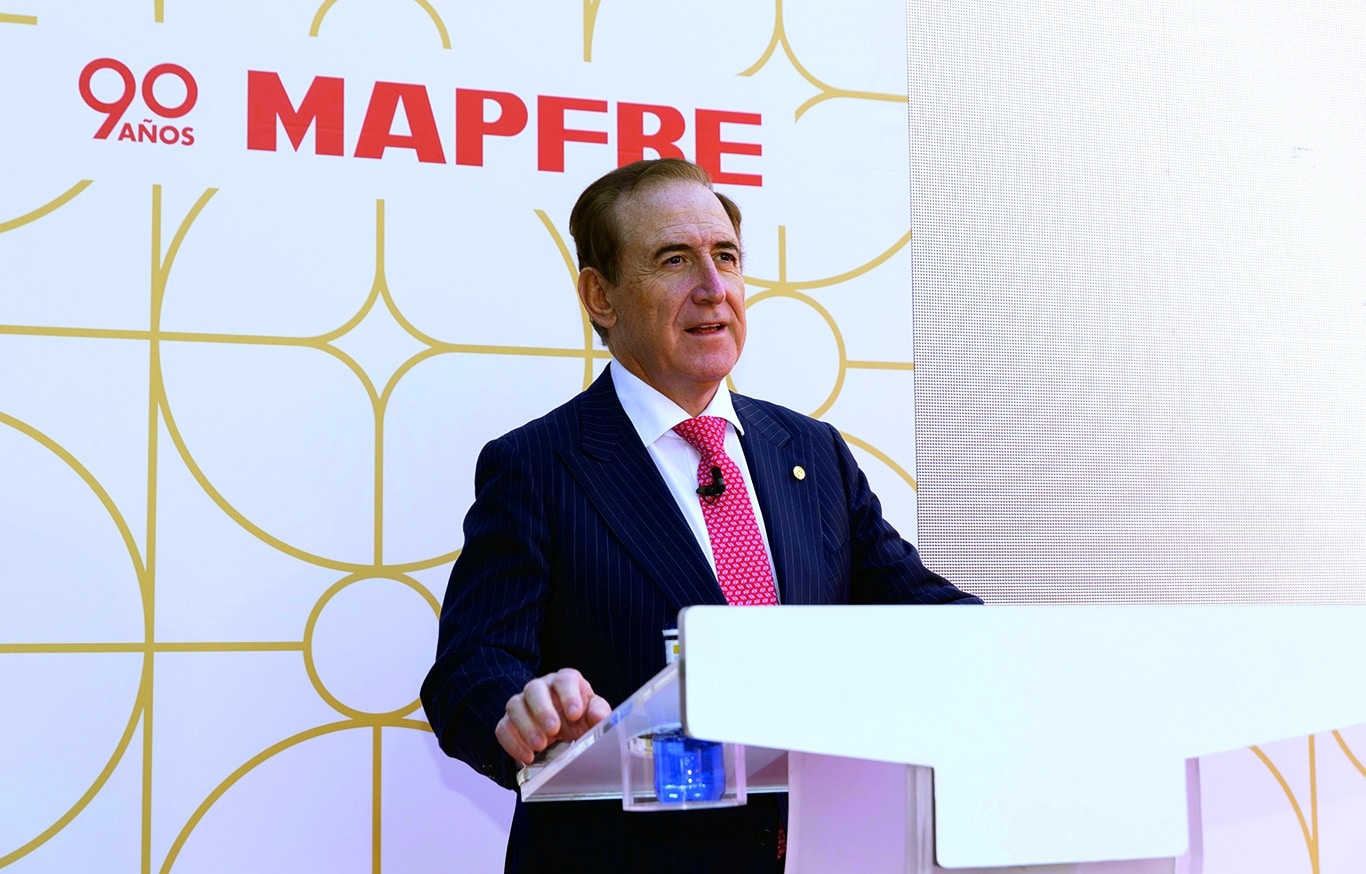 The progress made by the spanish economy and society served as a support for the construction of a business dream that, based on humility, perseverance, professionalism, austerity, technical rigor and solid ethical, business and social values, was making a difference compared to its traditional competitors.
It was not easy, and there were pitfalls everywhere the company looked, but these were resolved more often than not. The creation of a territorial network of agents and offices, a distinguishing feature to this today, was one of the most important actions when it came to setting our group apart from the rest, fostering closeness to the customer and service excellence. The product specialization of our highly-trained and results-oriented teams, both in terms of growth and profitability, saw us become leaders in the Spanish insurance market in the mid-1980s, a privileged position that our company continues to hold today: we are by far the biggest Spanish insurer in the world, the absolute leader in Hispanic America, and we have a strong presence in Brazil and the state of Massachusetts, markets in which we are leaders in the products in which we operate.
At this time, the ambition to grow and expand the development areas led to the creation of other business units that, over time, have been key to understanding MAPFRE as it is today. In addition to the life business and other lines such as home insurance, company insurance and the development of reinsurance, the expansion beyond our borders, starting in Colombia and Argentina in the 1980s, and continuing year after year, in practically all Ibero-American countries, under the chairmanship of our beloved Julio Castelo, may he rest in peace, was decisive to our group's current multinational configuration. It was while José Manuel Martínez was at the helm that this international development, which he himself had initially led alongside Larramendi and later with Castelo, was consolidated. It was also under the leadership of Martínez, who in turn had decisively promoted the Reinsurance business, that important steps were taken to develop the insurance business in non-Spanish-speaking markets, such as the United States and Turkey, and which continued to develop in other European and Asian countries in the last decade. All this has resulted in a global insurance and reinsurance company, with a presence on five continents and with its own hallmark represented by its business model, its strength and the professionalism of its teams.
Another milestone took place in 1975 with the creation of the first Foundation, of the several that the subsequent decades would see. The creation of these Foundations and the Group's most recent major reorganization in 2006, under the chairmanship of José Manuel Martínez, saw the demutualization and configuration of the new Fundación MAPFRE, which has seen us consolidate MAPFRE's great social commitment to promoting social, cultural, accident prevention, health promotion and dissemination of insurance culture projects.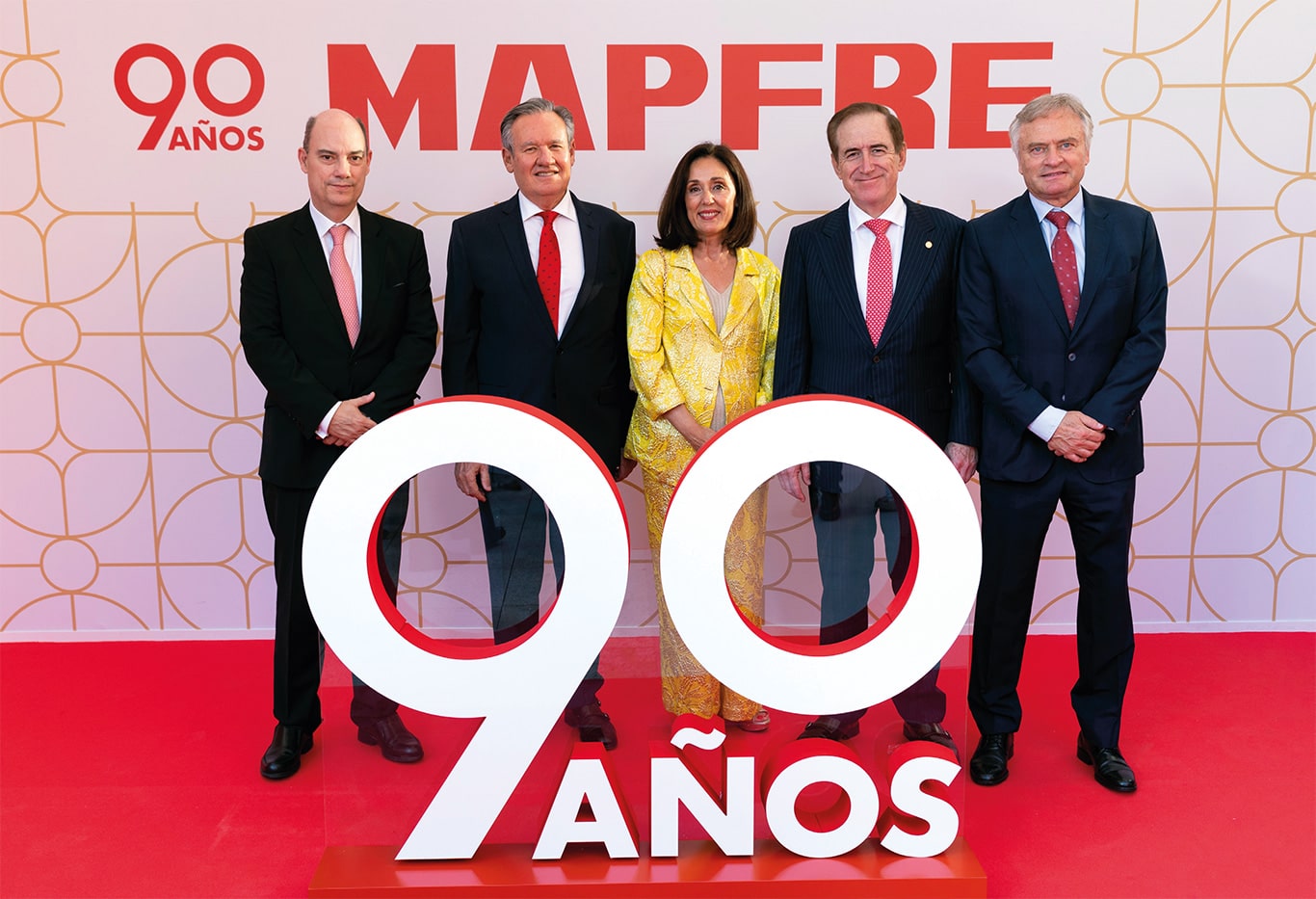 Antonio Huertas, Chairman of MAPFRE, accompanied by the company's Vice-Chairmen, José Manuel Inchausti, Catalina Miñarro and Ignacio Baeza, and by the Honorary Chairman, José Manuel Martínez
Meanwhile, the Operating Units, as they were known back then, specializing in specific businesses, were consolidating their position in both Spain and America, and other business ecosystems were created around them, many of which are still hallmarks of the Group to this day.
Starting in the 1980s, MAPFRE introduced a variety of measures in automobile insurance that were decisive in making the line of business one of the most profitable and most popular among customers. These measures included fast processing and payment services, roadside assistance, the first telephone centers, in-house medical and expert services, geographical and emotional proximity to injured parties, excellent technical and legal teams and many more innovations that were also bolstered in the sector through the development of processing agreements or the introduction of the personal injury compensation scale. Furthermore, forty years ago, under the leadership of Chairman and CEO Castelo, the MAPFRE Center for Experimentation and Road Safety, CESVIMAP, was founded. This institution is the company's mobility laboratory and a global reference point in the study of vehicles and their components, helping to significantly improve the conditions of cars, reduce accidents and provide repairs.
In terms of home insurance, MAPFRE was also able to transform a purely compensation-based form of insurance into a service where customer assistance is fundamentally paramount to resolving incidents in the home and confidently restoring normality as soon as possible.
When it comes to Life insurance, MAPFRE popularized long-term savings instruments among Spaniards, when the social security service as we know it today was a distant dream. We introduced these products to households both through advertising and commercially, thanks to the development of a wide network of specialists who were able to convince millions of Spaniards that investing in simple and highly profitable insurance products was a feasible and safe way to protect themselves for the future. Furthermore, it served as the basis for the development of our Group's institutional investment business. With the creation of MAPFRE INVERSIÓN, which has successfully managed our portfolios and our customers' portfolios for decades and, in recent years, with the additional launch of MAPFRE GESTION PATRIMONIAL, the Group is reinforcing this financial advisory service to retail investors, who also trust in us when it comes to their insurance protection.
MAPFRE also had a hand in the innovative development of company insurance, treading the path that saw the creation of this huge network of small and medium-sized companies and self-employed workers which found their home during the decades of legendary economic growth in Spain. Today, MAPFRE leads this sector both in Spain and in Latin America. By the turn of the century, we were able to make the step up to large companies and large industrial risks, through MAPFRE GLOBAL RISKS, our unit specializing in this type of business.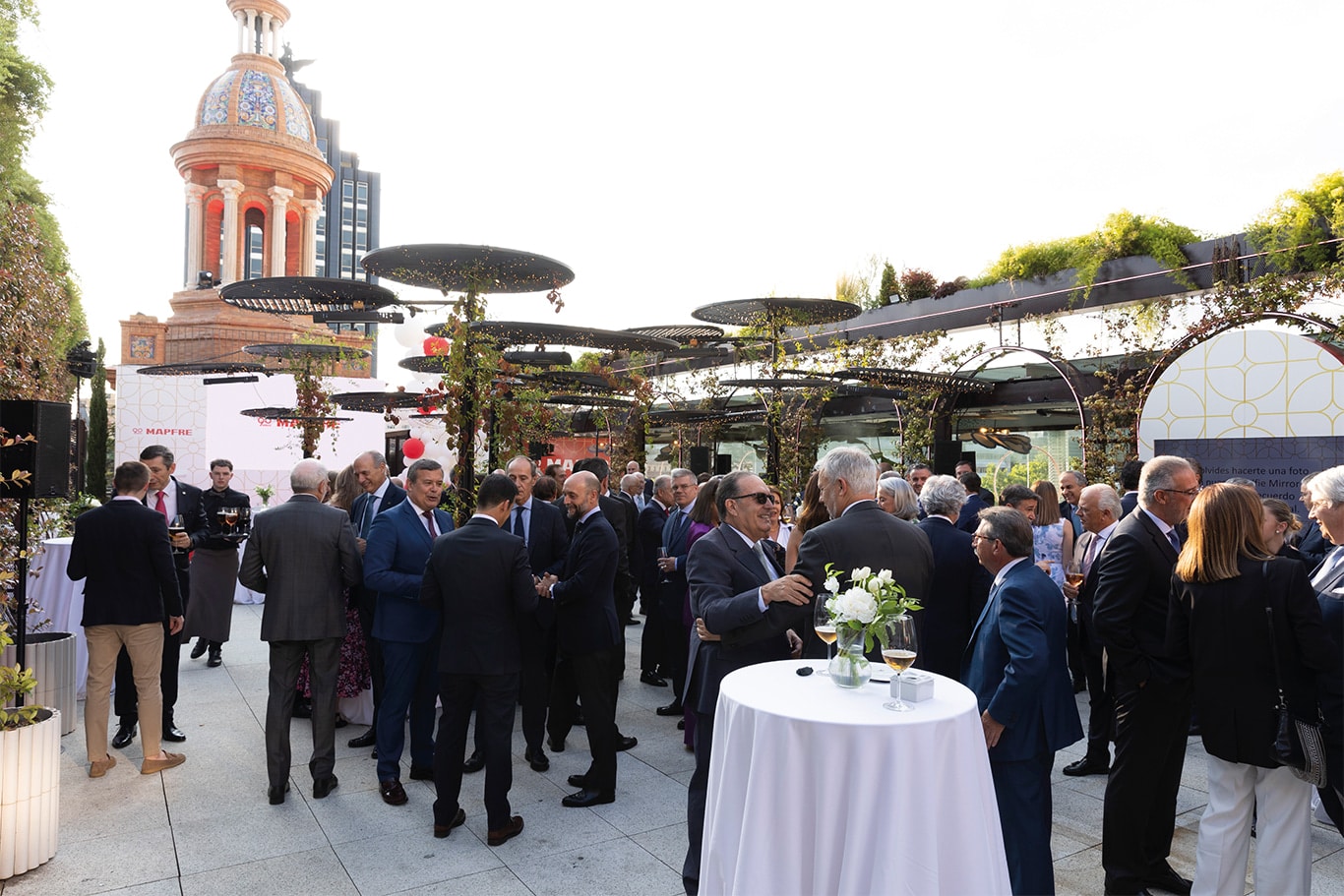 On June 22, MAPFRE celebrated its 90th anniversary with a massive event in Madrid
The major leap that was made with the creation of the Reinsurance Unit forty-one years ago was achieved thanks to the blossoming group of young enthusiasts and experts in this essential insurance protection instrument, which distributes risks and limits the volatility of insurance companies' results. Today, MAPFRE is recognized for its technical and service leadership in reinsurance protection for many insurance companies around the world.
The eagerness to improve our services led to a major, decades-long international expansion of our Assistance Unit, known today as MAWDY, which offers differentiating services to banks, insurance companies, retailers, and automobile manufacturers, to name a few, mainly in countries where we already have insurance companies.
And I must also mention our sister FREMAP, our dear employers' mutual insurance company. We have a shared origin and culture with them, and to this day, despite the logical and necessary separation of activities and business models, we are united by a fraternal relationship that makes us both stronger.
Over the course of its history, MAPFRE has been synonymous with innovation, transformation and leadership. Each of its business units has created its own separate spaces that are particularly popular with customers. All this accompanied by cutting-edge technological development, incorporating proprietary and market platforms that have always been ahead of the times and that have allowed us to strengthen the operations of our agents, our delegates and our own offices. They also now serve as a major support for other channels with which we operate: brokers, large brokers, financial institutions, etc. What's more, technology has allowed us to always remain very close to the customer. The revolutionary step forward offered by teleprocessing meant that we could computerize the daily management of thousands of offices, making it possible to leave behind the fragile insurance model that was very common at that time while strengthening operations, business accounting and dynamic monitoring, practically entirely online, claims files and decentralized customer service from anywhere online. All of this had already been fully deployed during the early eighties, when not even many banks were fully equipped with these technologies. This strong technological vocation has allowed us to live the now well-documented digital transformation to the fullest, incorporating it into our operations each and every day, as well as assuming the many advances that this revolution has offered our society from very early on.. The Internet, as a base, has made it possible for many of our businesses to evolve, facilitating the distribution and greater accessibility of services, both for intermediaries and customers while further diversifying our own brand and the development of new digital brands, such as VERTI, which now operates in Germany and Italy in addition to Spain, and SAVIA, our Digital Health service. However, this technological disruption continues with the incorporation of MAPFRE into the world of innovative entrepreneurship, both through direct investment in startups and in supporting many of those with interesting business models. In addition, MAPFRE has become one of the world leaders in supporting social entrepreneurship, with the Fundación MAPFRE's awards and recognitions handed out year after year. Furthermore, the rapid adoption of new technologies has allowed us to speed up operation and process automation, with robotization, cloud computing, machine learning and, recently, the first advances in both ordinary and generative artificial intelligence. We have before us an exciting digital world, at the service of people and with people at the center, which is accelerating the adoption of new knowledge, new capabilities that make life easier for our customers and the use of technological and scientific advances that will reduce accidents, prevent and cure illnesses, lengthen lives and improve people's social, occupational and economic conditions. And insurance and MAPFRE are always at the heart of everything, as we accompany our customers around the world.
This has resulted in a global insurance and reinsurance company, with a presence on five continents and with its own hallmark represented by its business model, its strength and the professionalism of its teams.
Bearing in mind that the steps taken in business since the sixties are extremely important, our group would be unrecognizable if it weren't for its own strong culture, values ​​and social commitment. The different generations that have succeeded one another over the past 90 years have been, in turn, the makers and participants of this different approach. Solid foundations that our company treasures, that all employees, past and present, take on as their own, strengthening a unique and envied sense of belonging. A clear hallmark that connects our people to their environment, to our agents and collaborators and to society in general, as our own brand. And I would like to place special emphasis on the more than thirty-one million customers who continue to place their trust in MAPFRE each and every day; it is because of them that we strive to outdo ourselves every day.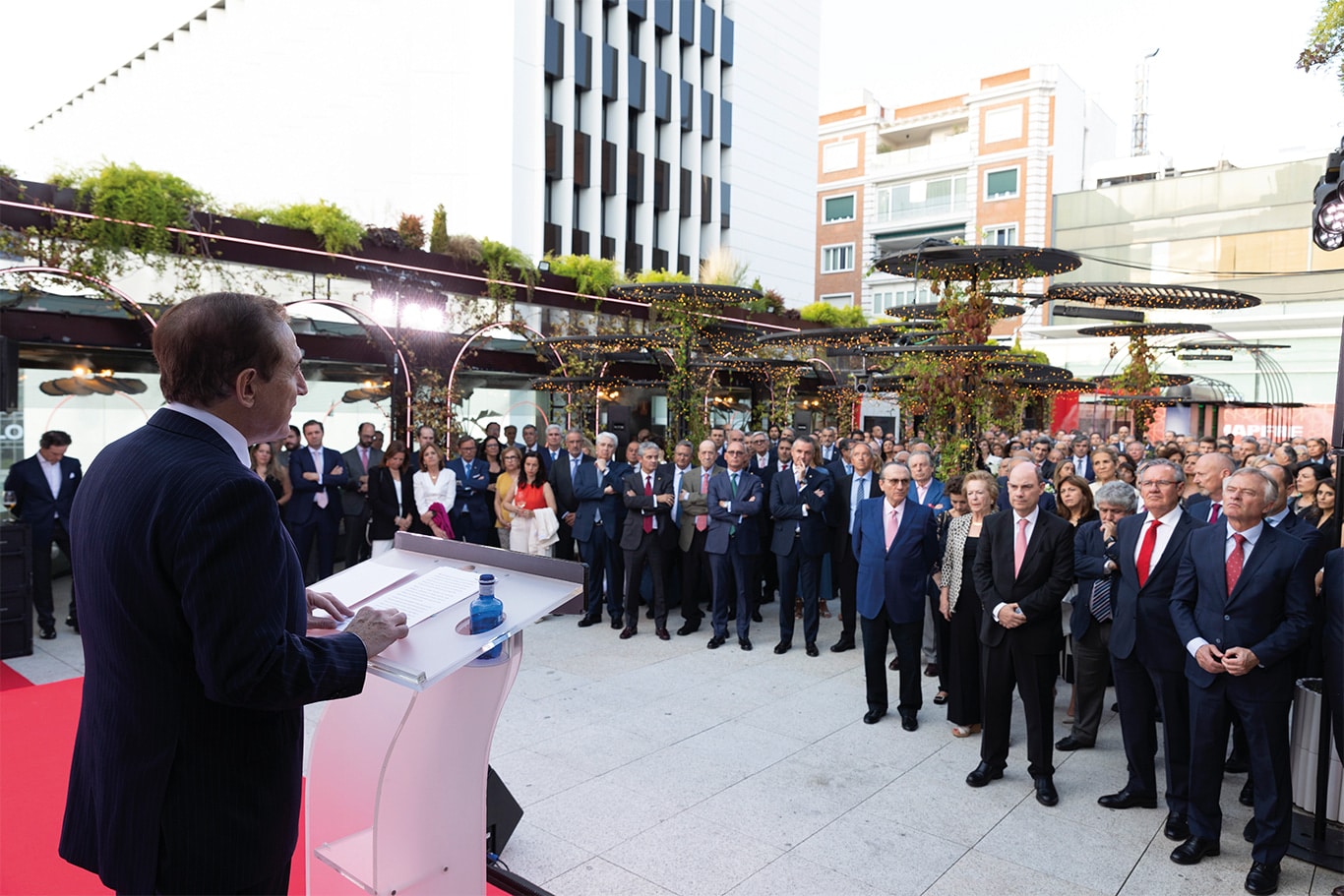 Dear friends, all this is and has only been possible thanks to MAPFRE's people, to everybody that, since 1933, has been putting their grain of sand on this immense beach that we now recognize as a great business. And they have been able to prosper at MAPFRE and contribute to its development thanks to the culture that recognizes and rewards meritocracy, which favors the leadership of the best, in conditions of full equality, respect, inclusion and mutual support, allowing professional work and service dedication to be rewarded, sustained on very solid ethical foundations, with policies that favor human development, that rigorously prohibit nepotism and that above all, avoid conflicts of interest. What's more, continuous training and professional development processes have meant that we have always had the best human resources possible, who have always returned what the company has given to them through their efforts, dedication, commitment and results.
I would also like to thank the media, not only for joining us here tonight but, most importantly, for the essential work they do every day, analyzing and evaluating our activity from a position of independence and objectivity. With them, we learn each and every day to correct and promote everything that can help us raise our reputation and social recognition.
And in particular, I would like to thank all the external directors who constantly strive to help us be a better company. Their advice, presence and support are always very valuable, and we learn from each other to continue strengthening the cultural, financial and business pillars of our group.
Our group would not be recognizable without the support of multiple partners over the years, both with whom we have or have had a shareholding relationship and others who have accompanied us as major distributors. I would like to take this opportunity to pay tribute to them. Many of them are no longer with us, both individuals and institutions, but many others are and remain huge references and offer amazing support to MAPFRE to this day. I would like to start off our thanks by thanking our entire network of delegates and agents in Spain and Latin America and our network of highly-connected agents in the United States. To name just a few, we really appreciate our relationships with all the major global brokers, in particular Marsh, Aon and Willis, as well as the car manufacturers with whom we have developed close relationships in recent years. In addition, special thanks go to our current main business partners, Banco do Brasil, Grupo Financiero BHD in the Dominican Republic, Bank of Valletta in Malta, Bankinter, Banco Santander and Abante in Spain, Allianz Trade, formerly Euler Hermes, Solunion, the Triple AAA automobile club in the United States, without forgetting about the retailers, financial companies, electricity firms, car manufacturers and telecommunications operators with whom we continue to increase mutual relations. And above all, thanks to our reinsurers, who offer us their constant support and to whom we return their trust with our profitable relationship in the medium and long term and with our rigor and professionalism in business management. Thanks also go to the large firms that are always by our side, including auditors, consultants and technology firms who regard MAPFRE as a major partner rather than as a customer, with whom we share knowledge, resources and projects.
Today, 90 years on, with more than five overlapping generations of professionals, we form an active and continuing part of this great success story of Spanish business. More than 31,000 employees across 40 countries, from more than 90 different nationalities, 80,000 intermediaries, a further 150,000 collaborators and more than 31 million customers across more than 100 countries make up one of the most relevant and admired insurance groups in the world. And we are here today to celebrate this together, including those who were, many of them with a place in our memory, those who are and those who will be.
Our solid and sustainable business model has successfully withstood all kinds of economic, political and social crises, major catastrophes, wars and market collapses, as well as a global health emergency like the one caused by the pandemic, always maintaining the commitment to results and dividends with our shareholders.
And to end on a very optimistic note regarding the future: we will not only reach our centenary year, but we will go beyond it. The future is guaranteed thanks to our business model and the talent of the new generations of professionals who will continue to uphold MAPFRE as a leader by innovating, making progress with the sustainability of the business, maintaining demanding ethical and social standards, and doing what we know how to do best, as well as harnessing the opportunities posed by the digital world: taking care of people and protecting what matters to people. We will continue to accompany our customers and protect their present and their future. That is our guarantee of success.
Thank you all for being here with us today, but in particular, for your trust in MAPFRE.
Good evening.