TEXT JOAQUÍN HERNÁNDEZ | IMAGES MAPFRE
2021 was challenging in every way. It was a year marked by the strain of COVID-19, as many countries continued to be impacted by high death tolls, and a year in which the economy started to recover, though it remained well below its pre-pandemic level. In this context, MAPFRE closed the year with a profit of 765 million euros, a 45.3% increase from the previous year, with growth in both revenue (+7.2%), which exceeded 27.25 billion euros, and premiums (22.16 billion euros, +8.2%); the latter heading reflects the evolution of the Group's core business.
Looking at these figures, one would say the results are positive… and they certainly are, but more importantly, they reflect the Group's tremendous resilience, that is, its ability to adapt to unforeseen situations like COVID-19, which changed everything. Even under circumstances like these, MAPFRE managed to continue driving business growth.
By rapidly adapting to this new reality, MAPFRE finished 2021 with all regional areas and business units contributing positively to the Group's results. This is a sign that the geographic and business diversification that has been underway for years is generating positive results. And MAPFRE achieved this despite having to handle claims related to COVID-19 with a cost of over 460 million euros, mainly in the Life line of business, where more than half of that amount was located.
Dividend charged to 2021 results 
The Group's major economic indicators closed the year positively. Its ROE, or profitability, increased by almost 3 points in one year to 9 %, its highest level in the past seven years. While its combined ratio increased compared to the previous year, it remained below 100, which reflects profitable operations. The company's market capitalization, although still far from reflecting its true value, has also increased, and MAPFRE is worth more than 5.56 billion euros on the stock market.
At the end of 2021, insurance unit premiums amounted to 18.18 billion euros (+8.9 %), while those of MAPFRE RE (which includes both the reinsurance and large risks business) stood at 6.28 billion euros (+10.3 %). Assistance operating revenue amounted to 560 million euros (-21.1 %).
Logically, the results are evolving at different speeds due to the different pace of each geographic area and the peculiarities of each business. In Europe, where society seems to be learning to coexist with the pandemic, the economy is growing again, and MAPFRE's business is a reflection of this. The Iberia regional area was once again the largest contributor to the Group's profit. Spain continues to grow faster than the sector average, especially in its key lines of business, despite being a very mature market and MAPFRE's position as the benchmark company in this country.
The reinsurance business once again posted a record profit of 118 million euros, compared to the 2 million euros it earned the year before… and it did so despite handling major claims due to events like the Bernd storm in Europe, whose impact amounted to 93 million euros.
All regional areas and business units contributed positively to the Group's result.
In a difficult year in every regard, marked by the strain of COVID-19, MAPFRE posted a profit of 765 million euros
MAPFRE'S ASPIRATION AND AMBITION IS TO GROW SOLIDLY, REMAINING EFFICIENT AND PRODUCTIVE
Latin America, where the pandemic continues to batter some countries, was the region with the most marked increase in premiums, showing significant growth of almost 17 %, with practically all countries increasing their premium volume. However, the results were impacted, of course, by claims derived from the pandemic. Brazil, for example, performed strongly in the last part of the year, which allowed it to finish 2021 with premiums up more than 15% in local currency. Premiums grew by nearly 9 % in LATAM North, without including the two-year policy issued in Mexico for 477 million euros, and by 11.5 % in LATAM South.
In North America, despite a slight drop in premiums—a consequence of the slow business reactivation process, of the technical measures introduced in previous years to improve profitability, and of currency depreciation—the company recorded double-digit profit growth (+16.3 %).
In the Eurasia regional area, the situation differed markedly depending on the country, since each economy in the region is also quite different. Thus, while premiums rose by 17.6 % in Malta and 3.2 % in Germany, they fell by 6.5 % in Turkey (a consequence of the depreciation of the lira—26%—and a strict underwriting policy in the auto business).
The Assistance unit deserves special mention, as it recouped record profits after spending several years immersed in a complex reorganization process. With a profit of almost one million euros, this business is preparing to embark on a new stage of greater integration with the Group's insurance companies.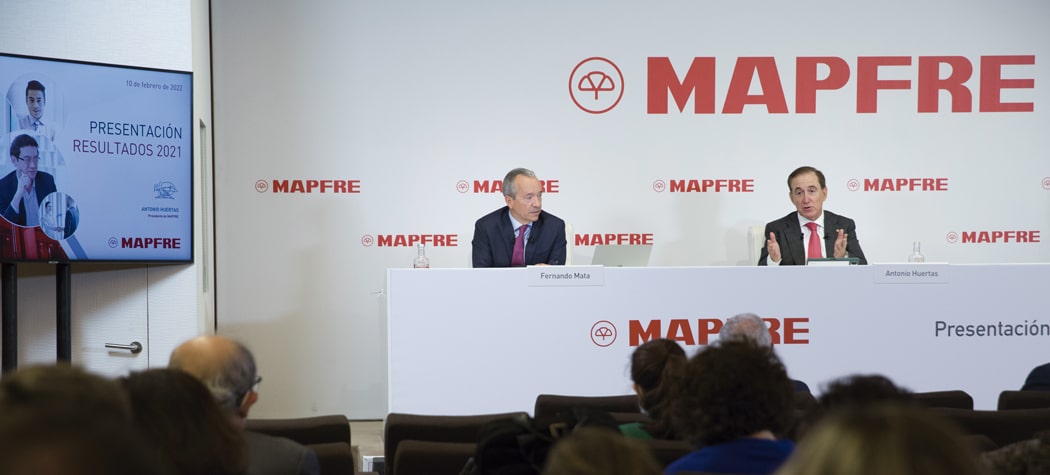 The press conference where we presented our 2021 results was attended by a large group of economic and industry journalists
The dividend returns to its pre-pandemic level
In light of these figures, the board of directors decided to reinstate the dividend paid by the Group before the pandemic, 14.5 euro cents per share (8.5 cents per share as a final dividend, in addition to the interim dividend of 6 cents per share paid in November). MAPFRE's shareholders will therefore continue receiving some of the best returns on their investment, as this represents one of the highest dividends in the Spanish market. In fact, in 2021, the return on the average price of MAPFRE's shares was greater than 7.6 %.
2021 was also the year in which MAPFRE's oldest bancassurance agreement—the alliance with Bankia—came to an end. The accord, which began in 1998 when Bankia was still Caja Madrid, ended with the integration of Bankia into CaixaBank. This agreement, which involved the exclusive distribution of non-life insurance at Bankia offices and a joint venture for the Life business, generated an extraordinary profit of 167 million euros for MAPFRE. Accelerating the transformation processes, advancing in digitalization, and optimizing the Group's financial structure are some of the key aspects these earnings will be put towards.
"MAPFRE is all systems go and ready to seize any opportunity that may arise in 2022. Our aspiration and ambition is to grow solidly this year while remaining efficient and productive," said MAPFRE Chairman and CEO Antonio Huertas when presenting these results. Now that it is underway, MAPFRE is hopeful that 2022 will be the year in which we'll leave the pandemic and all its consequences behind us.