TEXT NURIA DEL OLMO | PHOTOS MAPFRE, ISTOCK
The MAPFRE Road Safety and Experimentation Center (CESVIMAP) is undoubtedly one of the Group's best examples of innovation and sustainability. This is the belief of its general manager, a multilingual industrial engineer, inventor and entrepreneur with a career spanning over 20 years in the automobile sector. José Maria Cancer (Madrid, 1967) is proud of the major contribution made by this world-renowned center, which designs sustainable vehicle repair methods, enhances automobile design so as to make them safer and easier to repair, and provides a second life to thousands of parts salvaged from vehicles declared a total loss.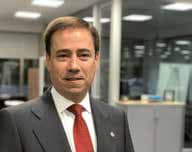 José Maria Cancer
General manager of CESVIMAP, MAPFRE EXPERIMENTATION AND ROAD SAFETY CENTER
"I believe that the pandemic has not accelerated the circular economy, quite the contrary."
Why has MAPFRE set its sights on the circular economy? What added value does this production and consumption model offer?
Rather than setting its sights, I would say this is a firm commitment we've made to improve the world in which we live, striving to make it a safer, cleaner, more prosperous place. What planet do we wish to leave to the next generation? CESVIMAP was set up 37 years ago with a clear purpose: to facilitate bodywork repairs, rather than replacing parts, whenever this proves feasible. And that's what we've done. We're really proud of the progress made. Just to give you one example, the bumpers repaired by MAPFRE's authorized workshops in Spain represent a saving of over 1,200 metric tons per year in the production of new plastics. It's as though we had recovered 278 million bottle caps for recycling. The same could be said for glass which we don't need to produce, as we repair windshields instead of replacing them. Some people may think this is done solely to lower the total repair cost of a claim, but that's not the case. This has much more to do with adapting the economy to an ecological future, strengthening our competitiveness, making substantial changes in the production processes that enable us to move toward a development model that is more responsible with the planet the new generations will have to deal with. We know that our clients understand this and view it positively.
Why does this center in itself represent innovation?
How do they recycle and reuse parts to contribute toward a sustainable production model?
If CESVIMAP is innovative, this is also true of CesviRecambios, our Authorized Treatment Facility for End-of-Life Vehicles, which we created in 2004. We designed it to ensure perfect traceability of each item recovered in order to be sold, and provide further data to clients, such as the type of vehicle the part was taken from, its condition, mileage, etc. Another innovative feature was the decision made at the time not to sell parts if we could not guarantee their perfect operation — key to being able to offer guarantees over and above those required by law. Likewise, the construction of facilities with the very latest technology, designed to facilitate the recovery of oils, brake fluids or coolants, thus preventing any waste liquid from negatively impacting the planet.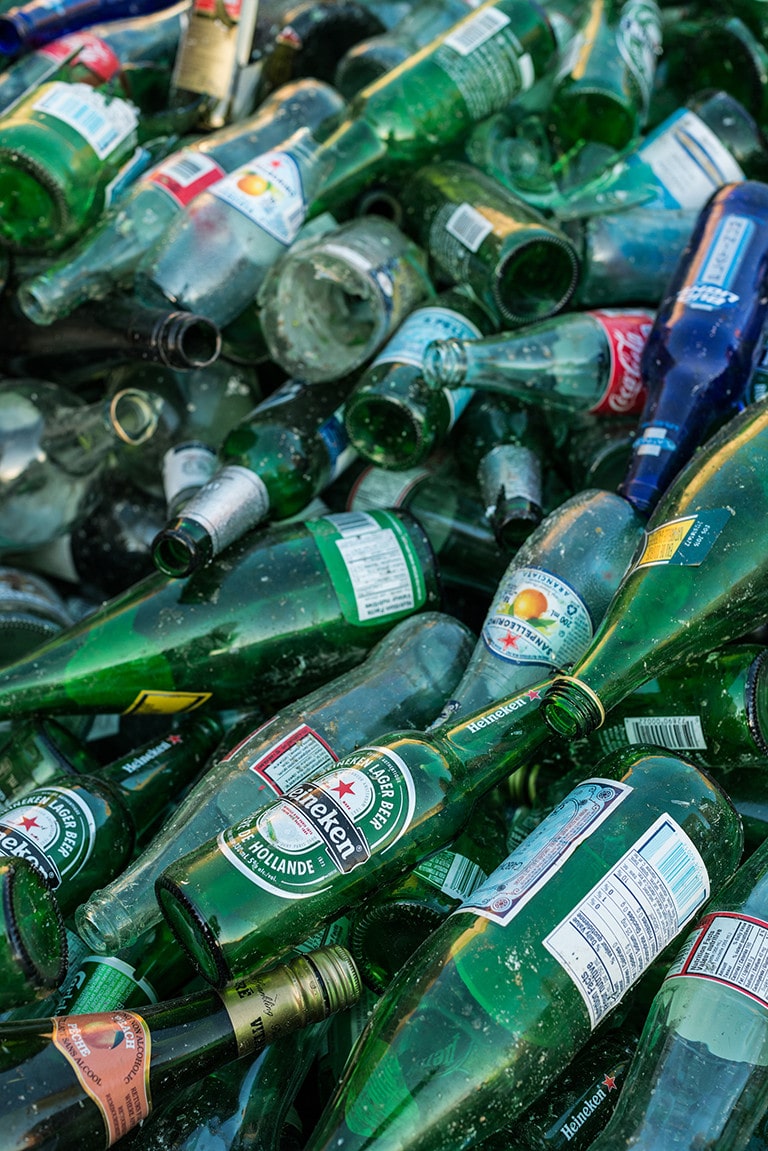 What results are you achieving?
One of our great successes is that many of the vehicles with severely damaged engines we've been able to repair has proved possible thanks to our second-life engines. Were it not for them, these vehicles would have had to be scrapped. We must start from the premise that the cost of a new engine is greater than the residual value of many cars. Thanks to CesviRecambios, many automobiles are driving around now with recovered, verified, guaranteed engines, thus avoiding having to manufacture a whole new vehicle. This is clearly beneficial to the environment, but also to clients who cannot afford to change their car. We are also very pleased with a new project, directly linked to sustainability and the circular economy, which will enable us to provide electric car batteries with a second life. The number of electric vehicles in Spain increased by 142,251 units throughout 2020, a 70 percent increase with respect to 2019. For this initiative, we received aid from the Center for Industrial Technological Development (CDTI) to the tune of 250,000 euros, which shows the confidence shown by this institution in CESVIMAP's research.
making the best use of resources is a real challenge, especially in order to boost economic growth and job creation, and reduce the environmental impact. What barriers or difficulties do you think cities face when implementing circular economy-based development models?
I believe the fundamental barrier is not of a technical nature, but rather cultural. We've experienced several decades of permanent economic expansion and development, with the inevitable ups and downs. This has accustomed us to a culture of immediate satisfaction, using and discarding, renovating our wardrobe, furniture and smartphones, eating in ways that avoid having to wash and conserve containers. This change will be hard to implement, as it's easier when we learn something from a young age. That is partly the responsibility of the institutions, but it's also our responsibility, as we must promote it at the personal level, with our families and those around us.
What actions could each of us take at a personal level to boost the adoption of this new paradigm?
The truth is that there are thousands of small, everyday gestures we can adopt at home or in the office. At the MAPFRE headquarters, for instance, photovoltaic panels have been installed to provide a significant proportion of the electricity we consume, and we're committed to minimizing the generation of waste (paper, plastic, cardboard and electronic equipment, among others) throughout the Group and thus achieve the Zero Waste Certification for our Majadahonda complex (Madrid) in 2021.­ Take the MAPFRE without Plastic project, for example. To date it has avoided the consumption of one and a half million plastic bottles and two million single-use cups. These are just some of the steps to achieve the target we've set ourselves in Spain and Portugal — to be carbon neutral in 2021 — and for the whole group, by 2030. We employees are also #PlayingOurPart, by reducing our consumption of photocopies, using recycled paper to take notes and avoiding unnecessary car journeys, when they can be replaced by a video conference call. Lockdown certainly caught us already well trained in these aspects. I believe that, if I had to make a special effort, I would do so in raising awareness among the future generations — our children — as this is our duty and our responsibility, and, moreover, it can be done.
How much you feel this pandemic has accelerated the notion of the circular economy? What lessons have we learned?
I believe the pandemic hasn't accelerated the circular economy; quite the opposite. After years of insisting on the need to save water, we now wash our hands for lengthy periods of time, shower several times a day, use alcohol gel sanitizers over and over again, even though we haven't touched anything since we last did, just because we see a dispenser nearby. We've also started using disposable cutlery and plates again, and this is not positive at all. However, I recognize that the sudden stoppage of industrial activity in some areas has allowed for a surprising recovery of local flora and fauna, which has reclaimed its territory, and we've all been made aware of this. I believe that, once this is all over, if we're able to reduce our emissions and consumption, not obliged by the pandemic, but rather thanks to a more controlled, environmentally-friendly activity, we'll also be able to see encouraging results.
The UN stresses that the circular economy could reduce waste in some industrial sectors by up to 99 percent, as well as 99 percent of their greenhouse gas emissions, thereby helping protect the environment and combat climate change. Do you feel a waste-free economy is possible?

I don't know whether it would be possible to reduce up to 95 percent of waste, as the UN says, or whether it would be only 50 percent, but what I am sure of is that there's a lot to be improved; there's is a long way to go, but this is a path we must take.
SMEs and the carbon footprint
To provide SMEs with advice, training, technological support and information in order to improve the competitiveness and sustainability of the business fabric in Spain. This is the objective of the agreement MAPFRE has signed with the Spanish Chamber of Commerce to help SMEs calculate their carbon footprint by means of a specific tool which, moreover, will enable them to assess their energy efficiency, sustainable development and degree of implementation of the circular economy within their organization. With the results of these tests, companies will be able to plan and implement a strategy to reduce emissions and thus become entities committed to the environment and society, as well as generate economic value. In this process, SMEs will be advised by specialists from the Territorial Chambers of Commerce, who will receive training on how to establish these carbon footprint plans and implement the circular economy, key measures for them to obtain the official sustainability seal from the Ministry for Ecological Transition. This seal offers a number of advantages for those companies that achieve it, such as tax reductions, increased sales, improved brand positioning, and the possibility of having the edge in public procurement tenders. The agreement also contributes to a more sustainable future for society as a whole, ensuring a higher quality of life, greater profitability in the use of resources, and tools for enhancing competitiveness and efficiency. "For MAPFRE this will be a strategic project, acting as the driving force that will advance SMEs in terms of their sustainability and the circular economy, with the overriding aim of promoting their plans for offsetting CO2 emissions, reducing their carbon footprint and optimizing energy consumption," José Manuel Inchausti, MAPFRE Vice Chairman and CEO of Iberia, underscored recently.
"For MAPFRE this will be a strategic project, acting as the driving force that will advance SMEs in terms of their sustainability and the circular economy, with the overriding aim of promoting their plans for offsetting CO2 emissions, reducing their carbon footprint and optimizing energy consumption"
MAPFRE reduces, repairs, and recycles
We live on a planet with limited resources where the traditional economic model, based on consumption and disposal, generates an enormous impact and is completely altering the natural ecosystem. The circular economy aims to ensure that those natural resources that have already been extracted can be recovered, reused and recycled, thus making the most efficient use of them, while producing the least possible impact on the environment. This is a model that allows business opportunities to be generated, while protecting the environment and society. MAPFRE recently signed up to the Pact for a Circular Economy, an initiative that is currently being promoted by the Ministry for Ecological Transition and Demographic Challenge. The objective is to engage the leading economic and social agents in Spain in this progressive transition toward a new economic model, which shuns the current 'use and discard' culture, preferring to opt for reuse, repair, reduction and recycling. We are the first insurer and the first Ibex 35 company to form part of this project in Spain, and we will boost this transition through a total of 10 commitments to the Pact for the Circular Economy, which entail, among other proposals: reduce the use of non-renewable natural resources, incorporate eco-design criteria and promote guidelines that increase the innovation and overall efficiency of our production processes. We also undertake to disseminate the importance of moving away from the linear economy toward a circular economy, promoting transparency in the processes, raising awareness and sensitizing the public to these issues, as well as gauging the social and environmental impact of the organization's operations.
The circular economy aims to ensure that those natural resources that have already been extracted can be recovered, reused and recycled, thus making the most efficient use of them, while producing the least possible impact on the environment.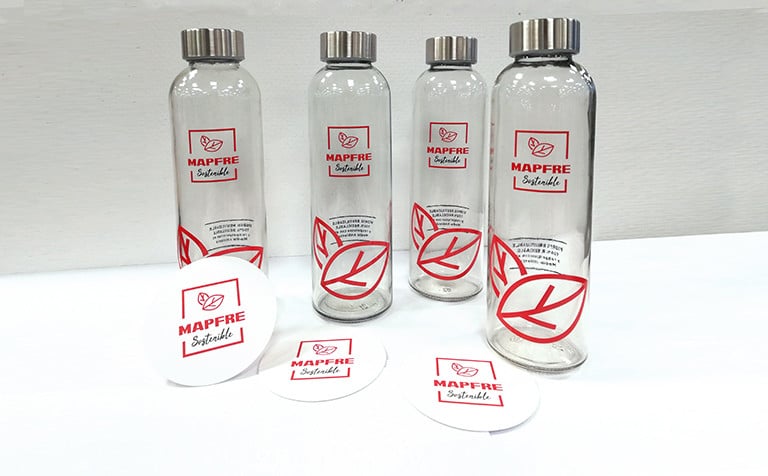 Committed to sustainability
In MAPFRE we have set ourselves over 30 Horizon 2021 targets to combat global challenges such as the climate emergency or inequality. It does so within the framework of its commitment to sustainability, in line with its 2019-2021 Sustainability Plan. This road map includes multiple projects designed to help us become a carbon neutral company and a benchmark for the circular economy, boost female leadership, and enhance financial education, among other goals.