TEXT NURIA DEL OLMO @NURIADELOLMO74 ILLUSTRATION THINKSTOCK
The World of MAPFRE has observed firsthand the evolution of Fundación MAPFRE, which has been transformed in the last 25 years into one of the benchmark institutions in the Third Sector. We remember its leading players, the activities that made the greatest social impact and the first cooperation trips to Latin America, where, for over 40 years, the Foundation has been carrying out truly important work.
 
 
Delving into the numerous issues of this magazine from the past 25 years, from 1993 up to the present day, it is easy to realize the extent of the immense, positive change experienced by Fundación MAPFRE, created in 1975 with the overriding aim of contributing to the well-being of society. These have been years of major international and national events, which have shared the pages of history with a foundation which, from the very outset, has fulfilled an important social and cultural role through Fundación MAPFRE Medicina, Fundación Cultural MAPFRE Vida, Fundación MAPFRE Estudios and Fundación de Estudios Históricos MAPFRE Tavera. These four companies, created between 1989 and 2002, were combined to form Fundación MAPFRE in 2006 in order to augment their responsible commitment to society. Thus the Foundation that we know today was born, with the ultimate goal of helping improve the world we live in.
Our magazine The World of MAPFRE has also echoed the most relevant activities of Fundación MAPFRE Guanarteme in the Canary Islands.
TARGET ZERO ACCIDENTS
The interest in preventing and reducing the number of accidents has been ever present in the history of the Foundation. During the early 1990s, the magazine devoted many pages to road safety, in particular to explaining the advantages of the compulsory use of seatbelts on all kinds of roads, as well as publicizing initiatives such as the famous road safety seminars in which MAPFRE Mutualidad de Seguros also participated.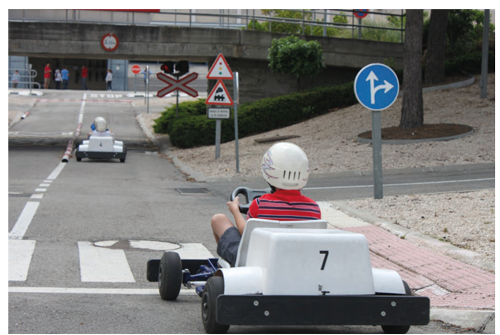 In June 1996, Fundación MAPFRE created the MAPFRE Road Safety Institute, headed by Miguel María Muñoz, who returned to MAPFRE after a lengthy period in the public administration, where he became director general of the DGT (Spanish transport authority). This institute contributed to the education of drivers and pedestrians through projects such as the Traffic Park in Alcalá de Henares, where the Foundation provided theoretical and practical road safety training to schoolchildren up to 2017. It also organized the Road Safety Education Week, dedicated for many years to increasing the safety of the most vulnerable groups such as the elderly and youngsters (1997), and to promoting the use of helmets among motorcyclists (1998).
In the last 10 years, through its Accident Prevention and Road Safety Area, the Foundation has invested nearly 100 million euros to offer 2,800,000 children road safety education. The aim is for pedestrians and cyclists to behave more responsibly and, in the future, be safer drivers. It has also published numerous reports on important aspects such as drug and alcohol use among young people, and safer road conditions; it has signed agreements with the majority of town governments in order to ensure greater presence of road safety education in schools; it has designed an important road safety program for companies; and has created the first child restraint system in the world for children with bone diseases, an innovative initiative that will resolve an issue for which no solution had previously been forthcoming.
CULTURE FOR THE GENERAL PUBLIC
Throughout these 25 years, The World of MAPFRE has echoed the outstanding cultural work of our Foundation, which has always opted for promoting research and the dissemination of knowledge related to the common history of Spain, Portugal and the countries of Latin America, as well as furthering the dissemination of culture, arts and literature. In this regard, worthy of note is the commitment shown by Fundación Cultural MAPFRE Vida, created in 1988, which always made a great social impact thanks to the magnificent art exhibitions it organized in Madrid, and which we now put on also in Barcelona and in traveling exhibitions to other countries.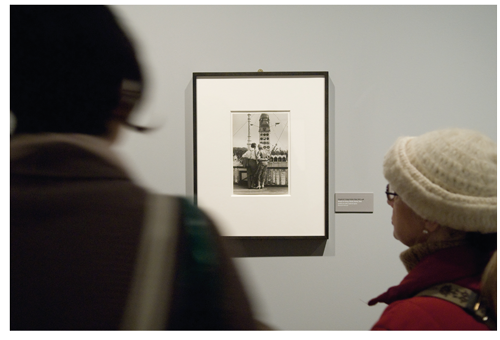 Since this foundation was integrated into Fundación MAPFRE in 1995 as its Culture Area, it has presented exhibits of great value such as Impressionism, a New Renaissance (2009), which displayed 90 masterpieces from the Musée d'Orsay, on show in Spain for the first time to 327,000 visitors; Sorolla in America (2014), which compiled the works produced by the Spanish painter during his time in the United States and which had never before been seen in Spain; or Renoir Among Women and The Fauves. Passion For Color (2017) was really well received by the public. Its photography exhibitions have likewise been much acclaimed, such as that of Walker Evans (2010) and Paul Strand (2015), and its international shows, such as the Exhibition of 20th Century Spanish Drawings. Fundación Cultural MAPFRE Vida Collections, on show in 2005 at the Cervantes Institute in New York; and its 'Julio Castelo Matrán' Naval Models Museum, opened in Madrid in 2008, with 40 models of tremendous artistic and heritage value crafted beautifully by Julio Castelo, honorary chairman of MAPFRE.
EDUCATION AND INTEGRATION
Throughout the last 25 years, the Foundation has also focused on fostering the physical and professional rehabilitation of accident victims, and the promotion of employment centers for them. On this question, it was Fundación MAPFRE Medicina that signed an agreement in 2003 with the Adecco Foundation to promote the integration of people with physical disabilities through training and employment integration programs. It was also the first, in 2001, to support the Jesus-María de Tres Isletas Community Center, a population with social, labor and health-care shortcomings in Argentina, where the first volunteering initiatives were also started up.
Moreover, over these 25 years and through its Social Action Area which was created in 2006, the Foundation has boosted the integration and employment of people who, given their personal circumstances, find this more difficult. In this respect, most noteworthy are major actions such as the 600,000 euros of aid the Foundation contributed to Peru on the occasion of the earthquake that shook the country in 2007; and the start-up of the MAPFRE Community in Mexico, a social center opened in 2015 in order to cater to people with limited resources in the village of Santa Fe, offering them food, education, medical assistance, legal support and psychological counselling in an area with high rates of marginalization.
Over the last decade, Fundación MAPFRE has also facilitated the creation of 2,700 jobs for people with an intellectual disability or mental illness, thanks to the Juntos Somos Capaces [Together We Can] project launched in 2010. This is a chance for these people, who generally suffer from social exclusion and long-term unemployment, to prove to society that they are just as capable as the rest of the population. It is also firmly committed to education, the fundamental factor for breaking the cycle of poverty. This is why it has striven to offer it to five million young people through Educa tu Mundo [Educate Your World]. To date, this initiative has trained over 5,000 teachers in values and subjects such as accident prevention, the promotion of healthy living habits and financial education, key notions if future generations are to know how to deal with the most common risks to which they are exposed throughout their lives.

RESEARCH AND HEALTH, MAJOR PRIORITIES
Over these 25 years, the Foundation's goals have also focused on furthering the safety of individuals and their property, paying particular attention to medical research and health issues. Good examples of this are the grants for technical safety training which, between 1985 and 1993, benefited close to 400 professionals in Latin America, and the research grants provided at that time by the Prevention, Health and Environment Institute in order to enhance training and scientific research in all matters related to medicine and health. Among the Foundation's milestones in the field of health, most noteworthy was the creation of the MAPFRE Ergonomics Institute, created in 1990 – together with Opel Spain in Zaragoza – to help reduce the number of occupational accidents and diseases, and improve environmental conditions and efficiency at work. Likewise, the grants provided for the labor integration of people with disabilities each year by Fundación MAPFRE Medicina and which, in 2004, amounted to a total of one million euros so as to help the victims of the terrorist attack in Madrid that year.
Prevention campaigns such as Healthy Living (2008), to promote healthy habits among children; With Greater Care (2009), to prevent risks faced by the elderly; and SOS Care (2010), designed to prevent childhood accidents, are also three major projects which, throughout these years, have helped raise awareness among society at large about the importance of accident prevention and promoting a healthier, higher quality lifestyle.
In the last ten years, the Health Promotion Area has continued firmly committed to research as a motor of scientific progress, and helping society know about certain conditions such as cardiovascular diseases, and be sensitized to what they entail. These have been the mainstays of its activity in this field. Throughout this period, the institution has invested 79 million euros to boost the development of cell therapies, develop applications to save lives in the sporting arena, and draft protocols on what to do in cases of choking, drowning and cardiac arrest. It has also helped improve the healthy habits of more than two million children in 15 countries.

INSURANCE CULTURE
Throughout this time, the Foundation has promoted training and research into matters related to insurance, safety, the economy, law and business administration. A further landmark event was managing to arrange a university degree course in Insurance, thanks to an agreement signed with the Pontifical University of Salamanca in 1993, as well as creating the most relevant documentation center in the world specializing in insurance, risk management and accident prevention, which is visited online each year by close to 300,000 people. Over these 25 years, the Foundation has had the great merit of publishing reports on the insurance market, as well as offering grants and various different training options for university and postgraduate students, and even schoolchildren. A good example of this is the Insurance Comes to the Classroom program, launched a few years ago with the aim of fostering the insurance culture and savings among kids aged 12-14 in compulsory secondary education at schools throughout Spain. A pioneering initiative in Spanish education, the activity consists in offering one-hour workshops to explain to the youngsters the importance of insurance and savings.
These are given totally free of charge by professionals who are pedagogical experts. Another highly successful project has been Insurance and Pensions For All, created by Fundación MAPFRE in 2012 in order to bring the insurance world closer to the general public and enhance people's practical knowledge of these questions. The website receives over 700,000 visits a year and provides free online courses and basic learning materials aimed at teachers and educators, as well as anyone interested in improving the management of their finances.
Over the last ten years, through its Insurance and Social Protection Area, our Foundation has contributed 22 million euros for carrying out 650 research projects and helping promote the talent and expertise of more than 1,000 professionals in the sector.
Another initiative linked to the insurance culture is the Insurance Museum, which opened its doors in Madrid in 2004. This is a unique, original exhibition which, with a total of 590 pieces between plaques and documents, illustrates notable aspects of the history of insurance.