SAM (MAPFRE Auto Insurance) 3.0

is a new strategic initiative with the objective of developing capacities within the automobile sector in order to become a prominent actor in this new mobility scenario of autonomous, connected cars and the collaborative economy.
TEXT Pablo Fuentes    ILLUSTRATIONS Thinkstock
The automobile industry is dealing with one of the greatest transformations in its history, marked by innovation and technological developments. Connectivity and the ADAS (Advanced Driver Assistance Systems) have turned ideas and concepts that not so long ago were the stuff of science fiction movies into a reality. Cars which are autonomous (capable of using technology to imitate human abilities to control them) and connected (equipped with an Internet connection) rewrite the rulebook and open the doors to new business models. In addition, the digital world gives rise to new consumption patterns and, of course, automobile use is no exception, with new forms of mobility based on the collaborative economy.
As a reference, it is forecast that 75 percent of the cars manufactured in 2020 will be connected to the Internet, which will represent 20 percent of all the cars on the world's roads. It is striking that such a traditional sector as the auto industry is at the forefront of technological and digital innovation, as reflected in the prediction that, by 2020, this sector will be the second largest business in the new economy, only surpassed by smartphones. As for the autonomous car, many companies are heavily committed to this field. These range from young companies such as Google or Tesla, to industry giants like Ford. The latter has announced the launch of its first autonomous car without pedals or steering wheel for 2021, and that it will double its workforce in Silicon Valley to boost driverless cars.
This context entails both challenges and opportunities for the insurance industry. While the number of accidents is expected to fall, thanks to the driver assistance systems, these same technological advances in turn generate new risks and, therefore, new opportunities for our business as well. We are referring, for example, to cybersecurity, with services to protect against ransomware (which blocks a vehicle's software until a ransom is paid) or prevent the car's control system being hacked.
IT IS FORECAST THAT
75%

OF THE CARS MANUFACTURED IN 2020 WILL BE CONNECTED TO THE INTERNET, WHICH WILL REPRESENT

20%

OF ALL THE CARS ON THE WORLD'S ROADS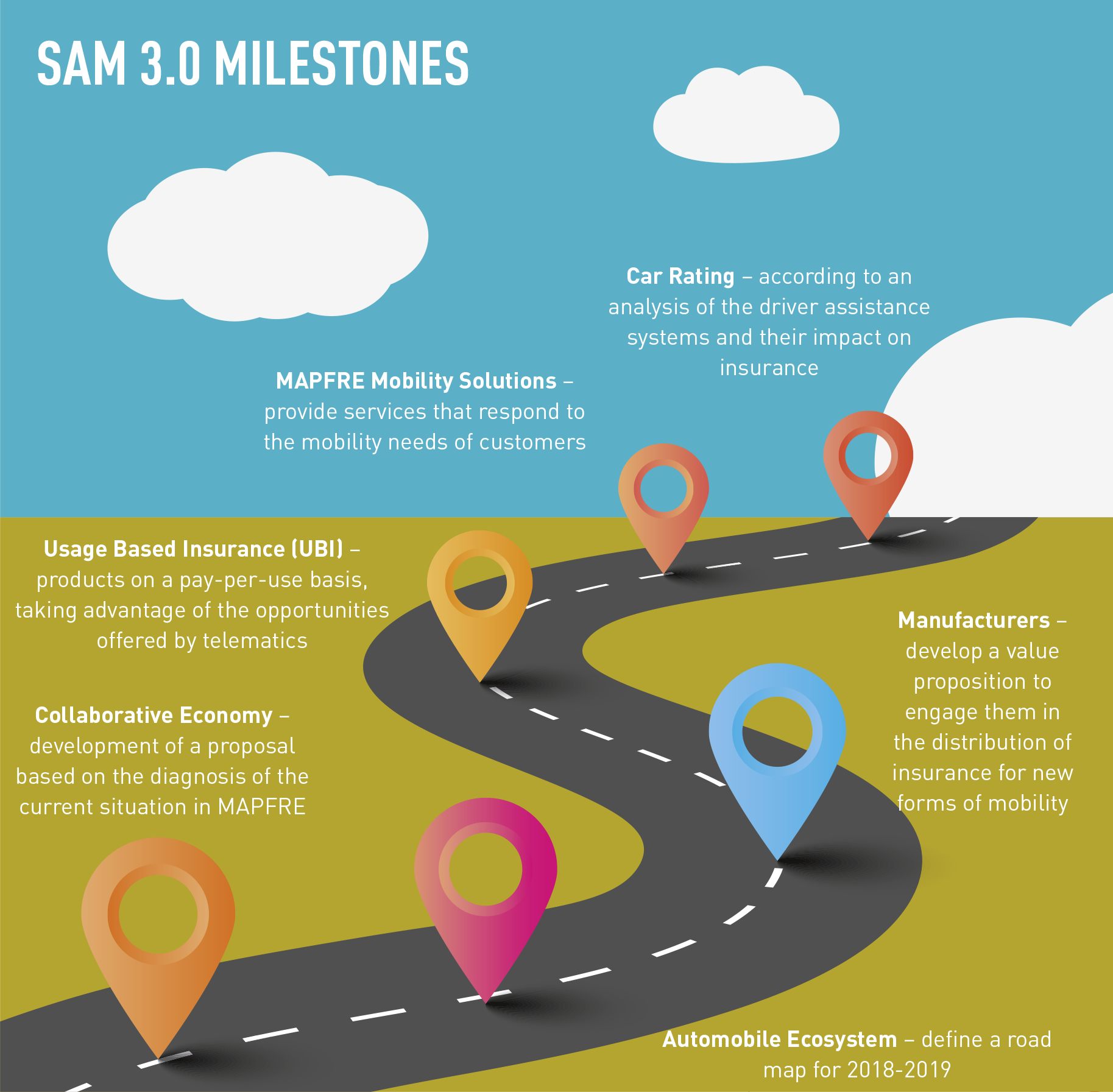 Opportunities also arise in the field of manufacturers' liability as regards possible faults in the car's connectivity and communication features, as well as in its software and hardware (sensors, cameras or radar). At the same time, autonomous vehicle manufacturers and service providers will need to take out third-party liability insurance for the vehicle's operating system. In the United States, the NHTSA (National Highway Traffic Safety Administration) declared a few months ago that the operating system of these vehicles is deemed to be the driver. Finally, this new reality creates opportunities to offer telematic services which allow for increased personalization of products (pay per use, early assistance in the event of an accident or the localization of the vehicle in case of theft), thus increasing customer satisfaction and loyalty.
In this scenario of challenges and opportunities, MAPFRE wants to be a prominent actor. It has therefore launched SAM (the Spanish initials of MAPFRE Auto Insurance) 3.0, a new strategic initiative for developing capacities within the automobile sector in order to become leading players in this new mobility scenario. How? By way of a multichannel, diversified commercial offering, which allows us to increase production in both the current and complementary distribution channels.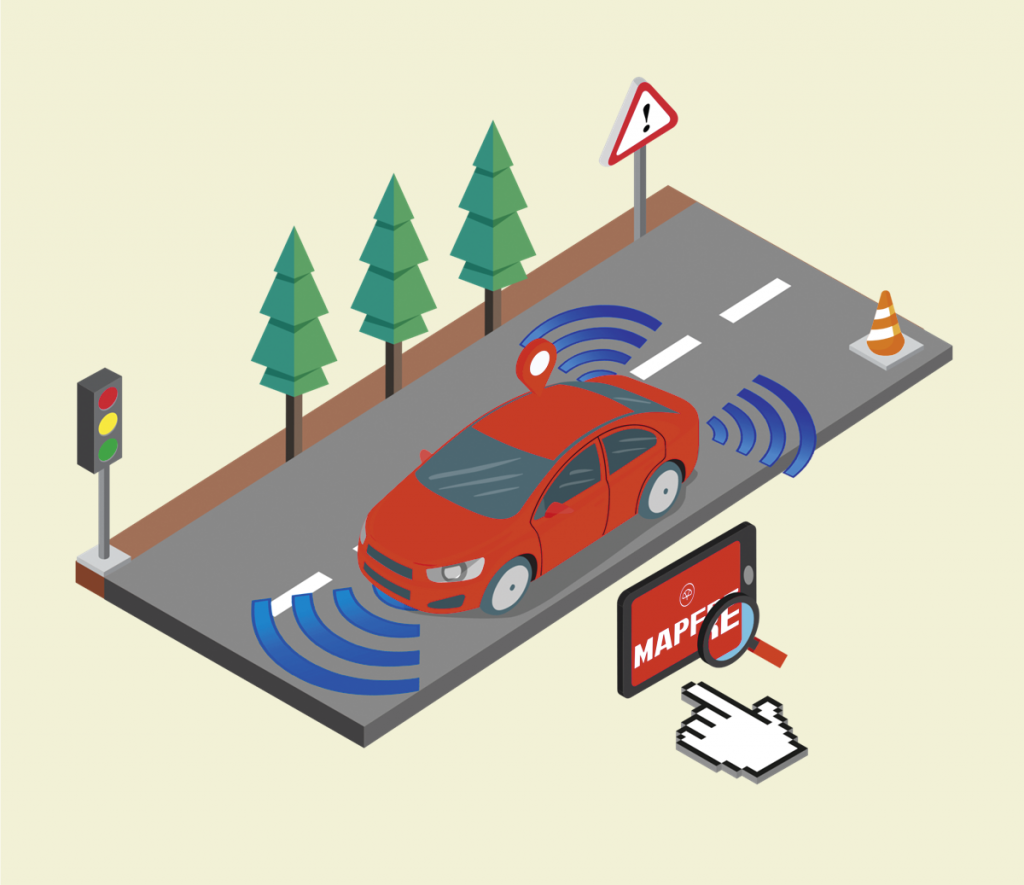 LINES OF WORK IN
SAM 3.0

FOCUS ON THE DRIVER ASSISTANCE SYSTEMS, EXPERIENCE OF THEIR USE AT THE TIME OF AN ACCIDENT, PREVENTION AND THE DIGITAL SERVICES
SAM 3.0 is being addressed at two levels:
• Short-term projects, which enable practical lessons to be learned and MAPFRE's ability to cope with these changes to be demonstrated to all its stakeholders.
• Medium-term planning, so that MAPFRE can develop the skills necessary to maintain its competitiveness in the auto sector, in this new scenario of connected, autonomous, electric vehicles, and manage to engage manufacturers in the distribution of insurance policies for new forms of mobility.
The strategic initiative, which has a task force comprising people from different areas, regions and  countries, has set itself concrete milestones on which work is already advancing. The first is Car Rating con ADAS, which is analyzing the various driver assistance systems and their impact on insurance. SAM 3.0 has already made significant progress in this area. For example, MAPFRE is a worldwide pioneer in the field of real-world testing of cars fitted with ADAS, so as to produce a statistical analysis of frequency (number of accidents) and severity (cost of repair) figures. This project, carried out jointly by CESVIMAP and the company's actuarial team, provides us with key information for determining the risk premium, and is therefore essential in our quest for profitability and customer satisfaction.
A second milestone is MAPFRE Mobility Solutions, whose goal is to provide services that respond to customer needs insofar as mobility is concerned. The third milestone of SAM 3.0 relates to products based on the concept of Usage Based Insurance (UBI), taking advantage of the opportunities offered by telematic solutions. MAPFRE has already launched various UBI projects such as Drive Advisor, YCAR, Verti's CuentaKms Policy or the CarFeelapp, which is now available on Google Play and the Apple App Store.
The value proposition for manufacturers and dealers to engage them in the distribution of insurance for new forms of mobility, the development of a collaborative economy proposal (diagnosis of the current situation in MAPFRE), and defining an automobile ecosystem road map for 2018- 2019, are further milestones of SAM 3.0.
MAPFRE adapts its strategy to current realities so as to take advantage of the opportunities offered by the technological and social disruption we are experiencing, and all of us in the company must be committed to contributing ideas and solutions. SAM 3.0 is one of the key strategic initiatives for addressing these new challenges, because, in MAPFRE, the future is already here.