TEXT JOAQUÍN HERNÁNDEZ | IMAGES MAPFRE
1992 a historic year, at least for Spain: Olympic Games in Barcelona, World Expo in Seville and Madrid, European capital of culture. The eyes of the world were on Spain. That same year, MAPFRE launched its corporate magazine The World of MAPFRE, a tool for disseminating the projects in which the Group was involved, its main milestones and to share culture and values ​​among employees anywhere around the world.
And some of MAPFRE's most emblematic projects are closely connected to these events. MAPFRE Tower in Barcelona, as it is known worldwide, was inaugurated that year and has since become a symbol and icon of the city. Years and even decades later, it continues to form part of the Barcelona skyline and has played witness, and not exactly a silent witness, to the history and evolution of MAPFRE.
In Seville, the Group even had a day at the World Expo and financed the construction of La Barqueta bridge, which provided access to the fairgrounds. A bridge that was built on land to be subsequently rotated, using barges, into its final location; a bridge that was also known as MAPFRE Bridge.
The company's image in the early 1990s was very different to the company's current image; however, we must not forget that this was the seed of the insurance firm that MAPFRE has become today.
During the previous decade, the Group had embarked upon its international expansion. It began in Colombia in 1984, and MAPFRE is now the leading insurance company in Latin America, ahead of local companies and other insurance groups that would touch down years later. The tale of MAPFRE's expansion is not only linked to the business itself, but also to its foundation; in Latin America, Fundación MAPFRE has rolled out multiple projects to help the most disadvantaged, demonstrating that the spirit of solidarity which is at the root of the insurance industry is much more than a declaration of intent. This spirit translates into facts, demonstrated by the thousands of beneficiaries of initiatives such as soup kitchens, education programs or aid in emergency situations, including those caused by earthquakes or hurricanes.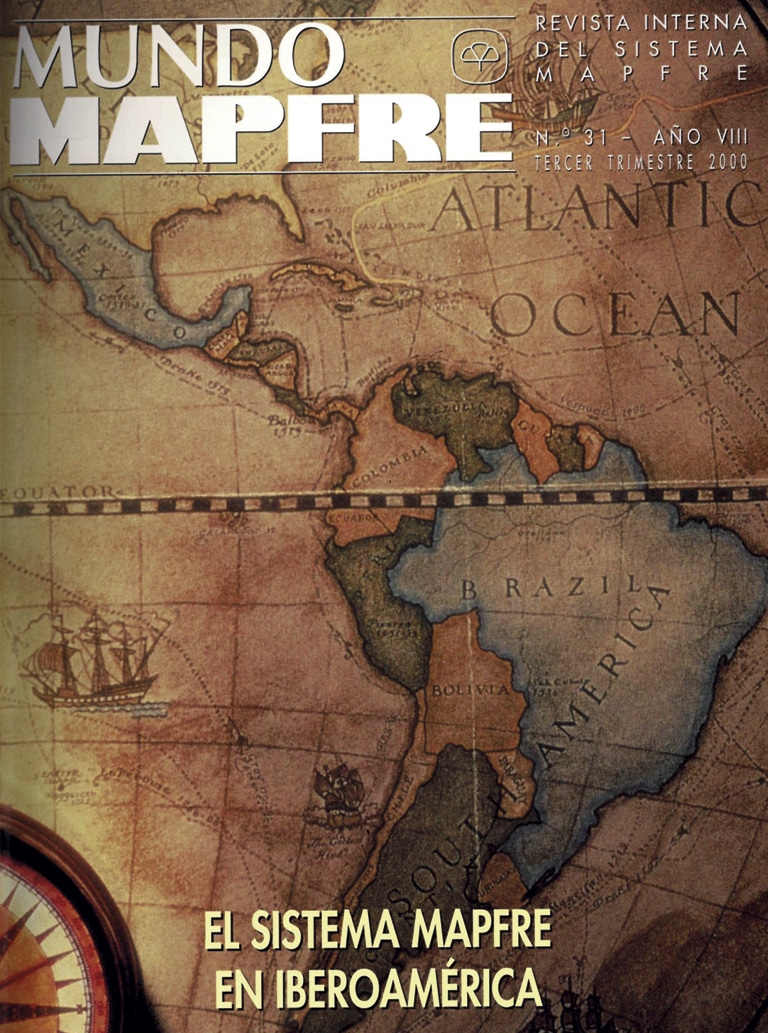 MAPFRE is now a leader in Latin America. The magazine has always reported on MAPFRE's expansion on the continent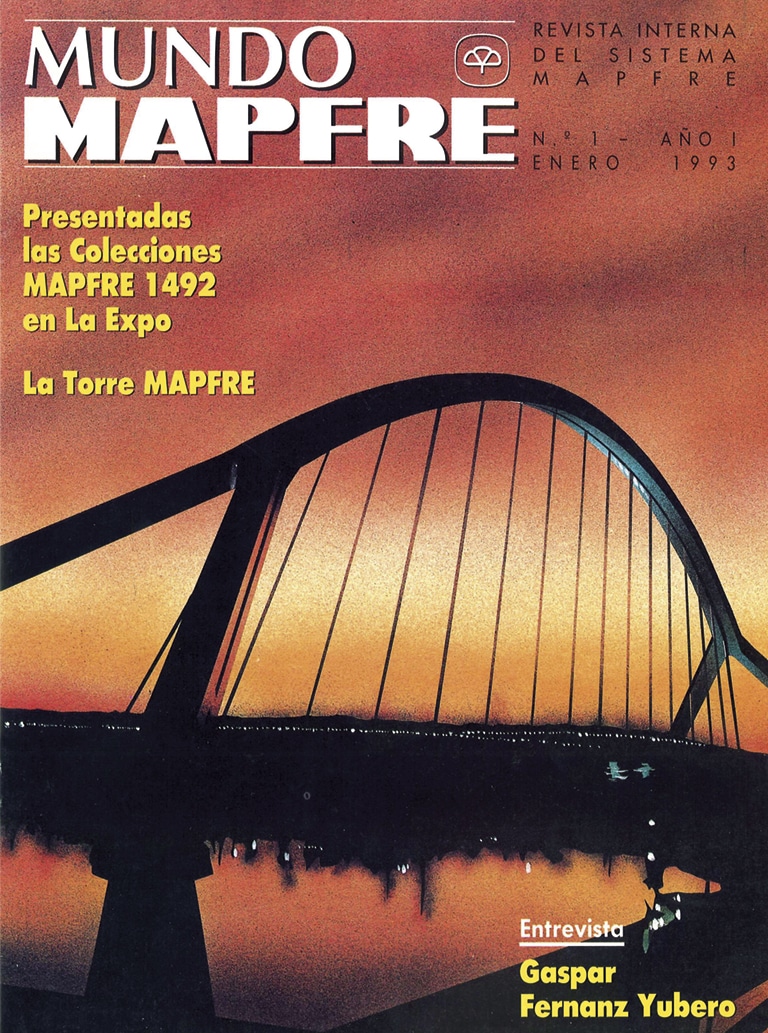 La Barqueta bridge, known as MAPFRE bridge, was one of the landmarks of the 1992 World Expo in Seville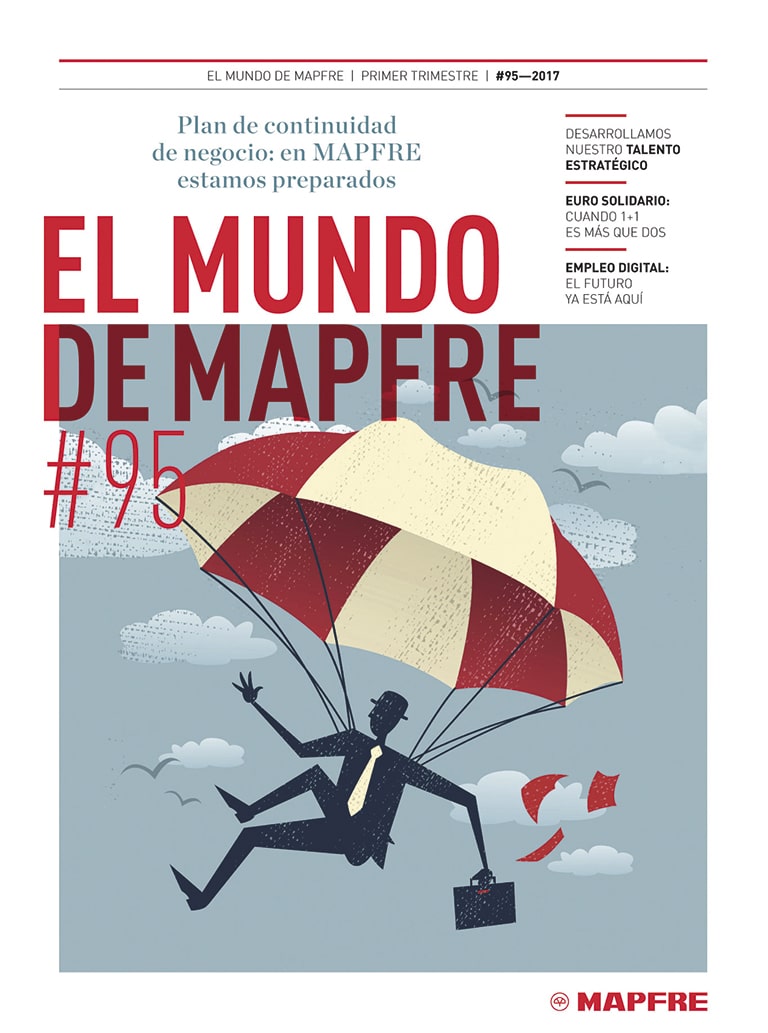 In 2017, the format of the magazine was adapted and has remained this way to date
MAPFRE's expansion would not end in America, although the historical, cultural and language ties made it the first stop in this internationalization process, before the Group went global. Its arrival in Europe, where the insurance market is much more mature, would take place years later. It was in 2014 when two companies were purchased, in Italy and Germany, that represented the seed of Verti in both countries. The two are direct insurance companies, in other words, essentially online and sales over the phone (to a lesser extent). However, Verti was originally created years earlier in 2011 in Spain, representing MAPFRE's first commitment to a company of its kind.
MAPFRE continued to expand its horizons, increasing its presence in different countries, first on this continent and, over the years, moving to the United States, where the Group's largest acquisition would happen in 2008: Commerce, a transaction in the world's most important market. This insurance company based in the state of Massachusetts now stands in the top 25 of the automobile insurance industry, which continues to represent the most important line of business for the Group (accounting for more than 20% of all business).
Asia, mainly through the reinsurance business (which was often the Group's gateway into certain markets and which today has a presence in more than one hundred countries), and even Africa, through the assistance business unit, also appear on the MAPFRE map.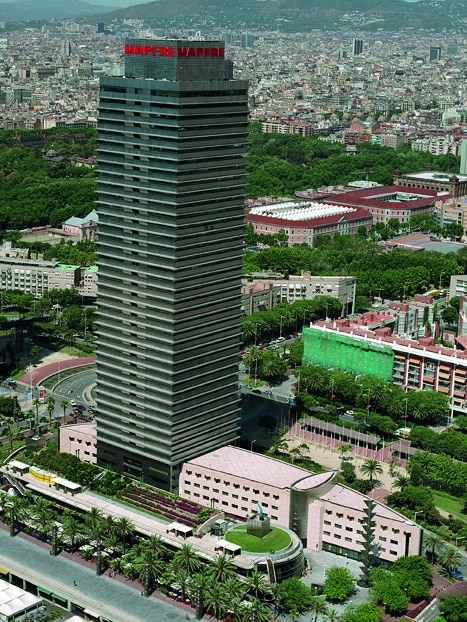 Popularly known as MAPFRE Tower in Barcelona, it was inaugurated the same year as our magazine was created
The company gradually expanded its horizons and changed internally. The expansion process needed impetus to avoid becoming a number of separate companies in different countries. This was one motivation behind the creation of centralized structures that support the entire business, that facilitate progress in the creation of a global company, transmitting culture, an intangible value that sees that all MAPFRE employees, from Patagonia to Japan, share values.
The economy underwent a modernization process, Spanish companies began to head abroad much more, and MAPFRE was there to accompany them. Today, more than two thirds of the companies on the Ibex 35 trust in MAPFRE. These types of companies needed a different product, one tailored to their very specific needs; once again, MAPFRE opted for a specialization that resulted in the creation of MAPFRE Global Risks, a unit at the Group specializing in offering solutions to multinational companies.
It has been much more than expansion, which is what has seen MAPFRE grow to the size it has today, playing in the same league as the world's biggest insurers. In fact, it is now one of the top ten European insurers in terms of premium volume. We have seen lots of innovation, a factor that has been in the company's DNA practically since its inception. It was MAPFRE who made the shift from compensation to repair, and it remains committed to this idea. Today, customers do not seek compensation when they have an accident; they prefer to have the damage fixed and not have to worry about anything. The desire to keep ahead of customer needs, to offer something different from what the competition was offering and the possibility of being able to transfer this to the different countries in which the Group operates has been a constant that continues to this day. This must continue through the efforts of the employees who now make up MAPFRE.
Over the past 30 years, MAPFRE, which continues to have the largest insurance distribution network in Spain, consisting of 3,000 offices, and one of the most important networks in Latin America, has expanded the distribution points for its products: sometimes through local agreements, others in cooperation with large corporations, such as the partnership with Banco do Brasil, which has seen the creation of one of the largest financial groups in the country, and enhancing bancassurance agreements. Along with the insurance and reinsurance business, the last decade has also seen a boost in asset management.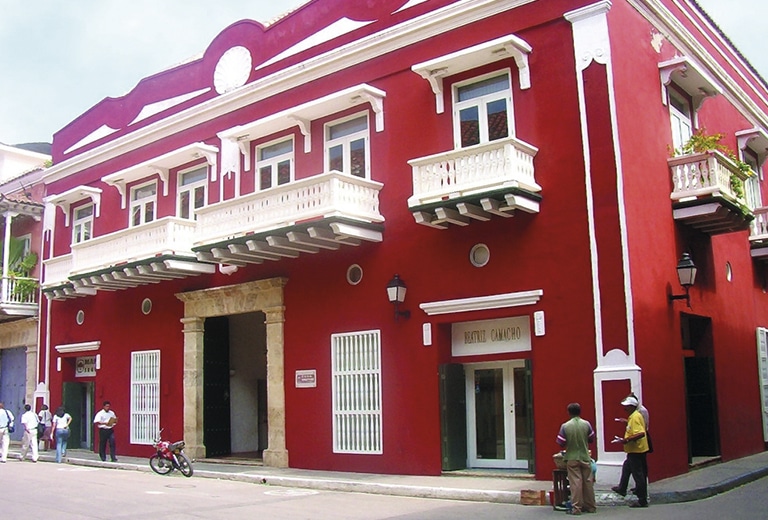 The international expansion began in Colombia in 1984. In the image, the MAPFRE building in Cartagena de Indias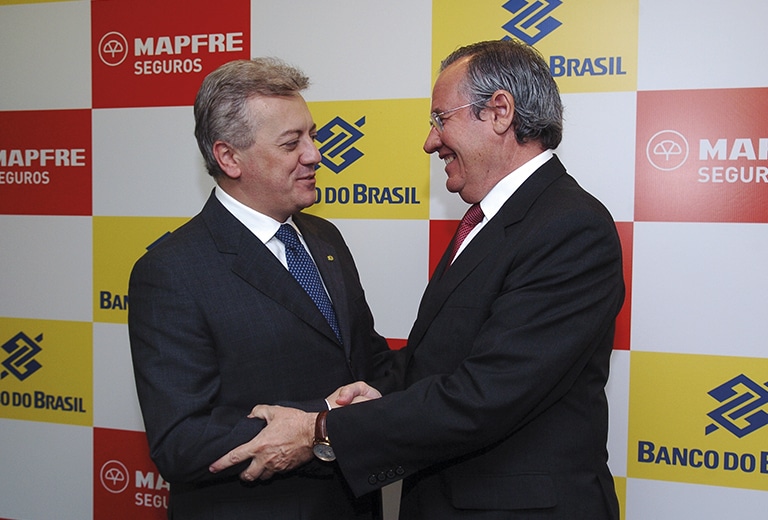 Agreement with Banco do Brasil, 2010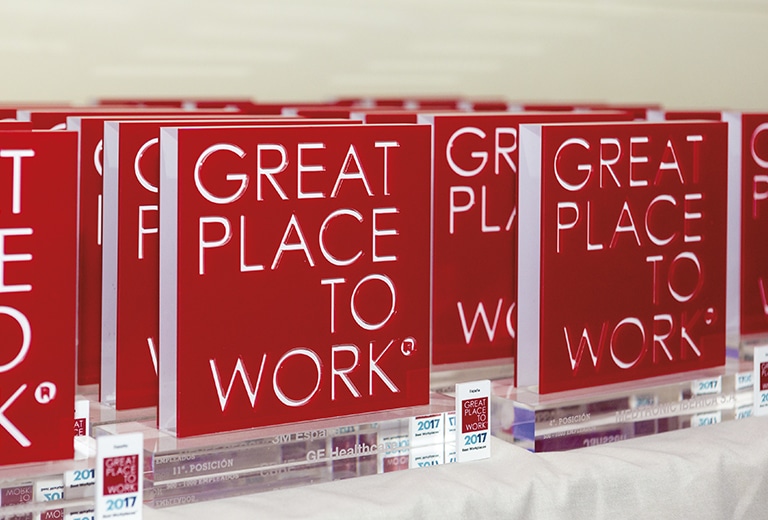 We have received the Great Place to Work award several times

MAPFRE has broken the mold by doing things differently. In 2006, it embarked upon an unusual process, something that had not been done before in Spain. It proceeded with its demutualization, ceasing operations as a mutual insurance company to become a public limited company, with all its businesses listed on the stock market, thus benefiting from easier access to capital on the market in order to undertake new operations. A complex process, which, however, was exemplary.
MAPFRE's story over the course of these three decades is the story of a company that has known how to constantly renew itself, adapting to new trends and new ways of doing things, a company in which technology and digitization are present in daily activities, because In the 21st century there is no other option if you want to be global. Inclusiveness, technology and innovation go hand in hand today, and MAPFRE has understood this. It has created its own innovation model, collaborating with startups, incorporating best practices from other markets, managing to turn a traditional assistance-based company into a totally different company, focused on the digital relationship, under a new name: MAWDY.
The importance that sustainability has acquired in recent years is one of the major social changes we have seen and today. It forms part of the roadmap of all companies, including MAPFRE. However, MAPFRE employs its own approach, taking into account that all efforts in this area must be people-focused, as they have been and continue to be the essence of the company: people who care for people. This was MAPFRE's motto and remains its essence.
The figures alone reveal that, over the past 30 years, MAPFRE has gone from having 9,500 employees to more than 31,000 employees and has multiplied its premiums by 2.5 times to more than 24.5 billion euros. But MAPFRE is much more than just figures. MAPFRE is a company that has transformed itself to overcome challenges that nobody could have imagined years ago: a pandemic that none of us had experienced (and we hope that we will never experience a similar situation again), a war like the one being waged right now in Ukraine on the EU's doorstep, and a cyberattack like the one MAPFRE suffered a few years ago. We have experienced all of this over the past 30 years, and this has all been reflected in The World of MAPFRE. The transformation of the company is reflected in this magazine.
MAPFRE's story has been written in The World of MAPFRE. There have been successes and failures, achievements and challenges that have been addressed. Brilliant projects and mistakes that have had to be corrected, the story of a living company that is in motion, that does not rest on its laurels. Over the course of these years, we have learned, as those who preceded us had learned, to improve, to reflect, to harness the best of each situation to remain global, with a dedication to leadership, a company that looks to the future with hope and optimism. A company that turns 90 in 2023 and that can proudly say that "We care about what matters to you" is the force that drives it forward, which has probably been present and underlying the company all this time, and which is the company's raison d'être.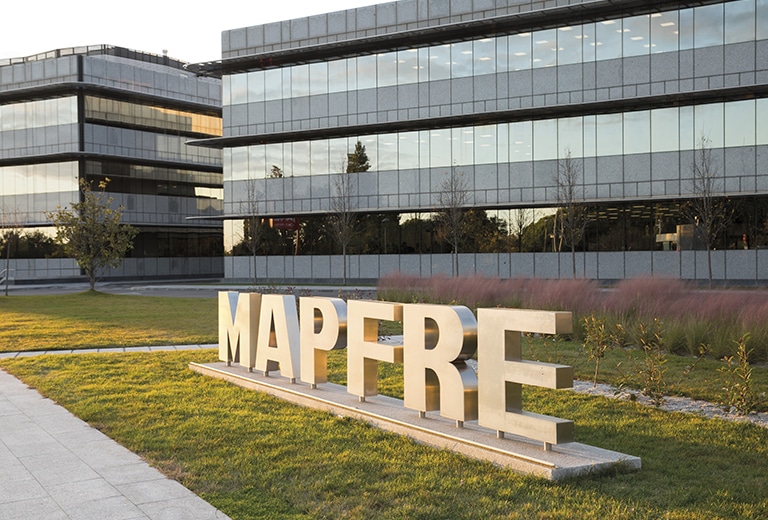 Sede social en Majadahonda y paneles solares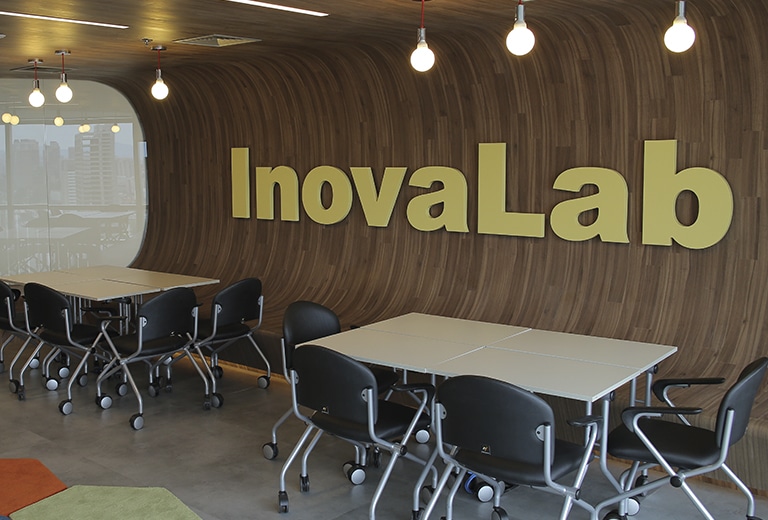 Corporate headquarters in Majadahonda and solar panels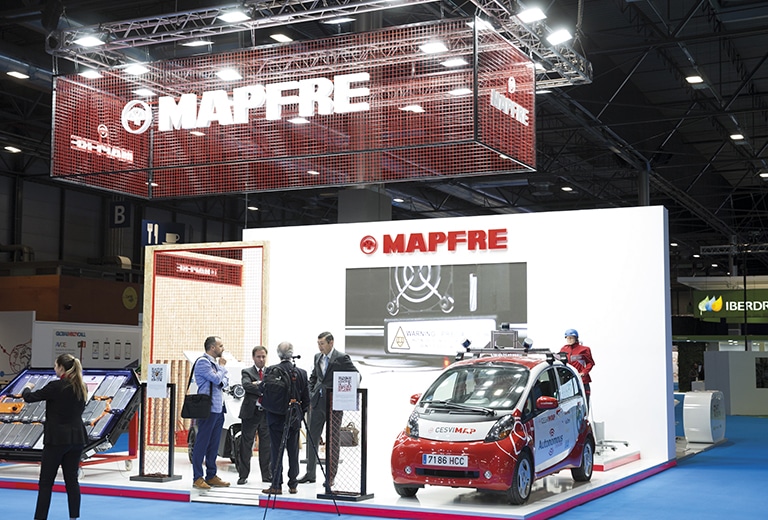 Global mobility call, 2022