This day, which falls on December 5, is a unique opportunity to thank all our MAPFRE volunteers for their efforts. Through their work, which is synonymous with commitment, fairness, solidarity, empathy and respect for others, they make our world a better place.
In 2021, MAPFRE Corporate Volunteering has organized over 1,400 activities with the participation of nearly 4,240 MAPFRE volunteers. These figures show that, despite it all, the vocation for service remains alive and well within our company.
Once again, we came forward to help the most vulnerable to the pandemic: the elderly, children and teenagers, people with disabilities and other vulnerable groups. More than 73,000 people have benefited directly from the activities of MAPFRE volunteers.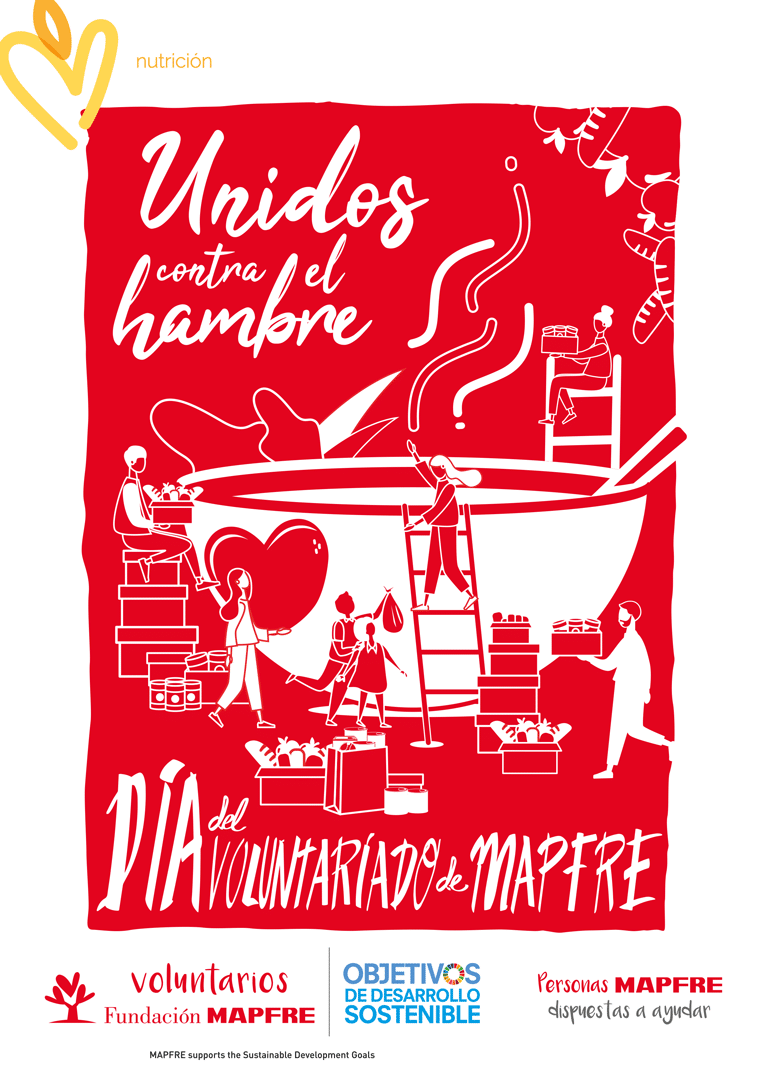 Volunteering is key to social, environmental and economic transformation. It is capable of changing people's mindsets, attitudes and behaviors. So, however you helped out, thank you very much!
International Volunteer Day is an opportunity to remind ourselves of the slogan that sums up all MAPFRE volunteers: MAPFRE people eager to help.
MAPFRE's Corporate Volunteering program is run through Fundación MAPFRE. It is integrated into MAPFRE's Human Resources and Sustainability strategies and aligned with the United Nations Sustainable Development Goals, and is one of the ways we are  #PlayingOurPart.
MAPFRE Global Volunteering Day Challenge: We did it!
For the 5th edition of the MAPFRE Global Volunteering Day, we invited you to take part in a global challenge. Our goal: 10,000 kilos (22,000 lbs.) of food donated among all MAPFRE employees!
Not only did we meet this challenge, but we far exceeded our goal, collecting more than 23,000 kilos (50,706 lbs.)!
Thank you all. We could not have done it without you.
With this tremendous satisfaction, on October 2, we wrapped up another edition of MAPFRE Global Volunteering Day, an event held for the past five years that has enabled us to actively contribute to several of the SDGs on Agenda 2030, including SDG 1 "End Poverty" and SDG 2 "Zero Hunger."
In this year, in which we continue to live under the COVID-19 pandemic, the vocation for service is still very much alive in our company and MAPFRE's Corporate Volunteers have once again turned their attention to helping the most vulnerable: the elderly, children and adolescents, people with disabilities and so on.
THANK YOU FOR JOINING US AND STEPPING UP TO OUR CHALLENGE ON MAPFRE GLOBAL VOLUNTEERING DAY!