TEXT ANA GUTIÉRREZ Y SARA ELENA TORRES HORTAL | IMAGES DIBUJARIO
You have just attended an event and have taken some pictures of your fellow speaker. "What should I do? Should I say on LinkedIn that we're here to participate in this forum? Or will it be better on Twitter? Oh, let's see if I screw up, I'd better keep them and do nothing…" Has this ever happened to you? Or maybe you have seen an article on sustainability on mapfre.com that you found very interesting. Would you know what hashtag you could share it with on social media? Read on, because we are going to give you a suggestion on how to 'be social.'"
Having employee brand ambassadors means multiplying the dissemination of a brand's messages exponentially. Brand messages have a much higher reach when they are shared or generated by employees on their own social networks than when they are shared through corporate social channels. Introducing Be Social, the plan with which we would like to be one of the largest digital communities globally.
Talk of employee brand ambassadors has been around for a long time, but why the current push by brands? Undoubtedly, the multitude of possibilities and social channels have become a multiplier of possibilities for a brand like MAPFRE.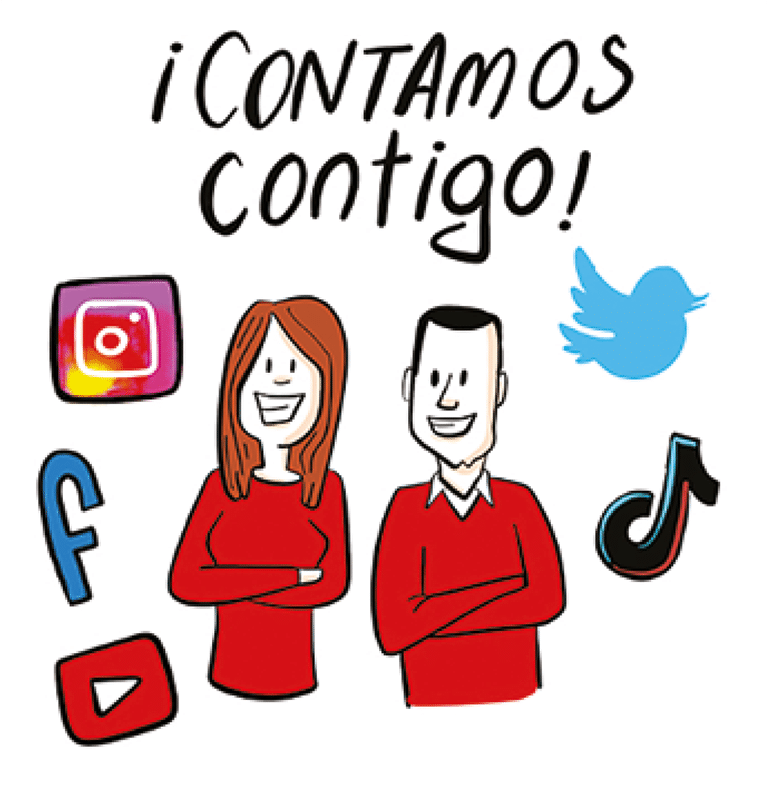 Surely you feel identified with this statement: "Users trust people more than brands and react better to content and recommendations from friends and family." That's right, brand messages are shared 24 times more when posted by people. In short, content shared by employees generates more interaction.
Of course, we know that, at times, we may feel a little dizzy not knowing whether or not we can publish information, and at other times we hesitate about where it is best to publish the content we would like to share. At other times, you may even consider: "Why should I post it? People are going to think I want to show off." Well, training and empowering employees to share company content is essential to ensuring development and driving business. Today, employees are the best influencers.
MAPFRE has taken many steps in the digitalization of all our processes and COVID-19 has impacted the world in every way, so the challenges presented by this crisis provide an opportunity for organizations to evolve to a new reality where digital predominates.
The global intranet, social networks, mapfre.com or the People App became real internal and external communication channels while we were under lockdown. The company's top representatives were the first to seize the opportunity of these company-owned media to engage in conversation with all employees around the world on a global level. The hashtag #EnMAPFREmásUnidosQueNunca became the most used, reaching 3,300 mentions.
And this should not only be analyzed from a work perspective, because for most of us it would be very difficult, now, to relate to others without WhatsApp or video conferencing. It is hard to conceive of purchasing a product without first searching online and looking at reviews, company information, etc.
MAPFRE'S COMMUNITY IN SOCIAL NETWORKS REACHED 3,105,901 FOLLOWERS IN THE WORLD BY THE END OF 2021
We are more than 33,000 employees worldwide; have you ever stopped to think about the potential as a brand and community that we would have if each and every one of us followed MAPFRE on its channels, as well as each and every one of our colleagues around the world?
If each of us followed MAPFRE's accounts, and those of the group's colleagues and executives, we would have many more followers than some very popular sites.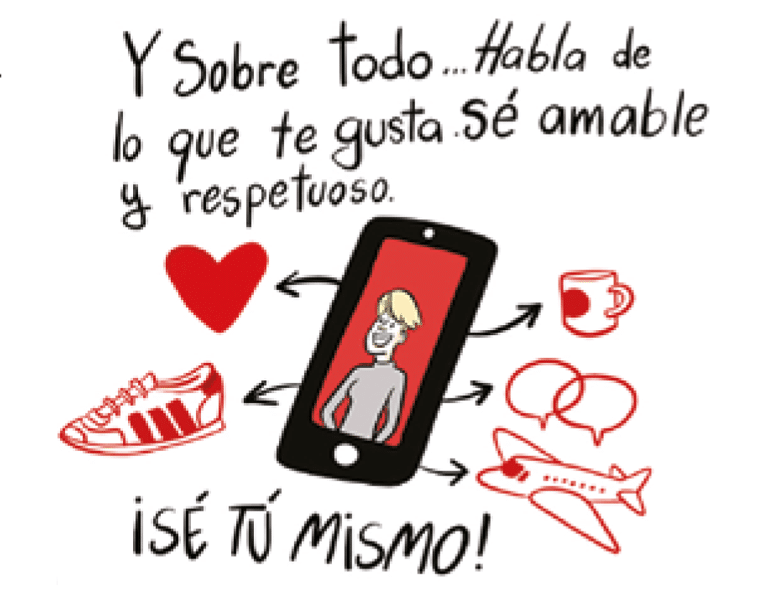 Having employee brand ambassadors not only boosts the business, but also enhances our company culture and potential as a brand, as well as the employability of each of us.
And MAPFRE has a plan: very soon, and through the Intranet, you will find an invitation to participate in Be Social, our global brand ambassador project. Relax, you will not be alone: it's a project where you will have company from the start. For this reason, you will have a space on the Intranet where MAPFRE's strategy on social networks will be explained and which will help you to perfectly understand the information that can be found on each social network and for each type of channel. In addition, in the pages you can see through the visual guides of the graphic artist Dibujario the best tips to:
Being present in social networks
Keeping social networks secure
Becoming a brand ambassador
This is a start, but we want to go further and turn the current pyramid upside down. So far, many employees do not use social media to share company messages, a few are bold enough to share and interact with the official accounts, and there are still only a small number of employees who actually create content.
So we will share topics, launch campaigns and tell you which hashtags MAPFRE creates to bring us together in the conversation and that can be used. You will be part of our Social Marathon and your participation in social networks will be acknowledged and rewarded. And do you know why?
Why we would like to count on you in Be Social
Bring out your social side through internal channels as well
To get you warmed up, we would remind you that, through our internal channels – the intranet and the People App – you can collaborate, interact and share your opinions and knowledge within the MAPFRE community. If you do, you will help the company improve and grow, and you yourself will achieve things too:
Find out what is going on in the company
Express oneself and participate in decisions and in the life of the company
Improve your results and collaborate so that other colleagues can also achieve them
BECAUSE WE ARE ALL PART OF A SHARED PROJECT
HOW CAN YOU COLLABORATE IN MAPFRE'S INTERNAL CHANNELS?
Through the global intranet, available to all employees, you have different ways to do this: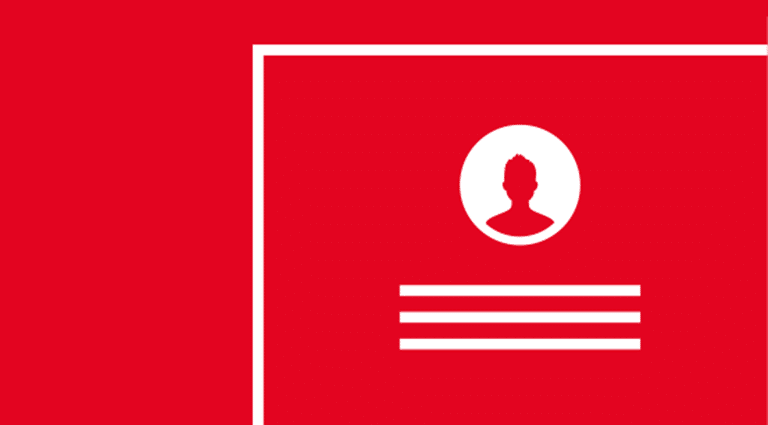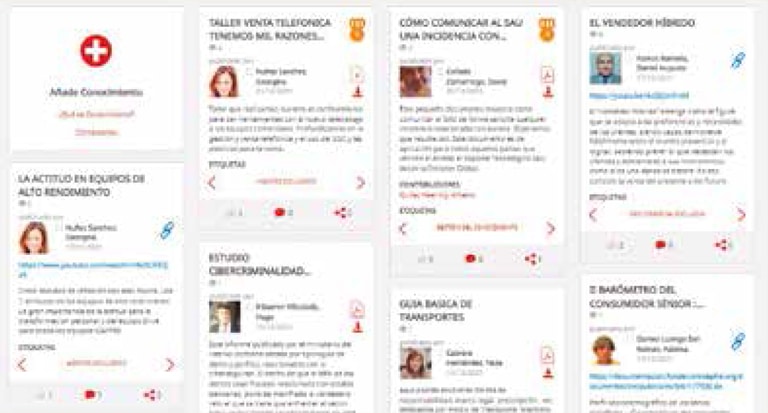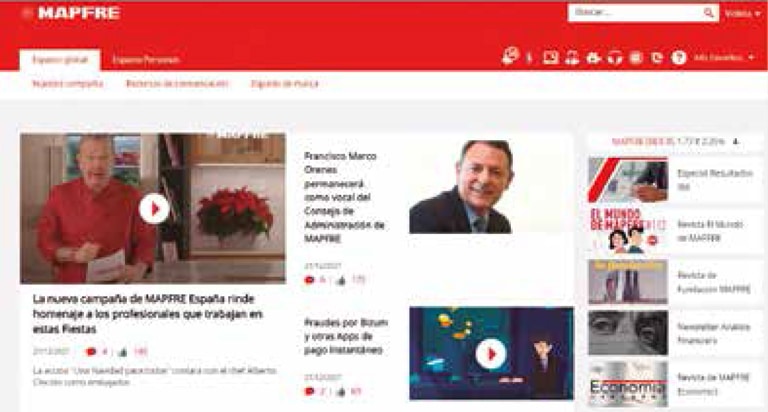 You can show who you are, what you know and what your interests are, that you have previously contributed in your Success Factors profile.
Recommend it to a colleague. You can write up to three recommendations per month on the same person with no limit.
Value your knowledge, your skills and tools.
This also means that other colleagues can search for you or someone else based on your validated knowledge. This allows us to discover the experts we have across the organization on different subjects.
Show your Eureka contributions.
See your level of participation in the communities, Eureka or if you are a Digital Champion. This has been called the profile's "hall of fame."
Follow your colleagues.
2. THROUGH THE NEWS
Here you can Comment and Like.
By doing this, you can help us find out how much interest is aroused by these communications and, thus, we can continue offering you information that is valuable to you as an employee.
3. FROM EUREKA
Eureka is our storehouse of knowledge. This space exists thanks to the contributions of all MAPFRE colleagues around the world, many of them on MAPFRE's strategic contents. How?
From Eureka you can also connect with leading professionals in different fields and countries.
4. FROM THE PEOPLE APP
From the People app which is currently available in Germany, Brazil, Spain, Mexico, Peru, Puerto Rico, and Turkey, you can indicate whether you like or dislike certain content, or save it in your favorites.
As in the case of the intranet, your feedback helps us to improve the information we provide through the People App.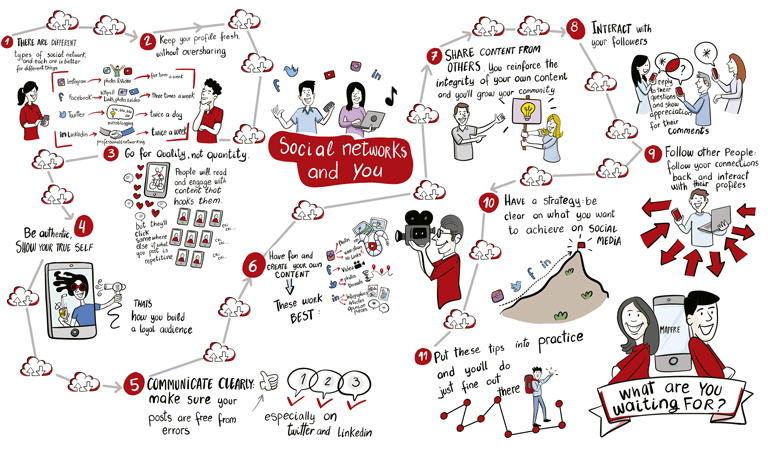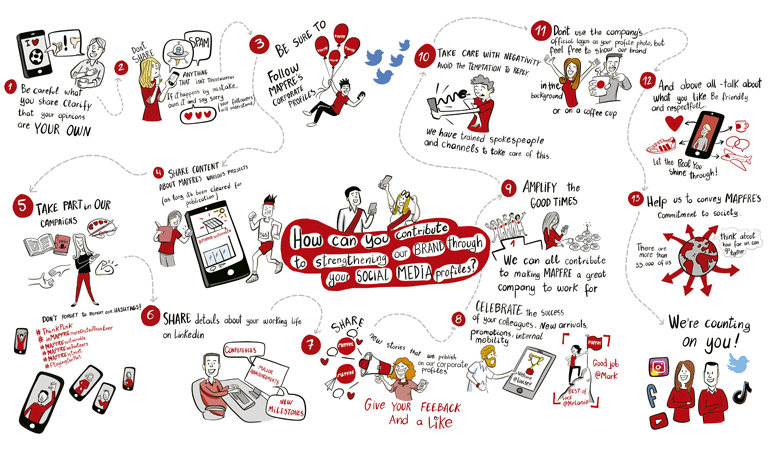 How can you strengthening our brand through your social media profiles?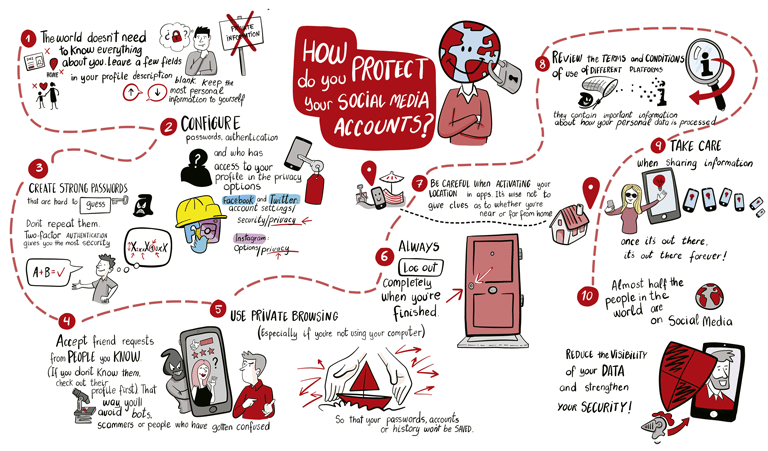 How do you protect your social media accounts?