TEXT PABLO FUENTES | PHOTOGRAPHS MAPFRE | ILLUSTRATION ISTOCK
Its mission is to promote initiatives that foster equal opportunities for women and men in all areas and at every level of the company.
Within the framework of its commitment to gender equality, MAPFRE has a Diversity and Equal Opportunities Policy, which is based on respect for the individuality of its personnel, acknowledgment of their heterogeneity and the elimination of any exclusionary or discriminatory conduct.
This corporate policy has given rise to various initiatives, such as the Women's Leadership Networks in Spain, Brazil and the United States, whose overriding objective is to strive for the effective equality of women and men in all areas and at every level of the company.
In Spain, coinciding with the celebration of International Women's Day, MAPFRE presented the Women's Leadership Network, "to create a space for dialog and action for all of us, men and women alike," stresses Elena Sanz, MAPFRE's Human Resources general manager. With this project, the company wishes to identify and develop talent on a gender-neutral basis, given that "gender equality is not just a question of justice, but is also key to the competitiveness of companies and the social development of countries," Elena Sanz adds.
Among other activities, the Women's Leadership Network in Spain is going to promote dialog on leadership topics, in order to discuss the role of women in relevant fields such as health, the third sector, the insurance industry or public service, with the participation of eminent individuals from the business, economic and social spheres. In addition, in-house women's workshops and encounters are being promoted in order to identify key points that favor their professional promotion.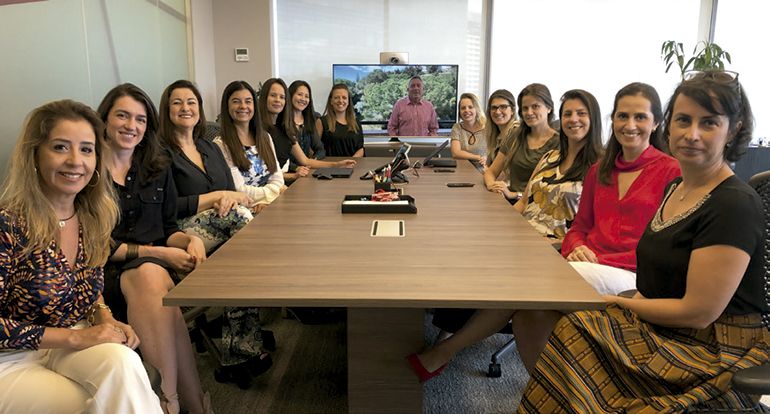 Other noteworthy initiatives of the project in Spain include a Women's Leadership Development Program, the promotion of STEAM – acronym for Science, Technology, Engineering, Art and Math – professions among girls, and an active presence in forums.
In Brazil, the company has created a diversity council, through which actions and policies are being promoted to ensure that men and women have access to the same opportunities for professional and personal development. For example, mentoring and coaching programs have been run for women in middle management posts, as well as surveys to identify women for managerial positions, measures to achieve work-life balance and specific communication campaigns. MAPFRE BRASIL has been recognized as the 10th best major enterprise for women in the country.
For its part, in MAPFRE USA, the Women's Leadership Network promotes a personal and professional development program for women in the company, through workshops, volunteering projects, internal networking and training activities. The network's members participated recently in seminars on work-life balance, leadership and volunteerism in Massachusetts and Arizona, as well as in a leadership skills program.
Together with these women's leadership projects in different countries, MAPFRE also promotes shared responsibility with measures for the reconciliation of work and private life – including measures to offer more flexible work schedules that facilitate a work-life balance – and training and professional development for all employees. The company also contributes to gender equality through its corporate volunteering and social projects targeting women and girls at risk of social exclusion.