Talent and social commitment, paramount features of the Fundación MAPFRE Social Innovation Awards
TEXT MOONBOOK | PHOTOGRAPH MÁXIMO GARCÍA
"These awards were born out of the conjunction of two essential elements. Firstly, the fact that young people today are more interested in creating and providing greater value to society than those of us in previous generations. Secondly, the commitment – shared by Fundación MAPFRE from the very beginning – to pursing effective solutions that can solve specific problems in order to enhance people's quality of life," Antonio Huertas declared at the grand final of these Awards.
On October 17, the atmosphere in the Giner de los Rios Foundation auditorium in Madrid was reminiscent of the Oscar ceremony. This was the grand final of the first edition of the Fundación MAPFRE Social Innovation Awards, judging nine projects from Spain, Austria, Chile, Mexico and Brazil, three for each of the stipulated categories. This was their last chance to opt for one of the awards which are destined to be deemed the "Social Innovation Nobel Prizes". This was the view of Santiago Iñiguez de Onzoño, executive president of the IE University in Madrid, which collaborated in running this contest.

After nine months' work on an event which far exceeded the expectations of its organizers (462 projects were submitted from more than a dozen countries) and three semifinals (Mexico City, São Paulo and Madrid) in which the nine finalists were chosen, the entrepreneurs who reached this final saw their powers of persuasion truly put to the test. This gala event not only served as a grand finale awards ceremony, but it was also a real "final nine shootout" in which all the finalists had to defend their projects. Firstly, behind closed doors before the jury and, later, summarizing their project in just a few minutes in front of the whole audience. The camaraderie among the participants, who had shared a photo session in the morning, was the prevailing spirit throughout the evening. Tremendous sportsmanship in that atmosphere of healthy collaboration so characteristic of the social entrepreneurship world. Although they were colleagues and already new friends, they pulled out all the stops when it was their turn to go on stage. What was at stake was the honor of becoming the first winners of the Fundación MAPFRE Social Innovation Awards in each of the three categories.
Health Improvement and Digital Technology (e-Health), Insurance Innovation (Insurtech) and Mobility & Road Safety. With the support of multimedia elements, the finalists had just three minutes – which relentlessly ticked away on a clock visible to the whole auditorium – to convince those present why they deserved to be chosen. The audience applauded, enjoyed, laughed and was excited with the passion of Simone Mozzilli (BEABA), the narrative skills of Salva Gutiérrez (MJN Seras), the eloquence of Camilla Vivallo (Oliber), the arguments of Miguel Duhalt (4UNO), the technology deployed by Kristina Tsvetanova (BLITAB), the succinct prowess of Diogo Tolezano (Pluvi.on), the impeccable eloquence of André Andrade (Zumby), the assertiveness of René Espinosa (Lazarillo), and the eminently likable José María Gómez (Scoobic). Great ideas that need to be presented brilliantly if they really wish to make an impact on society someday.
The fact is that the world is changing at breakneck speed. Every day new realities emerge, generating totally new problems. Situations in which innovation and technology have a big part to play. "Instead of making a drama of the problems, we can try to turn things around and make them part of the solution," suggested José María Gómez, CEO and founder of Scoobic. For this reason, no social innovation project will get very far if it neglects its operational dimension.
"You are all winners" was the phrase uttered throughout the gala. Although, in the end, three projects received the recognition of the jury, together with the 30,000 euros to enable them to continue development. As stated by Ana Lima, Secretary of State for Social Services, "technological innovation has nothing to do with the future, but rather already forms part of the present. The Spanish Government is grateful to the professionals and institutions such as MAPFRE which foster and channel the tremendous potential of human beings." For Antonio Huertas, president of Fundación MAPFRE, these awards are fruit of a wonderful project that has found the way to boost talent with commitment. "The success of this event encourages us to launch the second edition of these social commitment awards in the coming weeks," he added.
Category
HEALTH IMPROVEMENT AND DIGITAL TECHNOLOGY (E-HEALTH)
MJN-Seras (Spain)
Epilepsy is a disorder that is "stigmatized, causes rejection and is plagued by a tremendous lack of knowledge. Between 70 and 100 million people around the world suffer from this disease," explains Salva Gutiérrez, one of the partners of MJN-Seras. This project has been working for six years on developing a technological device to help prevent someone with epilepsy suffering an accident because of an unexpected seizure.
The prototype is already in its precommercialization phase. "It is an earpiece capable of reading brain data through the auditory canal. These readings, combined with a series of artificial intelligence algorithms, can be downloaded to a smartphone and the system is capable of sending out an alert one minute before a seizure is about to happen," Gutiérrez declares.
"Those suffering from epilepsy and their relatives live with the constant fear of not knowing when the next episode is going to happen. We want to eliminate that fear from their lives," he adds. Beyond the technological value of the device, if there is something these social entrepreneurs have learned, it is that what people looking into this project most appreciate is not its technical sophistication, but rather the way it can help enhance quality of life for people suffering from this disorder. "People don't know what epilepsy is. They can't imagine what it means to suffer from anxiety or depression because you lost your job, or because you've hardly any friends left. Or the anguish of a child who doesn't want to return to school after suffering an attack in front of classmates the previous day."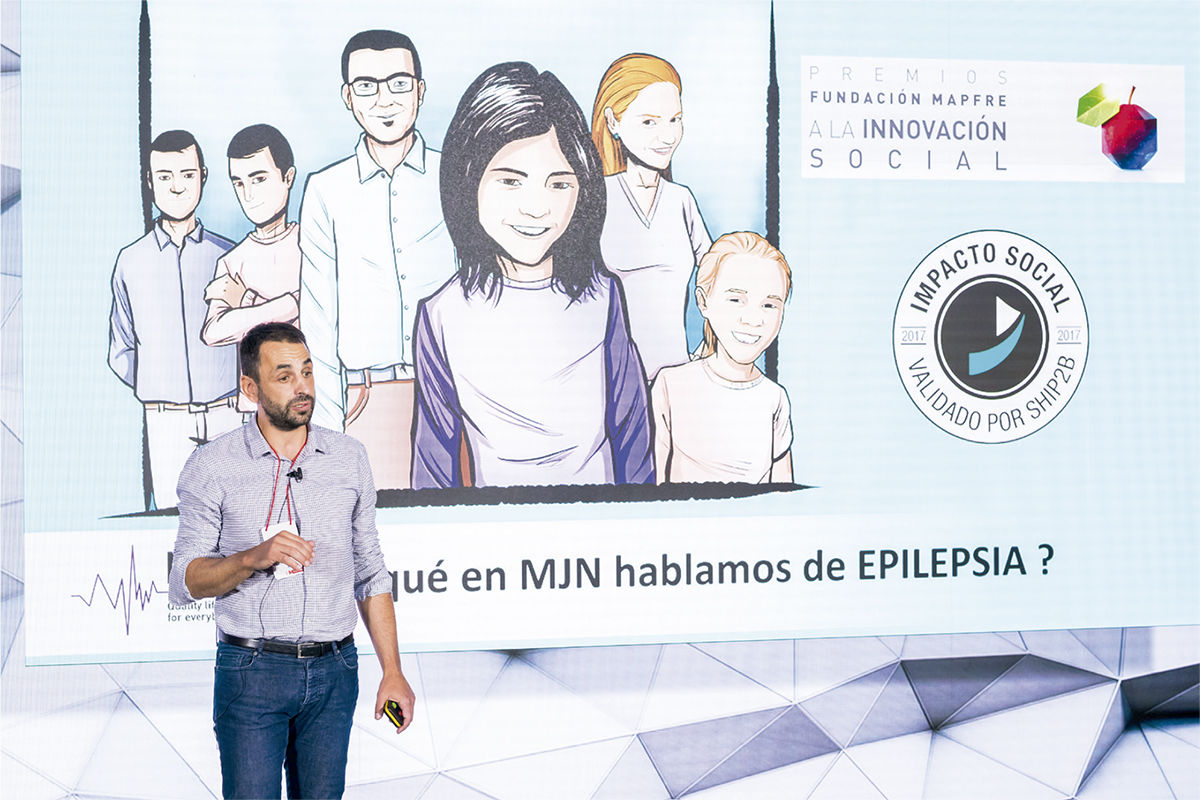 Category
INSURANCE INNOVATION (INSURTECH)
4UNO (Mexico)
Something as seemingly simple as having your own bank account, credit card or insurance policy is beyond the scope of 2.5 million domestic workers in Mexico. Not because there are no financial products for this segment of the population, but rather due to the lack of a suitable distribution channel.
Creating that channel is 4UNO's prime objective. "Financial inclusion is the most powerful tool for lifting people out of poverty. We bring these products to a huge, vulnerable demographic, namely that of domestic workers. Over 90 percent of these people are mothers earning 300 dollars a month, who cannot save because they have no way of accessing these kinds of services," declares Miguel Duhalt, one of the project's founders.
4UNO's disruptive solution to this problem is based on both technology and people. "The system works via a mobile app and these people's employers are the ones who facilitate their access to financial and protection services by means of a monthly fee of less than five dollars. The employer thus becomes an ambassador for the financial inclusion of the employee, while both are protected and their personal bond is strengthened."
Spreading the word via social media is facilitating the success of a system which has already made it possible for 3,000 Mexican children to enjoy medical coverage for the first time.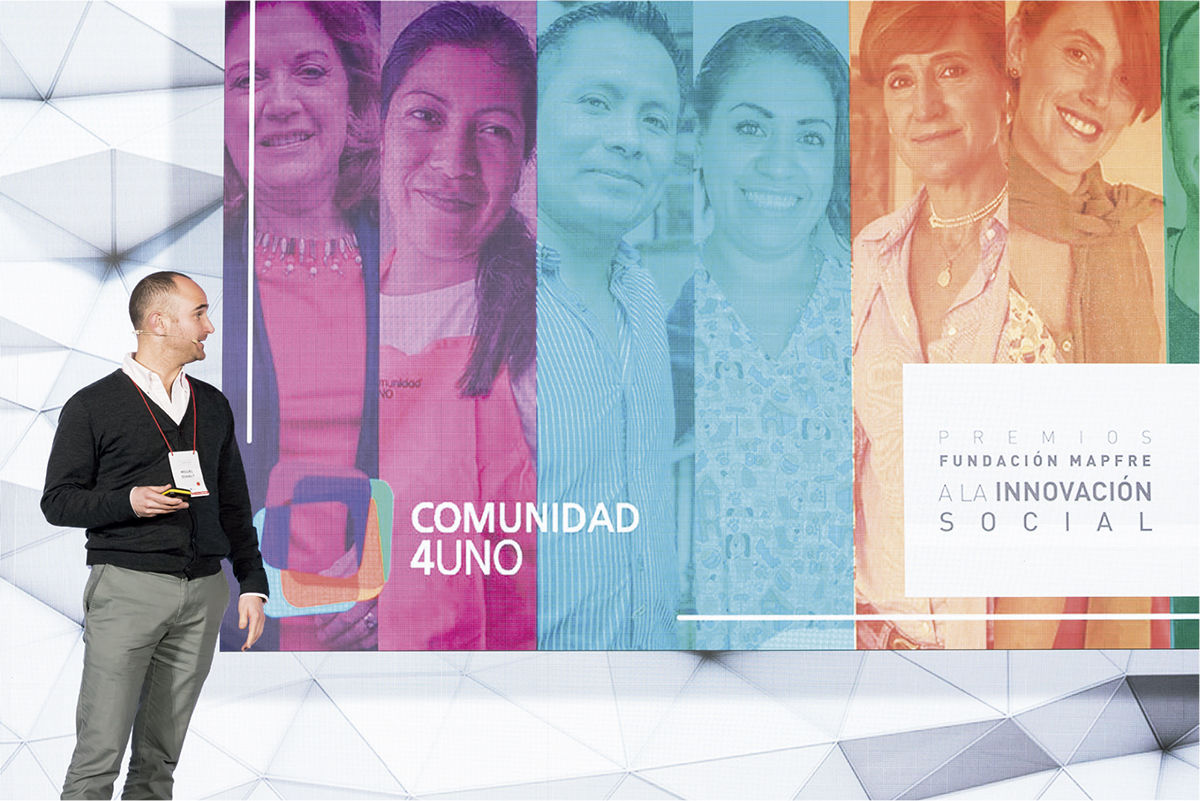 Category
MOBILITY AND ROAD SAFETY
Scoobic (Spain)
"The technological challenge a few years ago was to bring the Internet into every home. The challenge now is to bring everything we buy over the Internet to them," declares José María Gómez, CEO and founder of Scoobic. Doing so in a clean, sustainable manner, and one which can even help save lives is the ambitious challenge taken up by this urban mobility solution, which combines the agility of a motorcycle with the load capacity of a van. Scoobic has been developed by Passion Motorbike Factory, a group of "social engineers" committed to turning the problem of traffic jams or urban pollution completely on its head.
For Gómez, the key lies in designing vehicles that put the focus on people. "Transporting goods around the city cannot be avoided. But we can actually turn it into a positive thing for the city. If it turns out that these vehicles clean the air because they absorb carbon particles and make the city a more livable, healthier place, then the delivery guy becomes an ally." An ally and maybe even a hero. Because Scoobic intends to equip its vehicles with defibrillators, in such a way that, if a user is within close proximity of someone suffering a heart attack, the nearest Scoobic can be geolocalized via an app and sent a distress message. "The deliverer will then immediately cease distributing packages and take the defibrillator to the victim. That day, the client will probably receive the order late, but if this means a life is saved, it will have been really worth it."