TEXT ENRIQUE VEGA | PHOTOGRAPHS MAPFRE, ISTOCK
Insurers are faced with the complicated task of finding good assets that generate returns in an increasingly complex environment. Since 2014, the price of money in the Eurozone has been at near zero levels, and in the United States, although the Federal Reserve began to change its monetary policy progressively a few years after that, it had to backtrack again and is currently back at 0.25 percent. This scenario has directly impacted the accounts of financial institutions, as well as insurers, which are known for having a very conservative balance sheet with a high exposure to top-quality debt that currently yields very little.
The recent report
Inversiones del Sector Asegurador
 (Investments in the Insurance Sector), prepared by MAPFRE Economics, points out, in fact, that the large insurance groups, recognized as some of the main institutional investors in public debt at a global level, invest more than 75 percent of their balance sheets in high quality debt, both sovereign and corporate. And in this context, it is very difficult to maintain investment returns while aligning the duration of assets and liabilities, given that there are still some long-standing portfolios with high guaranteed rates.
Unlike other financial institutions, the insurance business model involves the need to implement liability-oriented investment strategies in order to achieve an adequate "match" in terms, currencies and interest rates between the liabilities assumed and the investment instruments backing them. For this reason, beyond fixed-income investments (corporate and sovereign), MAPFRE, like the rest of the insurance sector, is immersed in the search for alternative, more profitable assets. Currently, the Group is in a cautious position with regard to these investments, in contrast to its competitors, since the volume earmarked —close to 1 billion euros of money committed to various projects— represents a very small percentage of the considerable balance sheet, which stands at more than 65 billion euros.
Real estate assets
MAPFRE made its debut in the real estate market in 2018, hand in hand with GLL, part of the Macquarie group, through a co-investment vehicle to invest in primeoffices in the main European markets. MAPFRE entered the deal with a 50 percent stake and a total of 100 million euros pledged. This alliance, formed to invest up to 300 million euros, has acquired high-quality buildings in Luxembourg and the former BBC Radio headquarters in the Fitzrovia district in the heart of London.
In March, they acquired a prime 6,000 m2 office building in Hamburg's central St. Georg district. The property, which previously belonged to Allianz Real Estate, holds the DGNB Gold sustainability seal that assesses economic, environmental, comfort and quality aspects.
In addition, in mid 2019, the Group reached an agreement with Swiss Life for the creation of an investment vehicle in the real estate market. As a result, MAPFRE, with a 50 percent stake and an outlay of more than 100 million euros, decided to opt for prime offices located in Paris.
More recently, at the end of April this year, MAPFRE further boosted this alliance by creating a Joint Venture, a pan-European co-investment vehicle with an initial volume of assets valued at 400 million euros, for the purpose of investing in the Spanish and Italian real estate market.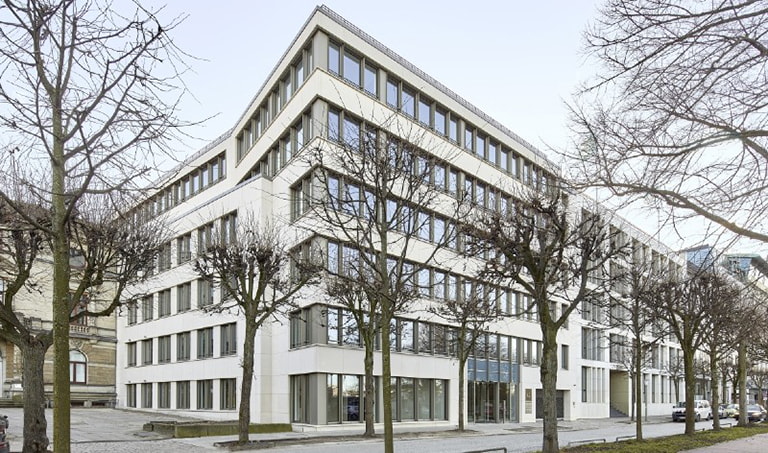 Prime office building located in the St. Georg district of Hamburg.
50 percent
participation
100 million euros committed
pan-European
joint venture
Infraestructures
MAPFRE and Abante, as part of their strategic alliance initiated two years ago, in 2020 launched, through Macquarie, the Australian-based financial services group, an infrastructure fund of up to 300 million euros. To this end, MAPFRE pledged an initial capital contribution of 50 million euros in line with sustainability, social and governance (ESG) criteria, although this figure has now been increased to 100 million euros.
This fund of funds, which has attracted interest from institutional and private banking investors and which underlies several Macquarie Infrastructure and Real Assets (MIRA) strategies, offers an opportunity for investors to access an asset class that allows portfolios to be diversified in a low rate environment.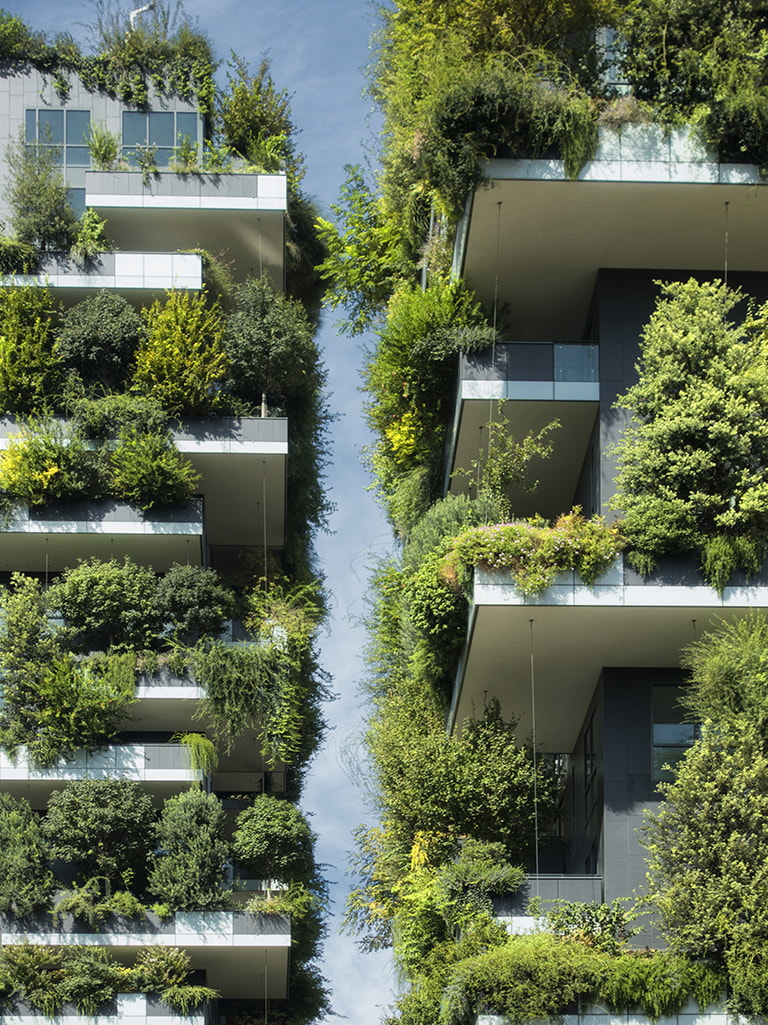 50 million
euros initial capital
ESG social sustainability and governance criteria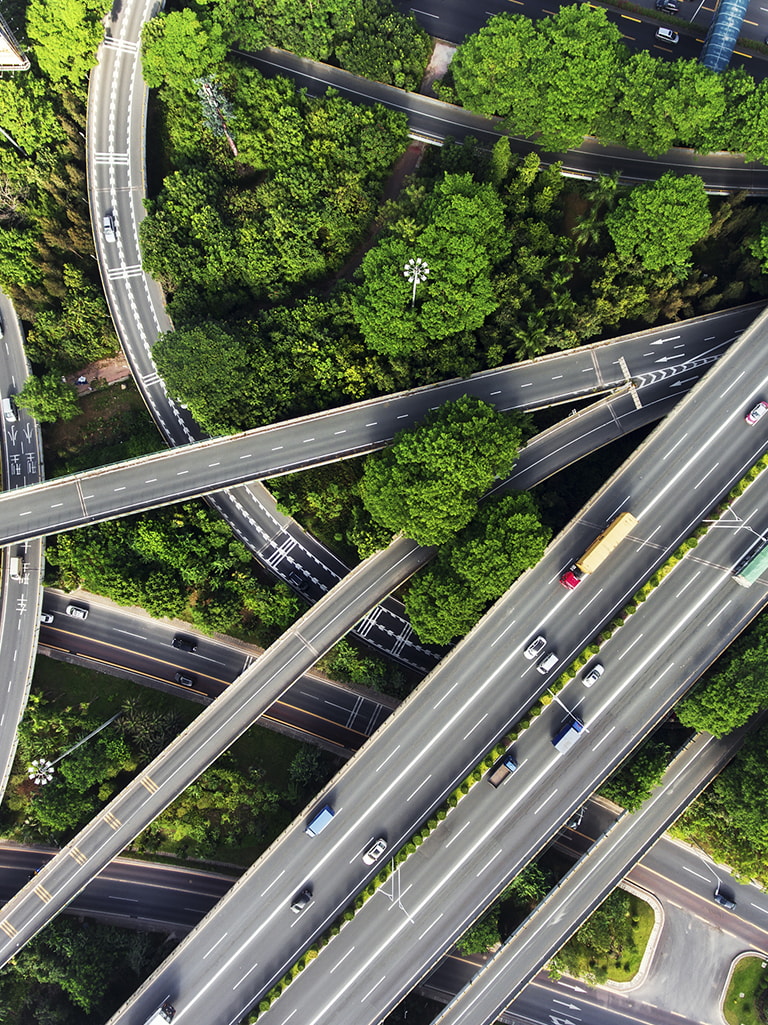 Private equity
In its bid to move forward with investment strategies in alternative assets, in 2020, MAPFRE, together with Abante and Altamar, launched a fund in which the insurance group committed more than 200 million euros in assets. Specifically, the MAPFRE Private Equity FCR, registered with the CNMV [Spanish National Securities Market Commission], brings together the private equity investments already made by the group's entities, as well as current and future investments, and has a conservative stance.
This type of investment, termed «evergreen» or permanent, meets the needs of insurance companies and other institutional investors who, by the nature of their business, have to invest in very long-term assets. Moreover, unlike a traditional private equity fund, whose average life is around ten or twelve years, this instrument has an unlimited term.
As José Luis Jiménez, MAPFRE's chief investment officer, points out, these investments «make it possible to diversify the balance sheet at a time when the market is very attractive because great opportunities can be generated in the coming months.»
200 million
euros in assets
Evergreen unlimited term
Sustainable investments
The insurance group's fourth venture in terms of alternative investments is the recent agreement reached with Iberdrola to jointly invest in renewable energies in Spain. This project, in which MAPFRE will have an 80 percent stake, represents the creation of a pioneering co-investment vehicle between an energy company and an insurance company.
The Joint Venture will leverage up to 230 MW of green projects —both wind and photovoltaic— from the energy company's portfolio of assets. The agreement also contemplates the incorporation of other operating assets, as well as new renewable energy development projects, up to 1,000 MW.
Furthermore, within the framework of diversifying alternative assets, the added goal of this alliance is that third party clients such as Abante may have the opportunity of co-investing in this clean energy vehicle in which some 800 million euros will be jointly invested.
80 percent
MAPFRE participation
230 MW in green projects
A unique journey through time
Breaking through the mosttraditional barriers, MAPFRE decided to become a shareholder in Puy du Fou, the French theme park company, with a 19.3 percent stake. The construction of a Spanish-history theme park in the Toledo province was the main reason why MAPFRE decided to invest in this project.
Copying the French formula, MAPFRE decided to open the Spanish park in two phases: the first, in August 2019, offering nightly shows related to the most important events in the history of our country; and the second, in the spring of this year, ultimately opening the venue, with attractions, stalls, workshops, restaurants and daytime performances for all ages.
All these investments bring MAPFRE's total commitment to alternative assets to more than 850 million euros. The Group's commitment to this kind of assets is a major factor to be borne in mind and, despite its smaller weight in the product portfolio, the promotion of new projects will allow MAPFRE to have a greater exposure to this area and will allow the company to explore new investment opportunities.
19.3 percent investment
in the French company
850 million euros pledged