TEXT PABLO FUENTES | ILLUSTRATIONS MAPFRE
MAPFRE is transforming itself to continue being the trusted global insurance company. The new 2019-2021 Strategic Plan provides the framework for us to be a more agile, efficient, innovative, profitable company. Your participation is key.
"Digitization and transformation are key to our progress. This transformation will be present in everything we do, i.e. it will be transversal, serving as a true accelerator throughout all areas of our company." This is the basis of MAPFRE's new Strategic Plan for the period 2019-2021, as our Chairman and CEO, Antonio Huertas, explained in a video posted on the Intranet late 2018 for all of the Group's employees around the world.
With the motto "We're transforming for growth and improved profitability", the new strategic plan is the framework for better prioritizing our objectives and initiatives, and being a more agile, efficient, innovative, profitable company. Earlier this year, via the Intranet we outlined certain details of this new Strategic Plan through a global communication plan, which will continue over the coming months with specific campaigns dedicated to the three strategic pillars and their respective initiatives: Client Orientation (Focus on the Client, Digital Health, Digital Business Plan, SAM 3.0 and Major Cities), Efficiency in Technical and Operational Management (Global Operational Efficiency Model with Advanced Analytics), and Culture and Talent (Digital Challenge).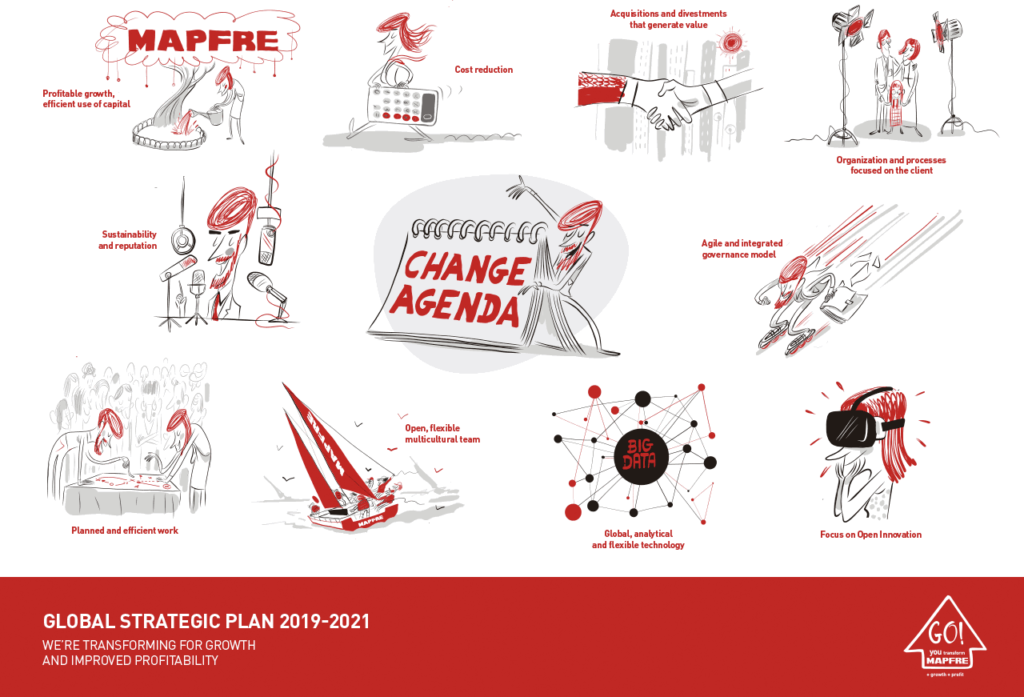 Within the framework of the new plan, growth and profitability will remain the focus of our path toward change, relying on the values we all share and which have always characterized MAPFRE: Solvency, Integrity, Vocation for Service, Innovation for Leadership, and Committed Team. The time has now come to advance further in order to maintain our leadership, which entails being an even more client-focused, competitive, sustainable company.
We are guided along this path to transformation by our Agenda for Change which sets out the top ten priorities of our strategy. The aim is for this agenda to include a profitable growth model that prioritizes the efficient use of capital and the payment of dividends; we are going to implement rigorous cost control plans that offer us competitive, profitable, sustainable business models; we are also committed to acquisitions and divestments that generate value and are aligned with our strategy, as well as strengthening our structure and processes so as to enhance the experience for our clients.
Moreover, we are seeking more agile, integrated corporate governance which combines greater control and increased value contribution, moving toward an open innovation model that offers us competitive advantages as regards our clients, products, services and processes. Over the next few years we also wish to avail of a global, open, flexible technology, tailored to the needs of our businesses and focused on a planned, efficient working model which enables us to achieve predictable, satisfactory results, with the emphasis on the technical aspects. And we're going to commit to a policy that boosts our reputation in all markets and bolsters MAPFRE's transformational goal.
However, as our Chairman and CEO points out in the opinion piece within this article, in order to successfully tackle this transformation, it is essential that we first ensure the economic sustainability of the business, focusing on technical rigor and know-how, on training and continuous improvement, and, of course, with the client at the center of our activity. To make this Agenda for Change a reality, we can rely on our most important asset: an international, fully committed team. Over the next few years we are going to continue advancing in order to become an open, flexible multicultural team with profiles tailored to suit our transformational needs.
Strategic plan voices: how are you helping transform mapfre?
Over the coming months, specific campaigns will be launched on the Global Intranet for each of the three strategic pillars. As a crucial part of these campaigns, we will be asking you to make a short video explaining how you help transform MAPFRE in your daily work, with regard to client orientation, operational efficiency, or culture and talent. These videos will be published in a video library on the Global Intranet, where you can leave comments and rate them. The prize for those which receive the most 'Likes' for each pillar will be a full Volvo Ocean Race Kit. And the most voted video of the three pillars will receive the "Voices of the Strategic Plan 2019" prize: a tennis racket signed by Rafa Nadal. Stay tuned to the Intranet and have a go at winning!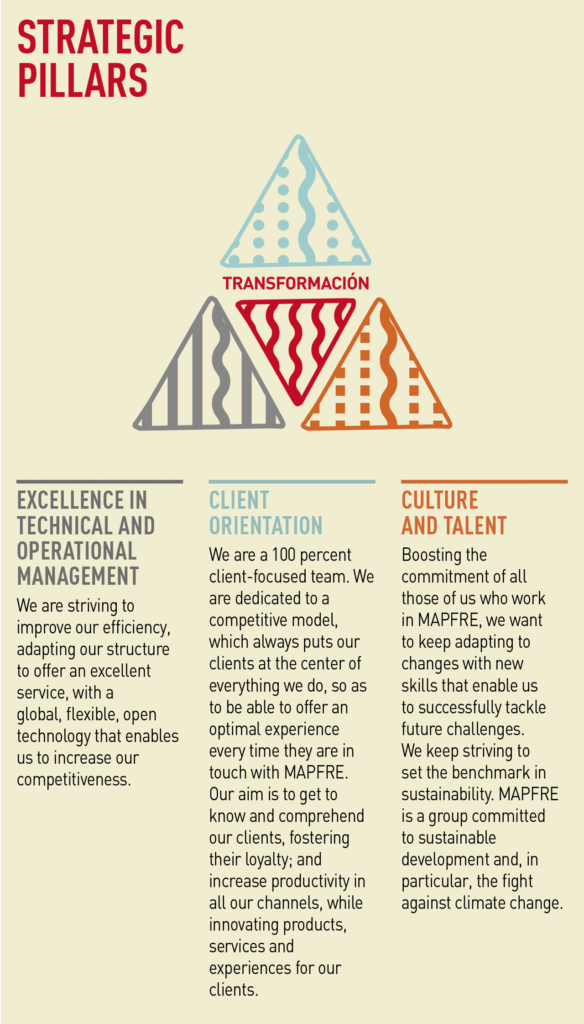 MAPFRE objectives for 2021
The new 2019-2021 Strategic Plan outlines a series of aspirational goals for this three-year period, which MAPFRE presented at its 2019 Annual General Meeting held March 8. As you can see in the graphic, the objectives focus on profitable growth and value creation for our shareholders, on our drive to promote efficiency and innovation, as well as the company's commitment to sustainability and diversity.
Strategy Communication Plan
The success of our road map for the next three years relies on the participation and commitment of each and every one of us. This is why it is so important for everyone within the company to know and fully comprehend the fundamental messages and objectives of our strategy. To this end, since late 2018, we have been deploying a Global Communication Plan to inform the whole organization of the strategic initiatives and the progress being made, as well as to align them with the attainment of our objectives.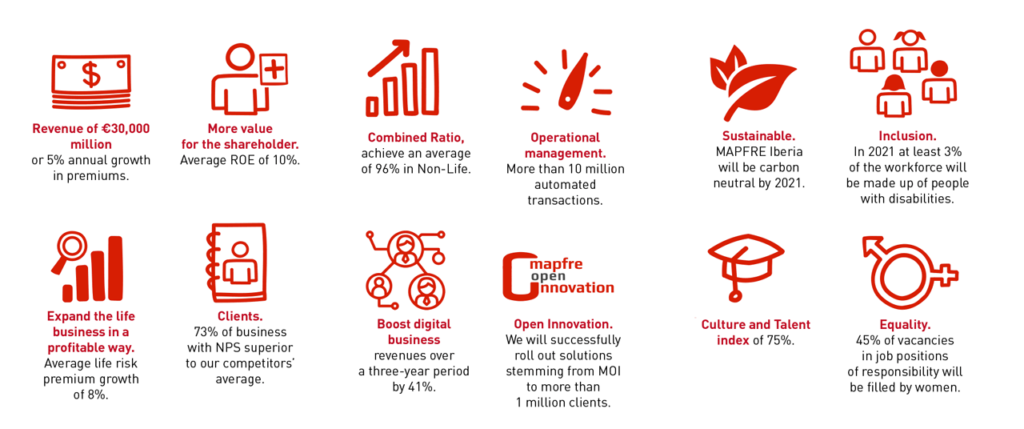 The communication plan for this Strategy, whose major elements are outlined below, includes important innovations:
Strategy Section on the Global Intranet, where the employee is just one click away from a dynamic, highly visual overview of the main contents of the Strategic Plan and all the news about its progress.
Personalization, in this Strategy Section each person will see the global contents of the Strategic Plan common to all, but can also access strategic information related to their immediate sphere, depending on their particular region, country, corporate area or business unit.
Communication Kit, with the aim of facilitating top-down communication from managers and team leaders. The Kit includes the contents needed to explain the new Strategic Plan, as well as a guide to messages and recommendations so as to ensure more effective communication with teams.
Collaborative Community on the Intranet, comprising the Communication and Strategy teams from all over the world, with the aim of working in a coordinated fashion on the deployment of the Communication Plan, taking advantage of synergies and sharing best practices.