Currently, we companies are moving in an environment in which changes are occurring at breakneck speed. The term VUCA (acronym for "Volatility, Uncertainty, Complexity, Ambiguity") was coined to describe such environments in which both businesses and those of us who form part of them must prove capable of adapting and preparing ourselves to remain competitive and productive.
TEXT SARA ELENA TORRES HORTAL | IMAGES ISTOCK & CORPORATE HR AREA
With Digital Challenge, MAPFRE is working hard to manage the changes we must all make in order to adapt to the new digital requirements and transform ourselves as professionals. With this in mind, it created the new performance evaluation model, which has evolved from the previous model to:
Support the achievement of objectives and impact on productivity. How? By defining and monitoring key activities that contribute to the achievement of objectives
Identify the potential of employees through an overall, more objective assessment
Promote continuous conversation, focused on assessing efforts, recognizing achievements and guiding the work we do
Boost the adoption of the new MAPFRE behaviors – Collaborate, Innovate and Be Agile – through continuous feedback and 360º evaluation, which allows for reflection on successes and failures in order to learn from them
Viralize the new MAPFRE behaviors
The new Performance Evaluation has been designed with a view to making employees the protagonists of their own development, as its slogan indicates. To do so, it puts them at the center of the action because:
It gets them more involved in their own development. MAPFRE needs people who are proactively committed to the company, and the best reflection of this is for each one of us to be responsible for our own development
This helps you to be inspiring and a point of reference if you are a team supervisor, and grow together with them
This new model entails a change of culture and mindset, meshing perfectly with the new times we live in, impacting equally on companies and the people who work in them. It is now up to you to ensure that this new model grows.
Remember: YOU are the protagonist of your own development.
Learn in detail how the new Performance Evaluation works
The aim of the performance evaluation is to move toward a high performance culture from which both workers and the company benefit.In this context, the new performance evaluation MAPFRE has implemented is an agile, simple model that puts the focus on achieving objectives and adopting the new MAPFRE behaviors: Collaborate, Innovate, Be Agile, Respect and Communicate (the last two in the case of employees who manage teams). This model is based on four phases:
CONSTRUCT
TALK
SHARE
ASSESS
Let's take a detailed look at each of them:
1. CONSTRUCT your own pathway to achieving your goal
Start by defining the pathway that will allow you to achieve your goals. You will do so through activities, which are specific, precise actions that will help you attain those objectives. To establish them, you have to think in terms of achievements and results: a milestone or a specific task to achieve, a business indicator…
It is not a question of doing things twice or using the activities as an agenda of your daily tasks. The criteria for defining an activity as good are that it must enable you to:
Monitor and gauge whether or not you are getting closer to your objective
Gather the opinions of others
The idea is for you to create between three and five activities for each objective and monitor their development, both by setting yourself a timeline and by seeking feedback, as you will see in the second point "Talk". And be flexible, i.e. if any activity does not work, change it.
2. TALK throughout the year
Once you have defined your activities, it is time to:
Monitor their progress by asking those you are working with for feedback, so as to learn how you are doing and act accordingly. In this way, your colleagues can help you grow, while you help others in the same fashion.
Foster ongoing communication with your supervisor. These are moments of reflection throughout the year that must be geared toward tracking the fulfillment of the activities you are undertaking and discussing the manner in which you are adopting the new behaviors: Collaborate, Innovate, Be Agile, Respect and Communicate.
The new model offers you a tool whereby you can be ultimately responsible for your own professional growth
You will have sufficient autonomy and a highly active role as you now construct your own pathway to achieving your goals
3. SHARE and incorporate other points of view
The 360º evaluation tool consists of an employee self-evaluation and a request for you to be evaluated by your internal clients (those colleagues who receive the result of your work), your peers (other colleagues with whom you have also worked over the year and who can give you their opinion), and your collaborators, if you have people under your charge.
The 360º tool allows you to reflect on your successes and failures in order to learn from them, as it offers you a very precise picture of your strengths and areas for improvement.
4. ASSESS With all the information gathered during the process
Your supervisor will make a final assessment and share it with you in a conversation to close the annual cycle of your performance evaluation.
How can the new Performance Evaluation benefit you?
You are ultimately responsible for your development
The first advantage is made clear in the project slogan, which states that you are the "Protagonist of your own development". The fact is that the new model has been created to offer you a tool whereby, through your effort and commitment, you can be ultimately responsible for your own professional growth.
Greater autonomy and a more active role
The new model offers you sufficient autonomy to construct your own process; for example, with the introduction of the activities you take on a highly active role in the management of your objectives, as you now construct your own pathway to achieving them. For the first time, you are going to determine which are to be the key activities or the most efficient for achieving your goals, or those which will help you monitor whether or not your efforts are adequate. And, if not, you can change or modify these activities.
This calls for an in-depth analysis so that you can plan each of these activities and fulfill them in a correct, timely manner. There is therefore greater responsibility on your shoulders, making this a more challenging and rewarding process for you.
Another benefit is that you will see whether you are getting closer to your goals and, if not, you can then modify your strategy.
In the case of the 360º evaluation, you are going to help build your 360º process by proposing the people you feel should participate in the internal client and peer groups. The focus of this process is your development and it will offer you multiple views of how you are doing. For example, you will be able to discover whether your peers are saying that you innovate, whether your internal clients are saying that you are being agile or not… This is a detailed, anonymous – respecting confidentiality – snapshot of each group, letting you see how people feel you are applying the new behaviors, to which only you have access.
Commitment and involvement in other projects
During the year you contribute to the results of your area through other initiatives or projects not reflected in your objectives plan, but which prove to be critical issues or really make a difference to your commitment and work over that year. In the new performance evaluation you will be able to incorporate these and create other achievement activities for one of two reasons:
Because I'm interested in reflecting them in the tool
I want to receive impressions of how I executed this task
Development through more viewpoints
With respect to the activities, you will be able to ask for feedback from those with whom you collaborate on such activities regarding how you are performing. This is essential because:
You can start to incorporate other viewpoints into your performance evaluation and, in this way, the ratings of other people you are working with are formally reflected in a tool
From the development standpoint, it is really positive that you can instantly receive opinions of how you are doing your work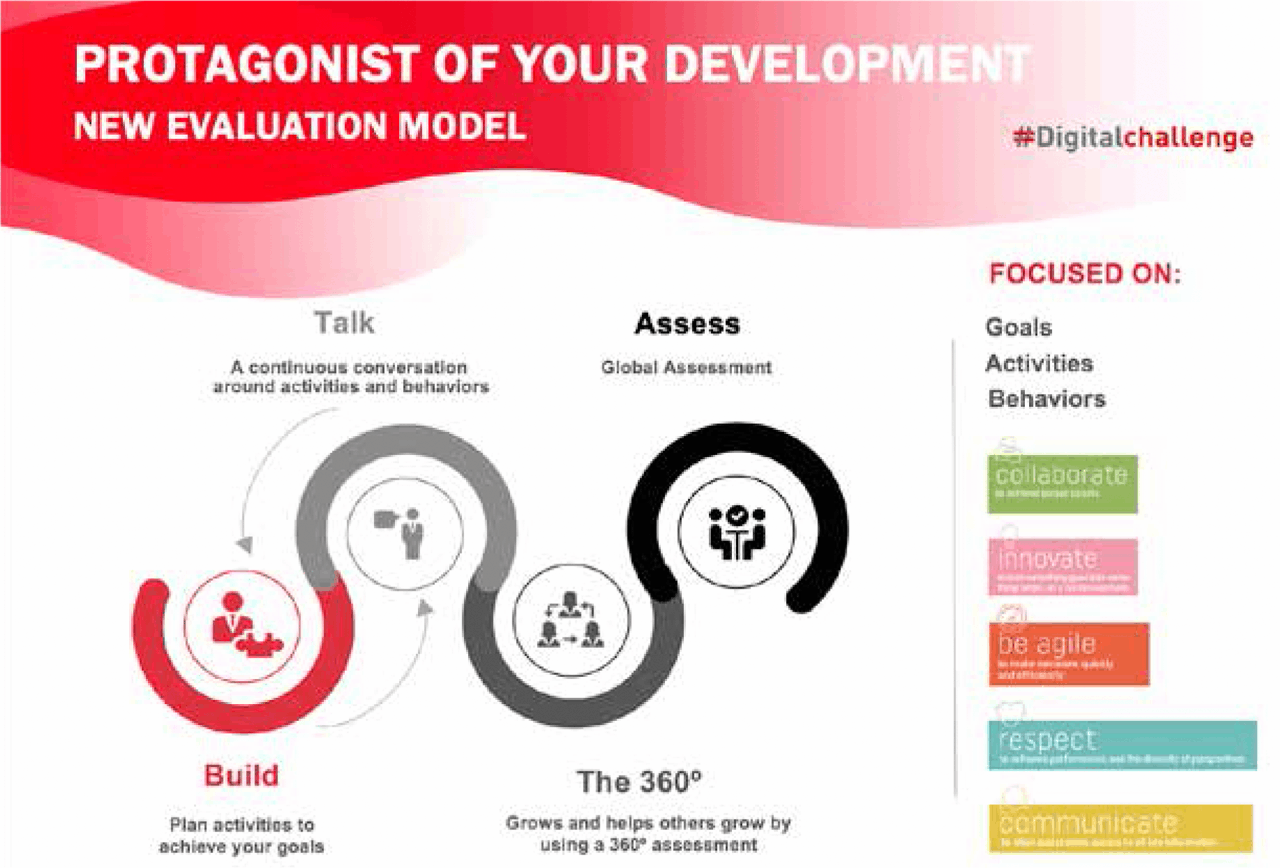 Greater involvement of the supervisors
At any stage of the process your supervisor can participate, propose or adjust activities, seek feedback from others that you have not asked, etc. The supervisors will have a scorecard that lets them know how each of the members of their team is getting on, which of their activities remain pending, when they last offered them feedback, how they are incorporating each of the behaviors… They will thus be able to:
They will thus be able to:
Let their employees know when they are doing their job very well
Help them to be able to do better
That conversation, that communication, must be incorporated into our daily routine. This is a formula that helps incorporate the Digital Challenge behaviors into our daily work; they are interrelated behaviors because, if I communicate, I achieve collaboration, and thus I am innovating and being more agile… It is all about viralizing those habits so that they are ever-present in our work.
From the standpoint of those in charge of other employees, what the new evaluation offers them is a tool with which they can manage their team in a different manner from the way they were doing until now.
Through one single tool
This model is fully administered through SuccessFactors, in a new module created specifically to manage and monitor the whole evaluation process. It can be accessed directly through the applications available in the People area of the global intranet.
The role of People and Organization
The People and Organization teams will encourage and boost the adoption of this model among all employees. But this new evaluation model should be viewed as an organization-wide process that has to be embraced by us all, regardless of our position, given that each and every one of us must be fully committed to the success of the project.
To sum up, with this process we all win: employees and the company.
This new model will be implemented all over the world in October. Therefore, as from that date, you will be able to request feedback from employees in any country with whom you are working. The next step will be to include some of its functionality in the People App. We will tell you more about this innovation later on.
All these changes are ensuring MAPFRE does not lag behind; they drive the company forward, adapting its evaluation process to create a more communicative model that will facilitate its development. We are counting on you to be the "Protagonist of your own development"!
Together we are building knowledge in MAPFRE
In the next issue of The World of MAPFRE we will be looking at our New Knowledge Management Model
In our daily work, all MAPFRE employees generate a huge amount of knowledge that is of incalculable value and we must make the very most of this resource. To that end, within the Digital Challenge process, MAPFRE will be implementing its Knowledge Management Model: a major advance that will enable us to be more agile and efficient.
This model is designed to ensure that knowledge flows freely throughout the organization. Sharing knowledge and experiences, whether within MAPFRE or acquired, in the form of good practices/use cases, lessons learned, studies/reports and links to knowledge. And connecting to professionals exercising different functions in the various areas of MAPFRE.
The Global Intranet is the vehicle that will allow us to spread knowledge and make it accessible to all employees. Therefore, an area called Eureka has been created within the intranet to serve as a repository where all our employees can consult and/or contribute knowledge.