In the previous issue we introduced you to five colleagues whose work is essential to the evolution of MAPFRE's digital culture. This time, it is the turn of Isabel, Nikolaus, Mónica, Rodrigo, Michela and Michael. Let's meet them right away.
TEXT MARÍA JESÚS PÉREZ FUENTES | PHOTOGRAPHS MAPFRE | ILLUSTRATION ISTOCK
The digital transformation is revolutionizing all sectors of the economy and in MAPFRE we are fully aware that digitization not only entails changing the technology we use, but also, at the cultural level, encouraging a change of behavior to which we must all be committed. In particular, in the process of digitizing MAPFRE, we have identified different profiles of colleagues who carry out initiatives that are changing our processes at the strategic or business level, and are enabling us to make progress in the relationship with our clients throughout the world.
It is already common for most employees to consult their social media profiles or the daily headlines while they are eating breakfast or on their way to the office. However, for those whose functions are directly related to MAPFRE's digital business, this habit has become part of their work routine. For example, Michael begins his workday as a member of Verti's e-commerce team in Germany long before he reaches the office. "On leaving home, I'm already reviewing all my personal and professional social media accounts, my mailbox, the headlines and latest news on marketing, Verti's digital marketing performance indicators…" "Thanks to technology and the cloud, I can check up on the visits to our website or update new functionalities in the production environment from my kitchen at home," adds Michela from Verti Italy.
UNTIL NOW OUR WORK HAS BEEN BASED ON FOUR BASIC PILLARS: CUSTOMER ORIENTATION, DIGITAL TRANSFORMATION, TECHNICAL AND OPERATIONAL EXCELLENCE, AND CULTURE AND HUMAN TALENT. WE FEEL THAT THESE REMAIN RELEVANT FOR THE YEARS AHEAD BUT THAT, IN ADDITION, WE MUST FURTHER STRENGTHEN TWO CONCEPTS WHICH NEED TO UNDERPIN THE WHOLE FUTURE DEVELOPMENT OF MAPFRE: TRANSFORMATION AND DIGITIZATION: FOR THIS REASON, THE DIGITAL TRANSFORMATION WILL CEASE TO BE A PILLAR IN ITSELF AND BECOME A TRANSVERSAL ELEMENT FOR THE WHOLE PLAN. Antonio Huertas, Chairman & CEO of MAPFRE
Working at Verti means offering a different concept of insurance with the premise of bringing innovative products to market that respond to customer needs by providing added value, generating efficiency thanks to technology, or encouraging interaction via the Internet as the basis of the relationship with our customers. On a daily basis, for Michael that translates into the updating and monitoring of publicity campaigns on Facebook, LinkedIn, Google, Bing, etc. "but also managing new domain structures – such as that of the Verti Music Hall – database management, predictive analyses, key performance indicator (KPI) reports, and so on."
"It's not just a question of creating better products or services, but rather of listening to customers and getting to know them, so as to be able to create products that respond exactly to their needs," adds Michela, who tells us about her experience with Verti's digitization process. "Thanks to digital solutions, we've shortened the trial periods in the production environment and the relationship with the IT department is much more flexible and efficient. "In a sector such as the digital world that changes so quickly, it's a real achievement for us that we're able to react in time."
"THANKS TO DIGITAL SOLUTIONS, WE'VE SHORTENED THE TRIAL PERIODS IN THE PRODUCTION ENVIRONMENT AND THE RELATIONSHIP WITH THE IT DEPARTMENT IS MUCH MORE FLEXIBLE AND EFFICIENT. Michela Reale, web analyst and digital specialist at Verti Italy
From MAPFRE's Digital Marketing area in Peru, Rodrigo deals with the opportunities offered by the Internet and social media as regards providing clients with added value and achieving business objectives. On a daily basis, he spends a large part of his time optimizing the various digital platforms for the generation of leads and online sales. Together with the company's Digital Network and the various technical units, he develops and consolidates new digital business models.
The work can be intense, but Rodrigo assures us he loves his job. The digital transformation process MAPFRE is undergoing provides our Leading Actors with a highly motivating challenge. "If we constantly remember that digital transformation is a neverending process and a goal we must always pursue, we're on the right track. We can see how the company reinvents itself every day in order to provide a better service to its customers," says Rodrigo. With the aim of getting all of us in MAPFRE fully engaged in this digital revolution, the need arose for a global solution to connect all our employees, breaking down the silo mentality and putting in place this enormous collaboration project, as befits a truly international company: the Global Intranet.
"EVERY DAY THE COMPANY REINVENTS ITSELF IN ORDER TO PROVIDE A BETTER SERVICE TO ITS CLIENTS." Rodrigo Villanueva Llanos, Digital Marketing and e-Commerce assistant manager. MAPFRE PERÚ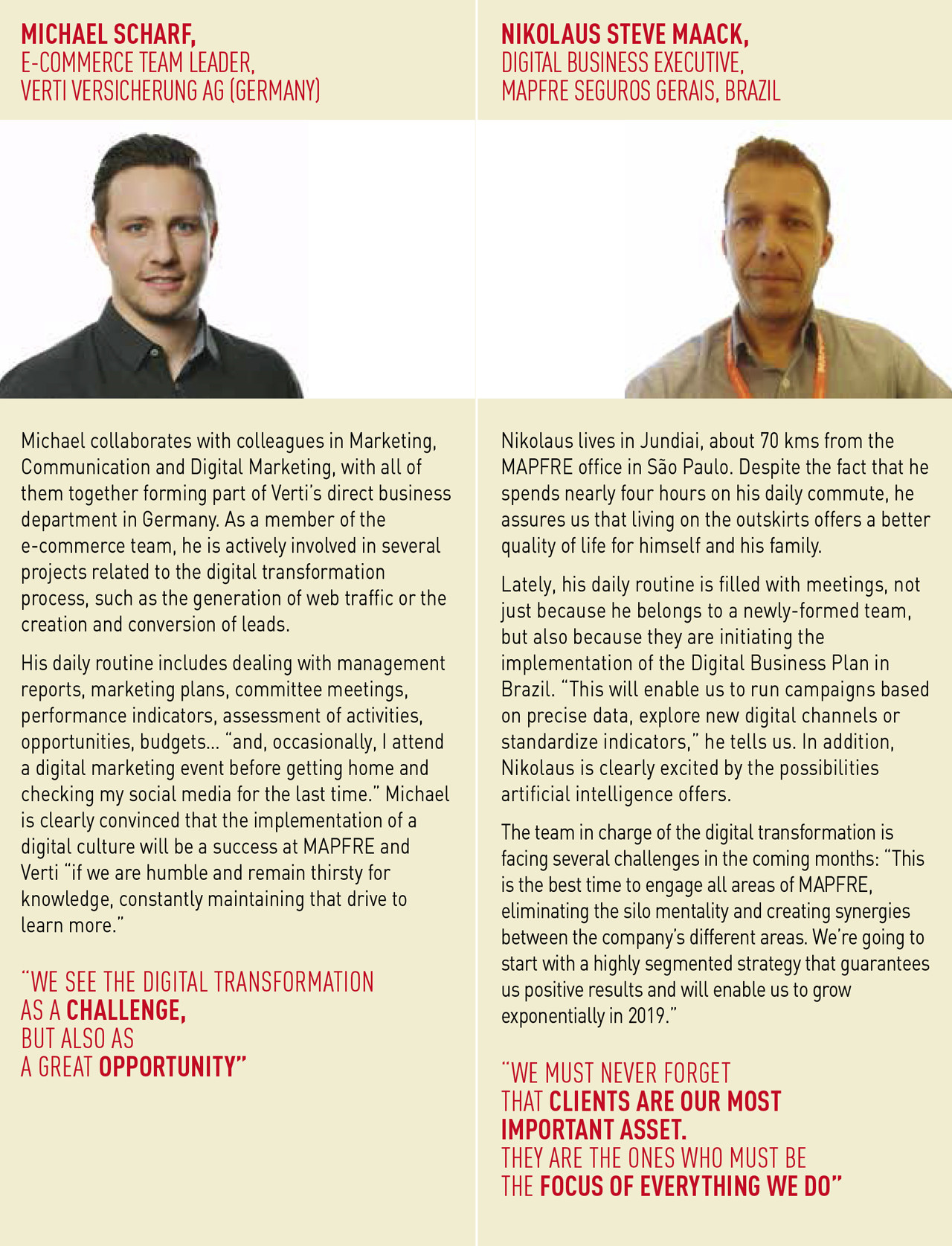 "One of the biggest challenges we faced in this project was the possibility of getting the same message across to employees in all countries simultaneously," explains Mónica, responsible for the project in the Corporate HR Area. The various sections of the Intranet help provide the Countries, Units or Areas with a solution that brings together contents which would otherwise be scattered around several different channels.
Moreover, it contributes to greater rapport between work teams, which get to know each other through this medium. This is where the Intranet's Communities come into play. They make it easier to work as a team, integrating in one place solutions for chatting, sharing documents, editing files simultaneously, managing tasks, etc. "And they allow us to cut out our excessive use of email," Mónica adds. "In short, they make teamwork more agile, whether it's a question of processes, projects or, even, dealing with departmental management."
"ONE OF THE BIGGEST CHALLENGES WE FACED IN THIS PROJECT WAS THE POSSIBILITY OF GETTING THE SAME MESSAGE ACROSS TO EMPLOYEES IN ALL COUNTRIES SIMULTANEOUSLY, THUS ALLOWING US TO CUT OUT OUR EXCESSIVE USE OF EMAIL." Mónica Solaun, Global Intranet assistant manager (Corporate Human Resources Area).
Nikolaus is experiencing firsthand what the implementation of MAPFRE's digital strategy in Brazil actually entails. "We maintain direct contact with the Corporate Digital Business Management team which, at this evolutionary moment in Brazil, has provided us in spectacular fashion with all the assistance necessary," he declares. From the Digital Business area, Nikolaus contributes primarily to the strategic planning designed to boost profitable results, reduce acquisition costs, simplify the digital sales processes, promote better use of the entire global solutions portfolio, and explore the potential of the Brazilian market in a segmented fashion.
Our six Leading Actors agree that the aspects which will have the greatest impact on the digital transformation of the Insurance world will be the user experience, omnichannel distribution, new distribution models and process automation. In the digital environment, the process of attracting customers is highly systematized, which calls for great technological and advertising foresight in order to discover their needs and behaviors. So-called B2C Marketing (Business to Consumer Marketing) is one of the keys to this attraction, as it grants priority to the emotional factor over the rational factor in decision-making. "One of our challenges in digital marketing is understanding both our potential customers and those leaving us, for all the digital channels, devices, and behaviors. We strive to simplify complex relationships with our customers by many means, both digital and traditional," explains Michael.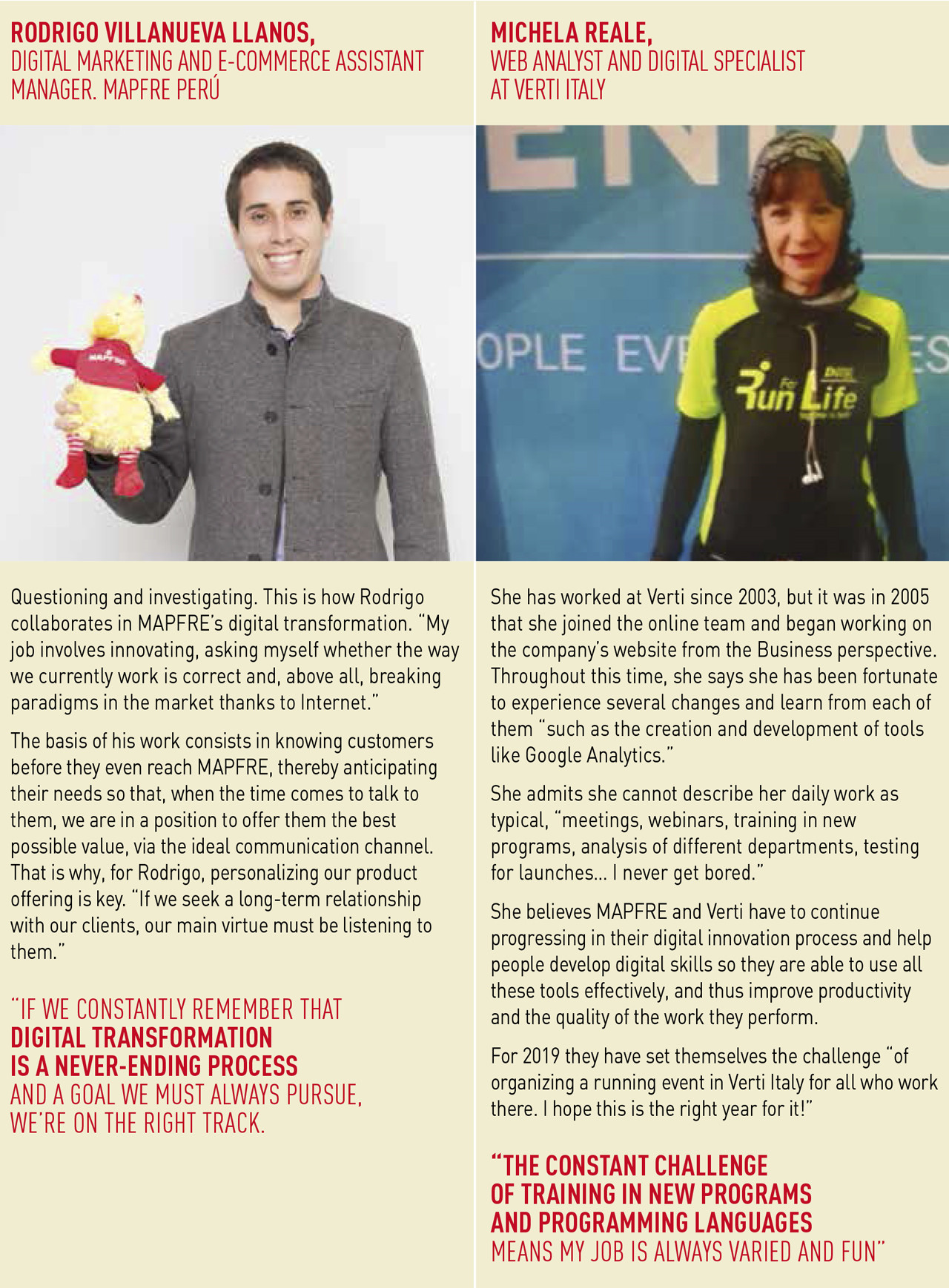 From MAPFRE Assistance Australia, Michelle highlights the new ways of interacting with our customers as key to defending our online distribution position and seeking its future growth. "A digital distribution approach will enable us to reduce operational costs without jeopardizing the quality of our service."
"THERE IS HUMAN RESISTANCE TO TECHNOLOGICAL CHANGE, AS WE TEND TO NOT WANT TO LEAVE OUR COMFORT ZONE. Michelle Camilleri, account manager and e-commerce assistant at MAPFRE Assistance Australia
"No company is so large or so small that it remains unaffected by the forces of digital disruption. Some have undergone radical changes, and those that manage the digital transformation properly are leading the market, and those that don't, well… they aren't," adds Michael.
In MAPFRE, the challenges we are facing will enable us to consolidate a digital culture. Externally, the main one is to take advantage of the benefits of digitization without depersonalizing customer relations. Internally, having a team capable of dealing with this digital challenge." "Our biggest challenge today is to achieve widespread adoption of the solution and establish the intranet as a useful tool that facilitates communicating, collaborating, and locating people and documentation of interest.
"ON LEAVING HOME, I'M ALREADY REVIEWING ALL MY PERSONAL AND PROFESSIONAL SOCIAL MEDIA ACCOUNTS, MY MAILBOX, THE HEADLINES AND LATEST NEWS ON MARKETING, VERTI'S DIGITAL MARKETING PERFORMANCE INDICATORS…" Michael Scharf, e-commerce team leader, Verti Versicherung AG (Germany)
A lot remains to be discovered… I won't list the technological, linguistic and operational hurdles we have overcome, as they would fill a book. The key has been the daily work with a team of highly committed people who believe in the potential of the Global Intranet and the benefits it brings to MAPFRE," says Mónica. As for Rodrigo, he feels that current trends indicate that the customer-centric philosophy is the way to achieve success in business. "The hardest thing is to change the way we think internally and comprehend that we must sell customers what they need, not what we want to sell them."
"Our main challenge is both human and legacy-driven resistance. There is human resistance to technological change, as we tend to not want to leave our comfort zone. And the most difficult, namely the legacy-driven mindset, so as to be able to undertake the migration, improving and optimizing existing systems, and adapting them to the new digital processes. Sometimes, this can be a barrier to digital progress," reflects Michelle.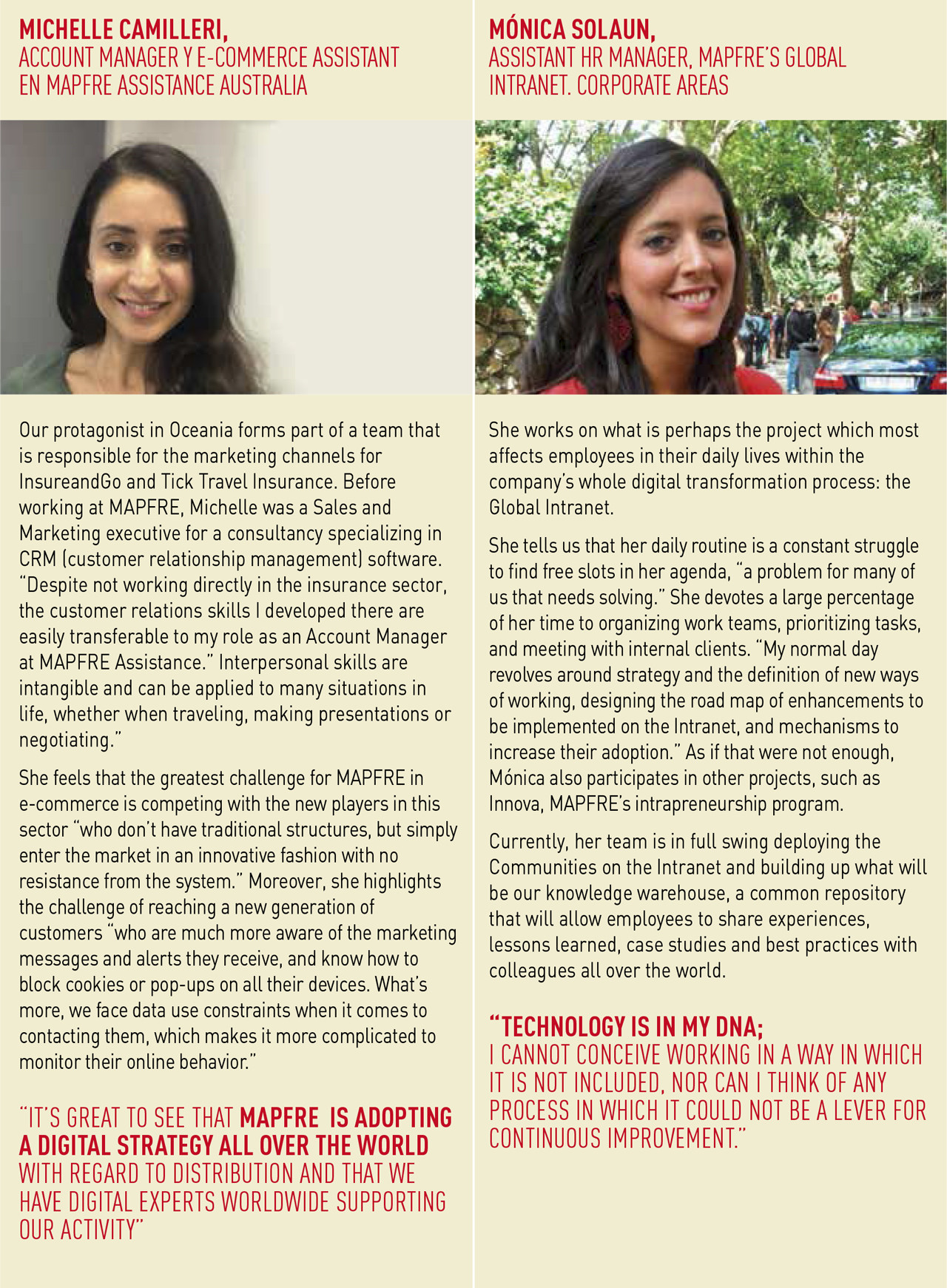 In addition, she stresses what she feels are the most relevant points of the digital evolution: more mobile assistants; a greater number of customers with mobile devices; social media; online forums and negative opinions; or the remarketing solutions that reinforce the channels and the message we send out to our customers."
Michael goes further: "I guess the hardest thing is to interpret what exactly digital entails in the case of a unit, an area or a company. In what way we need to evolve in order to become digital employees, what transparency means in terms of digitization, how we will interact with customers in the future… There are thousands of unknowns in those questions; in the short term, the view is that things must be clearer and more transparent."