GENERAL MANAGER OF THE CORPORATE BUSINESS & CLIENTS AREA
He heads MAPFRE's Business & Clients corporate area and is sponsoring the Customer Relationship Model and SAM 3.0 corporate strategic initiatives. In this interview, he brings us up to speed regarding the objectives of the area he manages, as well as the ongoing projects.You can watch the video of this interview here. 
TEXT LUZ GARCÍA | PHOTOGRAPHS MAPFRE
"We are a corporate area, which, by definition, means we must be fully aware of the different local realities"
To start with, could you briefly outline the mission of the corporate area you manage?
The Corporate Business and Clients Area, just like any other corporate area, has a primary function: to define a reference framework and establish guidelines, in this case related to business development and customer management, for furthering the Group's strategy and facilitating its implementation in the different countries.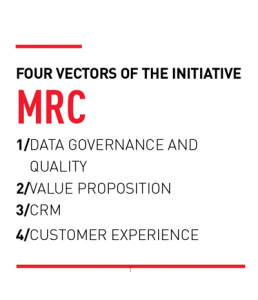 Going into a little more detail, we work on three fronts: product, end customer and distributor client. Everything the area does is linked to this context and designed to contribute to the value proposition that countries may be developing locally right now, further enriching it.
What is the Area's road map?
Our goal is to keep our ear to the ground regarding the different local realities. To date, this Area has been more focused on documenting all the data on the business and clients that existed in the company, which was really necessary. But now, it's crucial for us to focus on implementation. In 2019 we're going to move totally from policy to practice, with in situ support for the needs of the countries on the three fronts I mentioned – product, end customer and distributor client – always in accordance with the new model for managing and deploying corporate area initiatives and projects.
What major projects has this corporate area launched?
In addition to the SAM 3.0. (MAPFRE Automobile Insurance) and Customer Relationship Model corporate strategic initiatives, we have five other initiatives currently ongoing: Life, Business Development Models, Distributor Client Management, Best Practices and BINCI (information system). All our projects revolve around these.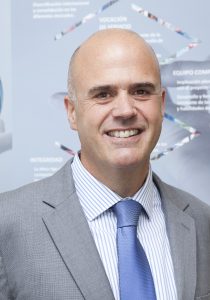 You are sponsoring a long-standing initiative, namely the Customer Relationship Model. What phase is it currently in? What are its objectives? What does it entail?
The Customer Relationship Model is an initiative that has undergone changes to its configuration, its objectives and, even, as regards the very governance of the initiative. It has a really clear objective: to make MAPFRE a customer-oriented organization. When we say customer-oriented organization, we are not just referring to the sales standpoint. We mean that the Group as a whole, and all the companies within it, have to remain focused on our clients in any process within our professional relationship with them.
We have identified a number of programs and set up a new Client Department headed by Maribel Solanas, who is working hard on this initiative. We are relatively satisfied with its recent progress, although much remains to be done, there's a lot to be delivered. And, Luz, we are facing a challenge within the Group, namely that we must all understand what a tremendous impact this initiative has on business. There is a directly proportional relationship between customer orientation and increased sales and client retention rates. That is the challenge we are tackling right now, ensuring by means of the portfolio of projects that this initiative impacts on our business, achieving better crossselling and client retention rates.
A major challenge, undoubtedly. The fact is that it has always been essential to be customer oriented; however, in the current environment, where the client is – more than ever before – king, we have to give them what they need, when they need it and how they need it. I imagine this initiative is moving in this direction…
Indeed, as I mentioned at the beginning, we are working on achieving a clear frame of reference with perspective and a road map that can ensure all of our group's operations are in a position to offer an adequate customer experience from every angle, and that our customers unequivocally perceive this.
At this moment in time, our company is sometimes more product or line-oriented, for reasons related to our history and our activity. We therefore need to gradually adapt so that our customers are at the center of any of our processes and, most importantly, so that they perceive that their level of association with MAPFRE has some bearing on their relationship with the company. By focusing all processes on our customers, we can guarantee a better experience, which impacts on the business. We are working on this through this strategic initiative.
Another of the corporate initiatives you are sponsoring is SAM 3.0, the Spanish initials of MAPFRE Automobile Insurance. The automobile and mobility form one of the sectors most affected by the digital transformation. What exactly is this initiative and how is it going to ensure MAPFRE is ready to compete with some guarantee of success in that field?
SAM 3.0 was born as a nonstrategic initiative, developed over time and ended up being strategic for the Group. And it has a really clear objective: to prepare our company so it is ready for the total revolution that the automobile insurance sector is undergoing, due to the transformation of the automobile and technology industries themselves.
We are working to develop capabilities within the Group that enable us to respond to new risks, arising from questions that already sound familiar to all of us: connected vehicles, autonomous cars, pay per use, onboard telematics… All this calls for a response distinct from the traditional approach and MAPFRE is well on the way to developing the capabilities needed to respond to these future challenges.
But we must all understand that SAM 3.0 has been an initiative for just over a year. We cannot therefore expect that, by March 2019, the date when these new strategic initiatives must deliver their results, SAM 3.0 will have resolved all the shortcomings, or will have developed all the capabilities MAPFRE requires to be able to deal with this revolution of mobility issues and the automobile.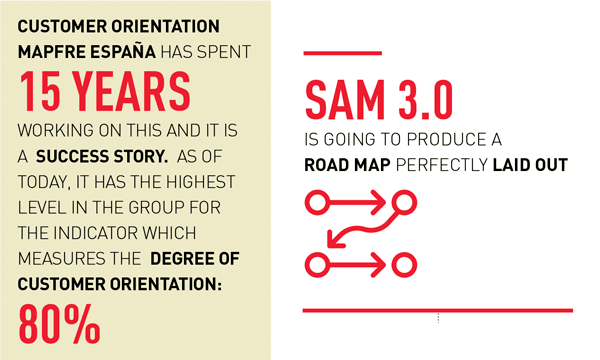 What is clear is that SAM 3.0 is going to produce a road map perfectly laid out and deliver the initial capabilities with which MAPFRE will be better prepared to meet these challenges. This is a highly important first step, but we must continue – and we will continue – enhancing this road map to see to it that, in the shortest time possible, MAPFRE possesses all the capabilities that are required in a leading company like ours to tackle what is currently taking place in the automobile sector.
Are there already noteworthy advances?
We are working on all fronts – vehicle connectivity, collaboration with manufacturers, pay per use, connected vehicle, assistance… and we have made progress in all of them. For example, the analysis of the correlation between ADAS (driver assistance systems) and accident rates, and its possible application when determining premium rates, on which we have worked hand in hand with CESVIMAP, is a very important step, to mention just one.
We have to ensure that insurance in general, and MAPFRE in particular, becomes a prominent actor in this revolution, playing a highly visible role in this new era. The stakes are high. For that reason, as a final reflection, I'd like to add that it's critical for the Group that a road map be defined at a high level, showing how the various lines on which the different teams are working should come together. While they are linked to independent strategic initiatives, they are all focused on this transformation MAPFRE is undergoing in order to cope with the new reality in which we are immersed.
The challenge is considerable and it calls for a great deal of teamwork and lots of collaboration.