The Customer Relationship Model strategic initiative aims to increase sales and customer retention figures, and thus benefit MAPFRE's results. Everything depends on offering clients the best experience through a differential value proposition. How? We tell you how in this article.
TEXT PABLO FUENTES | PHOTOGRAPHS MAPFRE
Providing excellent customer service has always been one of MAPFRE's hallmarks. However, these new times pose major challenges for our relationship with clients, as our Chairman & CEO, Antonio Huertas, underscored at the company's latest Annual General Meeting. "We are closer than ever to our clients, thanks to our knowledge of their experiences.
With this valuable information we will be in a position to enhance our product offering. Moreover, the social transformation we are undergoing compels us to keep developing. Clients expect more of us and we must prove capable of making things easier for them." In this context, and within the framework of our Strategic Plan with a Focus on Profitable Growth, in 2017 MAPFRE launched the Customer Relationship Model strategic initiative sponsored by José Manuel Corral, general manager of the Corporate Business and Clients Area.
The prime objective of this strategic initiative is to take the appropriate steps in the client orientation field, and do so in a way that is coordinated between all the countries and units within the Group. The starting point for achieving this is to optimize the customer experience, as José Manuel Corral stresses in the interview we also publish in this issue of The World of MAPFRE: "It is imperative that clients perceive that a closer relationship with MAPFRE translates into a better experience." Achieving this better experience entails offering a swifter, more effective response and being able to build a value proposition that sets us apart from most of our competitors: positioning products and services by segments; personalized communications; prioritization of preferential channels; adaptation of underwriting processes and the provision of services to meet client expectations; optimum experience at moments of truth, etc.
To accomplish this, it is essential to know our clients, both current and potential, interacting with them via the various channels available and implementing customer intelligence processes. In turn, acquiring greater customer knowledge calls for reliable, first-class data.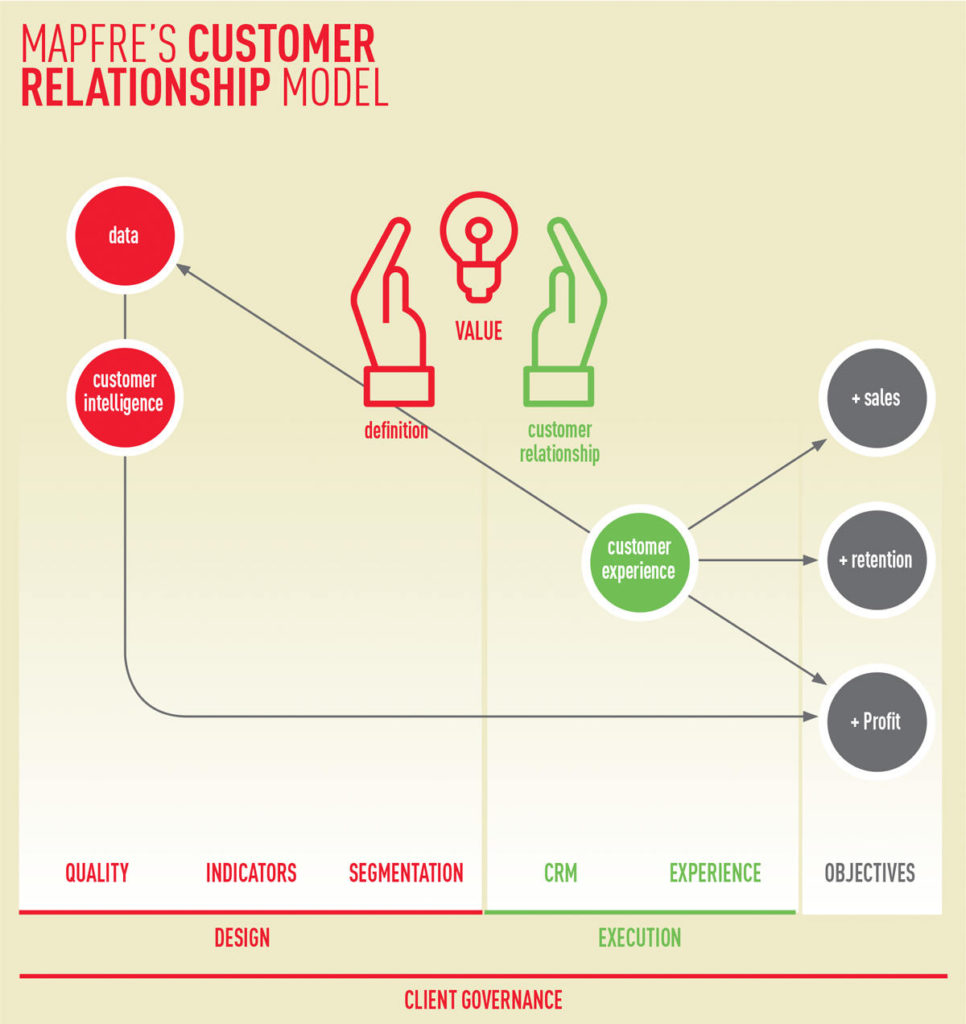 The Customer RelationshipModel thus pursues increased sales and retention figures, and, therefore, profit, by means of activities that cycle from customer experience through to data quality, and back again.And in order to adequately support each of these activities, in both the design and implementation phase of the value proposition, the initiative is structured on four fronts:
Design Phase
Data Quality

, which enables us to transform the data into useful information so as to better understand clients and build the value proposition.

Segmentation

, to differentiate between various types of clients, and offer them a suitable value proposition, based on the knowledge we have of each one of them.
Execution Phase
Customer RelationshipManagement (CRM)

, which makes it easier for our value proposition to reach our management channels and, therefore, our clients

Customer Experience

, where listening to clients' views enriches us and feeds back into the model in a cycle of continuous improvement.
To ensure a satisfactory implementation of the Customer Relationship Model in all the countries where MAPFRE operates, progress has been made throughout 2018 on the definition of a Client Governance Policy, laying out the responsibilities of those participating in it, the relationship framework, guidelines and lines of action, as a means of securing better coordination and synergies within the MAPFRE Group.
Once the Customer RelationshipModel has been designed, and the corporate and local projects set in motion (a total of 138 in2018), the objective for 2019will be to continue with the implementation of the model in order to advance in everyMAPFRE region. We will be promoting new initiatives and projects that have an impact on the business, in line with the level of maturity and capacity of each country, and profitability metrics will be applied to all the actions undertaken.