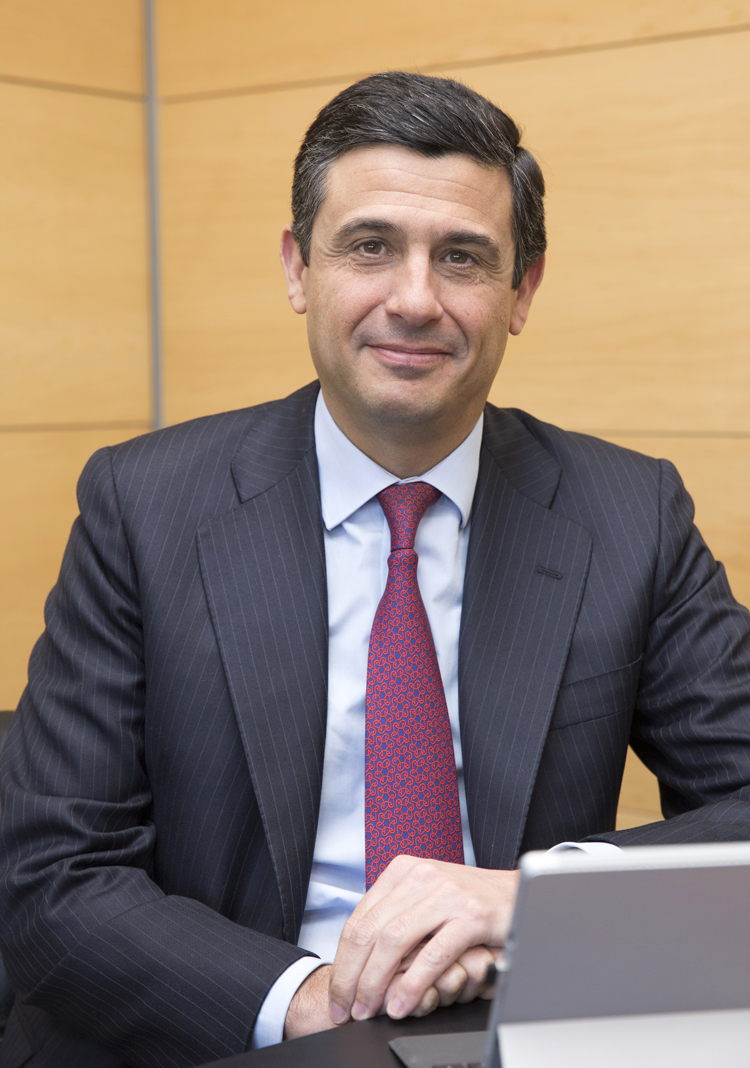 Jaime Tamayo
"From the first to the last of our colleagues, everyone has responded in an extraordinary way to this tremendous challenge"
"The coronavirus or COVID-19 crisis is certainly testing us all, not just in MAPFRE, but throughout society as a whole. Global confinement measures are forcing us to swiftly change our habits and customs in a dramatic fashion. It will certainly take us a long time to return to the previous normal, ever doubting whether it will be the same or whether certain new habits are already here to stay."
In MAPFRE's INTERNATIONAL Territorial Area, our significant presence in Italy led to us being the first to have to adopt measures on the operational front, as well as to safeguard the health of our employees and collaborators. We had to react way back at the end of February. March 8 saw lockdown declared in 14 Italian provinces, thus producing the de facto confinement of over 16 million people in their homes.
Our team in Italy, in full coordination with Corporate Security and all the other corporate areas, rapidly activated its Crisis and Business Continuity Committee and managed to facilitate the possibility of practically 100 percent of our employees working remotely.
MAPFRE's reaction worldwide and, in particular, in those countries where we operate, was immediate. The existence of local Crisis and Business Continuity Committees, cooperating closely with the Corporate Crisis and Business Continuity Committee, enabled us to provide a swift, coordinated response to the pandemic challenge.
"I would like to highlight the extraordinary reaction of our teams, always willing to do their utmost and go that extra mile to keep MAPFRE fully operational and open for business. Being able to say that – throughout the International Area's eight insurance companies and the Assistance operations, in a range of countries covering vast geographical distances – our operations have remained 100 percent up and running, with our people working from home and providing the same quality service expected of MAPFRE as ever, is, I believe, a source of pride for all of us. My warmest congratulations to all of them and, above all else, my thanks and appreciation."
He goes on, "The battery of measures has been extensive: offering flexible premium payment plans and, in some cases, premium refunds due to reduced risk exposure; extension of insurance coverage during the nation's state of alert; advance payments to providers so as to ease their liquidity needs; specific aid communication channels; online portals offering information on COVID-19, etc.
The logistical coordination – not just of personnel, but also technology, equipment, connectivity and communications – was extraordinary, achieving remote working capacity levels for our international operations that were absolutely unimaginable in such a short space of time.
There can be no doubt that we still face many challenges and a great unknown lies ahead. At the international level, MAPFRE has hugely important operations in countries hit hard by the pandemic such as the United States or Italy. But we also have operations in countries that have reacted somewhat slower or without strict confinement measures, such as Turkey or Indonesia, and we must keep a very watchful eye on ongoing developments in those countries.
Regulatory pressure in countries with a significant MAPFRE presence, such as the United States, Turkey, or Italy, means that we are sometimes forced to adopt extraordinary measures, primarily in relation to our business, automobile and health coverages.
Finally, I would like to underscore the highly positive impact of the donation campaign launched by Fundación MAPFRE. The involvement of our local teams in the identification of needs and the implementation of actions for the purchase of medical supplies, the construction of field hospitals or any other initiative was truly magnificent and I must say that it was also really gratifying."