CODENSA, the leading Colombian company in the distribution and marketing of electric power,

has been a MAPFRE client and distributor since 2001. In this interview its Marketing Manager, Carlos Mario Restrepo, outlines the challenges of his business and his experience with us.
TEXT CLAUDIA BLANCO AND PABLO FUENTES | PHOTOS THINKSTOCK
It has over 120 substations that enable it to operate in a sound, reliable manner, and more than 45,000 kilometers of medium and low-voltage networks which extend throughout Bogotá and the rural area of Cundinamarca, Colombia. In 2001 CODENSA, an Enel Group company, entered into an alliance with MAPFRE, whereby it became our client, in addition to marketing our insurance policies to its customers.
Carlos Mario Restrepo, the company's Marketing Manager, tells us in the following interview about the challenges and opportunities of the new energy ecosystem (people without access to electricity or the energy demand arising from the digital transformation, among others) and their experience as a MAPFRE client and partner.
How has your sector developed in recent years and what role has CODENSA played in this?
Energy utilities around the world are facing a number of challenges not unknown to us here: people without access to electricity in areas off the grid, the growing demand for energy leveraged by the needs arising from the digital transformation in societies in general, and the challenge humanity faces with global warming. In this context, electric power plays an essential role, as it contributes to the decarbonization of the economy and helps the environment, leads to cost optimization and fosters great hope in relation to the incorporation of renewable energies. This revolution opens the door to new players and also eliminates barriers to the incorporation of new products and services. CODENSA is no stranger to this transformation and, for this reason, our major challenge is to keep making inroads into the market with products, services and solutions focused on four areas: cities, industries, homes and mobility.
What are your short and longterm challenges and objectives?
As a result of the opportunities offered by the new energy ecosystem, we have set ourselves the challenge of increasing our gross margin by 75 percent by 2022. To achieve this, our shortterm objectives are centered on the deployment of products and services for the new range of solutions – (e-city, e-home, e-industries, e-mobility). Within this scenario, our customers are – and will remain – the focus of our attention. As a result, one of our long-term objectives is to be among the Top 25 best-rated companies in Colombia. This calls for us to achieve the satisfaction of our internal customers, our collaborators. In addition, we want to lead the digitization process within Enel LATAM, as well as further the expansion into new markets.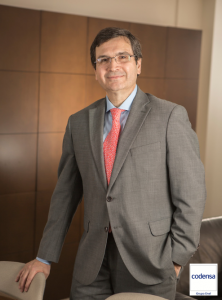 Carlos Mario Restrepo, the company's Marketing Manager
Why is insurance important for your company and your sector?
One of our main priorities is to place at the disposal of our customers value-added services that offer a higher quality of life, and which can be financed as part of their regular bill. For this reason, having insurance within our portfolio, thanks to the strategic alliance with MAPFRE, allows us to offer our customers protection for themselves and their families.
When did CODENSA first become a MAPFRE client?
This alliance between our companies was born in early 2001 and, every year, we consolidate a more robust, enlarged portfolio.
Why did you choose MAPFRE?
At the start of the project CODENSA worked with several insurers. However, we found we had a great affinity with MAPFRE's philosophy, as regards offering the market solutions that help improve people's quality of life. In addition, it is one of the best-known companies in Colombia, as well as having a tremendous global presence, which makes us feel fully supported.
What value does MAPFRE contribute, compared to other options?
Throughout these years, MAPFRE and CODENSA have built up a relationship in which trust and teamwork have been key elements for the growth of the business. MAPFRE has implemented technological tools to standardize the process of issuing policies and thus enable products to be offered on a massive scale. For its part, CODENSA has focused on the knowledge of our customers, allowing us to establish effective sales and after-sales strategies.
Which MAPFRE products and services has CODENSA signed up to?
MAPFRE has provided CODENSA with policies for funeral expenses, life, personal accident, home, SMEs, medical, dental and other forms of insurance, which provide protection and security, and enhance the quality of life for families, protecting them with the promise of support in the face of any unexpected event. These products are designed to meet the different needs of our customers and have the advantage that they can be paid through the energy bill.
What has your experience as our client been like?
MAPFRE's whole team, from management right down to the operational areas, has shown great readiness to deal with all our requirements and concerns, and grow together. This reflects the commitment your company shows us and the value of teamwork.
In a few words, how would you describe CODENSA's relationship with MAPFRE today?
For us, MAPFRE is a strategic partner working with us as a team to help grow our business, a successful project that affords our customers a better quality of life